The pandemic has given collaboration platforms an immense boost. Nowadays, it's impossible to imagine a world without these application, especially now that hybrid work has taken off across industries. However, there are quite a few providers with video call and collaboration functionality, but what does each platform have to offer? Even more specifically, which business situation suits which application?
This article was originally posted April 24, 2020, but updated on January 15, 2021 , on June 8, 2023 and on August 9, 2023.
All of the apps below obviously enable video calling and online meetings. However, there are many differences when it comes to interface, ease of use, functionality and pricing model. We list the features below.
Microsoft Teams
By now, Windows users are mostly familiar with Teams, which comes standard for private use in Windows 11. However, it is also packaged in Microsoft 365 for business with more options, which rivals in the market say leads to an unfair competitive advantage. Then again, it does mean enterprises can easily start using it.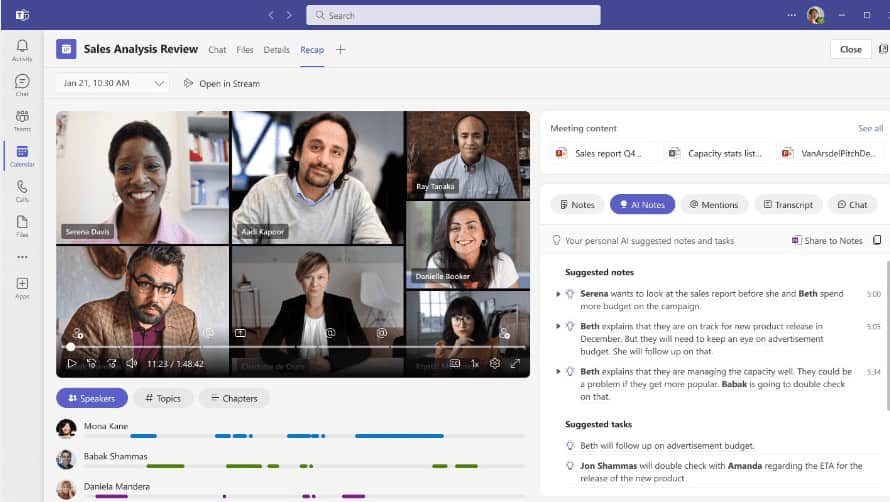 With the release of "the new Teams", popularly called Teams 2.0, the platform has changed significantly. Gone is the old interface, in favor of a Windows 11 styling complete with the "Mica translucency" that visually distinguishes it from its predecessor. In short, Teams is a lot less purple and a lot more Windows 11. The integration with Windows 11 and Office 365 provides a lot of interoperability. Calendar synching is smooth, as are notifications for Teams meetings that show up in Outlook. In addition, Microsoft has totally overhauled the code behind the platform, which results in it running much faster than before. Finally, logging in is a lot simpler because the Microsoft 365 ecosystem already handles it. Another thing that is very useful during a conversation is the noise cancellation that it performs in the background.
Features
The level of functionality differs quite a bit between the free and the Premium variant, which costs $8.40 a month. At least the regular version already offers Multi-Tenant Multi-Account (MTMA), which allows you to maintain private and work accounts on one device. It also recently introduced Teams Payments to handle payments. Teams additionally supports regular video calls and chats, of course. However, Teams Premium has much more unique features to recognize. AI assistance through generated notes, personalized "highlights" and live transcripts are nice value-adds if you spend a lot of time in online meetings.
Finally, the big advantage of Teams is that it includes scalability. A "team" can hold up to 25,000 members, while 5,000 direct members can be in one channel. A meeting can handle up to 1,000 participants. The maximum resolution for a video call is 1080p.
Microsoft 365 Business Basic is 5.60 euros per user per month, excluding tax. Standard costs 11.70 euros per user per month as an annual subscription, while there is also Business Premium that costs 20.60 euros p/m.
Google Meet
Like Microsoft, Google wants you to do as much work as possible within the Google ecosystem. Where we used to refer to Hangouts and G Suite, Google Meet now exists within the Google Workspace offering. Google Workspace is the new name for G Suite and Hangouts is another form renamed Google Meet.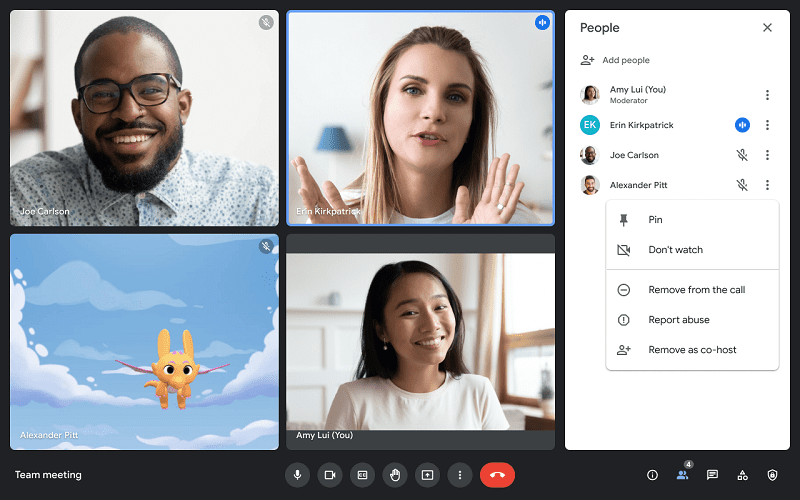 Interface and ease of use
Google Meet resides in a Web browser by default. Clearly, Meet is set up for smaller conversations by default: only recently did it raise the maximum number of visible users in "tile" mode from four to 16. As with Microsoft, the Google suite is set up to seamlessly integrate with each other. Google Calendar plugs in with Meet, as do other Workspace apps. Screensharing is a plus, as it offers the unique option of showing only part of the screen. This ensures more privacy for an observant user and makes it clear to fellow Meet users what a meeting is about. Real-time captions are also supported, which can be enabled with a single click.
Features
Users can participate in a video call via e-mail, a shared link or a Calendar invitation, and there is the ability to dial in. Furthermore, one can stream video content to up to 100,000 viewers within a single domain. There is also the ability to record calls and save them directly to Google Drive.
Depending on the Business plan chosen, there can be 100 to 500 participants in a meeting, which is thus quite behind Teams. A drawback for large organizations, but not in a practical sense for the vast majority of users. Things like noise-cancellation, controlling Slides presentations and polls are hidden behind various price points.
Earlier in 2023, Google released the prices of the Business packages in which extensive features of Meet can be found. However, these fluctuate in Europe because they are linked to the exchange rate between euros and dollars. At least in dollars, Business Starter costs $7.20, Business Standard $14.40 and Business Plus $21.60 per month per user. At the time of writing, that works out to 6.70, 13.40 and 20.10 euros, respectively.
Cisco Webex
One of the old hands in collaboration-land is Webex, which saw the light of day in 1995 and was acquired by Cisco in 2007. The USP of this platform is security. For this reason, it is not too surprising that various national governments as well as the EU, for example, hold their digital meetings on Webex. This platform consists of several components, with Webex Meetings specifically intended for videocalls.
It is also worth noting that Webex can be used via a desktop app or a web app. The web app has the same functionality as the desktop version, except for two important features: the web version does not support end-to-end encryption, and does not support legacy Voice-over-IP(VoiP). Other than that, the two versions are nearly identical.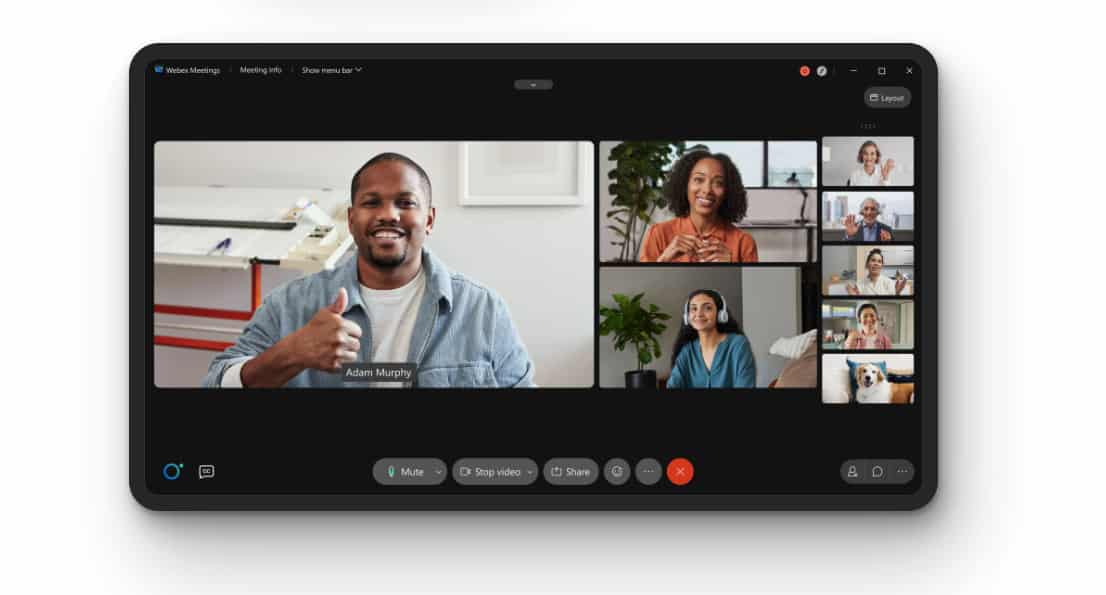 Interface and ease of use
Using Webex Meetings is intuitive. The interface is similar to other services during a call, but before you start a call there is a clear dashboard. You can choose from Start Meeting, Plan Meeting or Join Meeting on that dashboard; those buttons speak for themselves. On the right side are scheduled meetings, if there are any, and recently viewed files. When scheduling a meeting, standard features such as time, date and meeting duration can be set, and the necessary people can be invited. Furthermore, agenda items can be added, as well as a password for the meeting. Also, as with other services, the desired audio devices can be chosen, but these settings are a bit easier to find with Webex than with Microsoft Teams, for example.
Features
Webex is extensively integrated with other Cisco products, including tools and hardware. It also has cloud recording, real-time transcriptions and breakout rooms, something not every video call service offers. It can't stay behind when it comes to AI, which is why it recently started offering automated summaries of meetings. Any participant of the videocall can take advantage of this, unlike the restrictions on such a feature at Zoom.
Webex Meetings users can hold a call for free for up to 40 minutes and add up to 100 members to a meeting. Those who want to talk for up to 24 hours and with 150, 200 or 1,000 participants, respectively, can arrange that with a monthly subscription to Starter (13.50 euros), Business (19 euros) or Enterprise. The Enterprise price only includes a link to Webex's sales department, so it will depend heavily on the customer in question. These premium variants also include live polling, the ability to attend multiple meetings simultaneously, co-hosts and closed captions. In addition, it provides cloud storage for recorded conversations.
Zoom
We've saved perhaps the most famous name for last. Anyone talking about digital meetings during the corona pandemic was quick to mention "Zooming," even when the call was not even on Zoom. It thus captured the so-called "zeitgeist" of 2020 in particular. However, it soon became clear that there was work to be done in terms of privacy and security. It soon tinkered with that, and the end result is that there is currently nothing to complain about in these areas.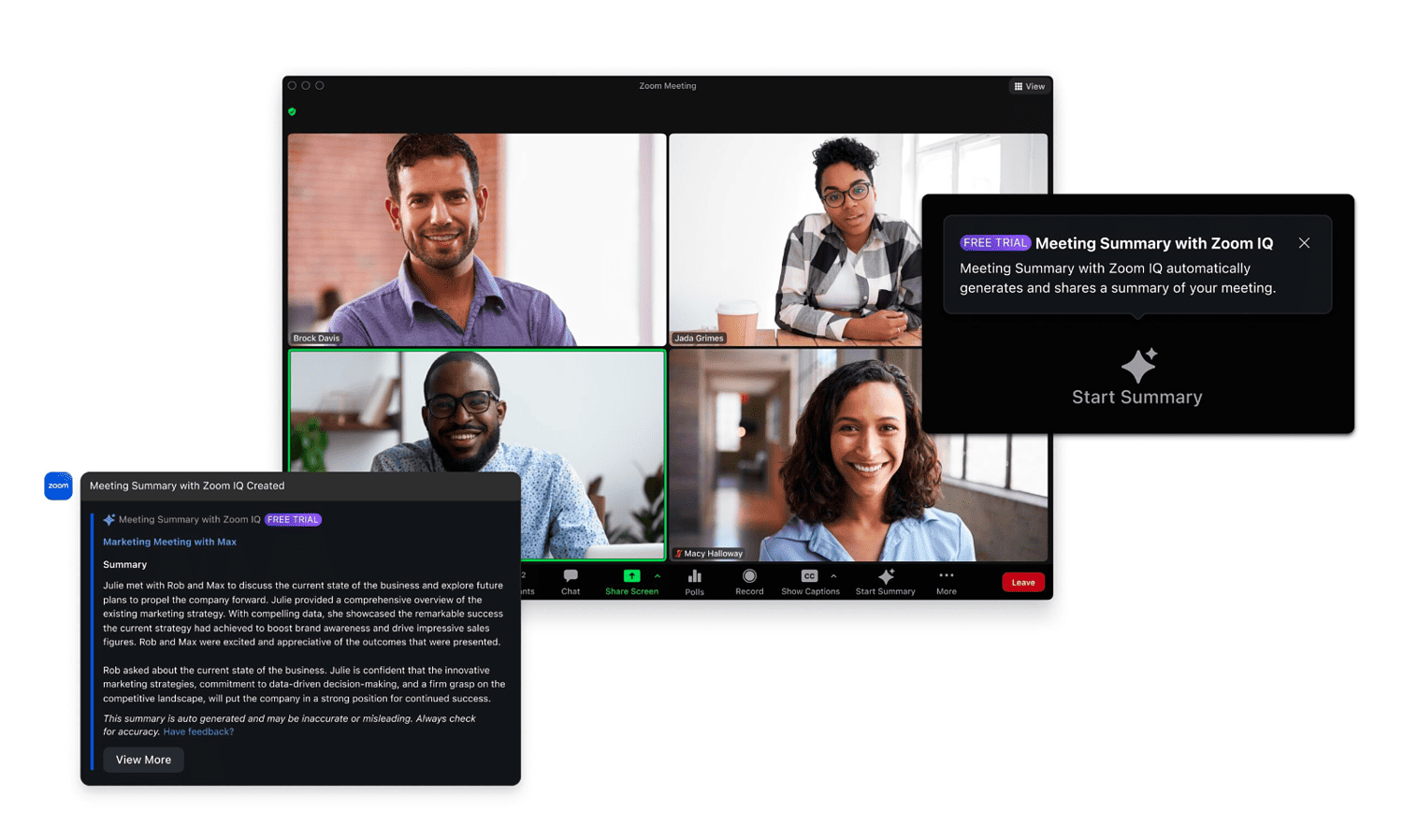 Interface and ease of use
Joining a call takes a few seconds if you already have the app installed and two extra clicks if you choose the web app instead. Participants can connect and chat with each other before the host arrives, if allowed. The administrator can also turn off a participant's microphone or camera at any time. Sound can be turned off and on using on-screen buttons, or from account preferences.
Hosts further have a security button on their toolbar during active calls. This button gives hosts quick access to a number of features such as locking the meeting, enabling a sort of waiting room for new additional participants, giving participants permission to share their screens, chat, and so on.
Another useful aspect of the interface is that the administrator can see information about the connectivity of everyone in the conversation. This allows a host to easily recognize where any connectivity problem might be. As a participant, you can configure your screen to see relevant information and a chat box. There is also the option to automatically set Zoom to full-screen mode.
Features
Zoom can also be used via a Web app or a desktop version. Users get a Personal Meeting ID that can be used to start a call at any time. So without much planning, you can start a meeting this way, but in terms of security, a unique meeting ID is a better option (especially now that that ID is no longer displayed in the app, so people can't take screenshots). Calls can also be password protected.
Zoom calls can also be linked to calendars, including Google Calendar, iCal and Microsoft Outlook. Scheduled calls thus automatically show up in your calendar. Furthermore, participants can participate by phone, where administrators can choose which dial-in numbers for which countries should be displayed.
With a Pro account, there is the ability to require participants to register for a call. This involves completing a short survey before they participate, which comes in rather handy for webinars or online events. There is also the option to display a sort of waiting area if the administrator has not yet started, but if participants are already seated.
Zoom is available for free, with many features already available. The pricing page refers to meetings of a maximum of 40 minutes per call. Pro costs 139.90 euros per year per user, while Business costs 189.90. The number of hours per call is 30 for both price levels, while they differ in the whiteboard numbers (3 or unlimited) and maximum number of participants (100 to 300). Business Plus does not include pricing and varies by customer. Business Plus extras include additional cloud storage (up from 5GB to 10GB), cellphone plans and translated subtitles.