Salesforce Benelux Live took place at the same time as the Tableau Conference 2020 this year. A good moment for us to find out what Tableau will look like under Salesforce's wing.
For those who missed it, Salesforce has acquired Tableau. The main reason for this acquisition is to be able to offer better data insights. Salesforce also acquired MuleSoft last year to integrate more data with the Salesforce platform. The acquisition of Tableau fits in seamlessly with this.
Now that the acquisition has been completed, it is always a matter of waiting and seeing how the integration goes. It seems that Salesforce has chosen to give Tableau the same treatment as MuleSoft. Tableau and MuleSoft are now part of Salesforce but are still largely independent because the companies are also of valuable importance to non-Salesforce customers.
Of course, Salesforce adds the necessary expertise to the organizations to accelerate growth. Also, good technological solutions from the companies will quickly be reflected in the Salesforce products.
Einstein Analytics continues as Tableau CRM
One of the most important changes is that the Salesforce team behind Einstein Analytics has now been added to Tableau. Both teams will be merged and will work together on all data analytics products.
Einstein Analytics will continue under the new name: Tableau CRM. In an interview with Tableau, we asked them to explain the name, which didn't seem very strong to us. Tableau CRM insinuates that the solution has something to do with customer relationship management, but that's not the case. The official explanation is that Salesforce is primarily a CRM platform and Tableau CRM integrates with it, which is why they chose the name Tableau CRM.
Tableau merges into new web-based platform
Tableau's portfolio is eventually reduced to a new, fully web-based solution that combines the technologies of different solutions. The main advantage Tableau describes is that Tableau is very good at processing and analyzing data. On the other side, Salesforce and Einstein Analytics have developed a product that can handle the specific data of the different Salesforce pillars very well. This way, Einstein can apply good analytics and AI on Sales, Service and Marketing data.
By merging all that in the into the new Tableau platform, Tableau can soon handle even more different kinds of data. Salesforce has developed the technology and specific models to handle certain data even better. Tableau can learn from that and possibly apply it to other data.
Although Mulesoft wasn't specifically mentioned during the Tableau event, it will undoubtedly play a part in delivering and modelling more types of data. This can further increase Tableau's growth. For this, Tableau has Tableau Prep, which can be used to optimize and clean up data. Mulesoft can gather data from different sources and deliver them to Tableau, but it can also take a lot of prep work out of your hands. By combining Mulesoft technology with Tableau, it should be possible to do this even more effectively.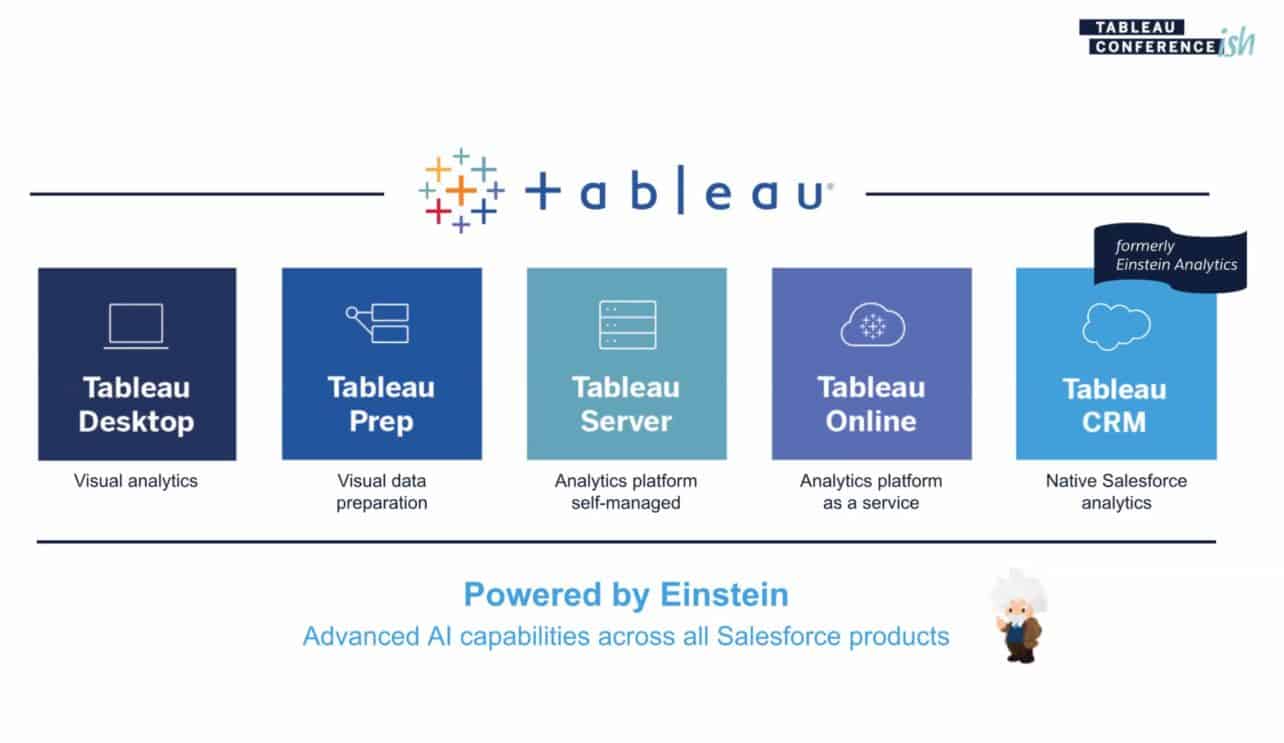 Ultimately, the vision and power of Tableau will really become clear in the new platform. The choice to make this platform fully web-based will make it easier for everyone to access, work with and integrate with. For example, Tableau was already speaking about Slack integration to be able to bring results to the attention within teams quickly.
Data analysis using machine learning and AI models
Tableau puts a lot of energy into machine learning and AI. It should become very easy for users to make automated data analyses. Users don't need any prior knowledge of artificial intelligence or machine learning. Tableau hopes to achieve many results with AutoML and pre-programmed AI models. The idea is that Tableau itself can detect what kind of data is available, what relationships can be established and also what results or insights can be offered.
To a certain extent, Tableau is already able to do this, but with the knowledge of Salesforce, it expects to be able to add another in-depth layer to this. Especially in the field of Salesforce data and data related to it.
Salesforce also considers it important that analysis or prediction can be explained. So the goal is to develop explainable AI, where with the push of a button can be explained how the software came to a certain result.
Tableau wants to be relevant and usable for every user
In the end, the Tableau product must able to work independently, as well as become part of a Salesforce or third-party solution. Companies should prefer tableau for analyzing and visualizing data.
Furthermore, the group of people that is using Tableau should become much broader. Tableau aims to enable everyone to use it, from management to the employee on the work floor. To facilitate this, user-friendliness is important, as is security. Tableau is working on new security layers to make sure that access to data can be managed up to row level. This way, everyone can get data insights, but it's still possible to manage who has access to which data.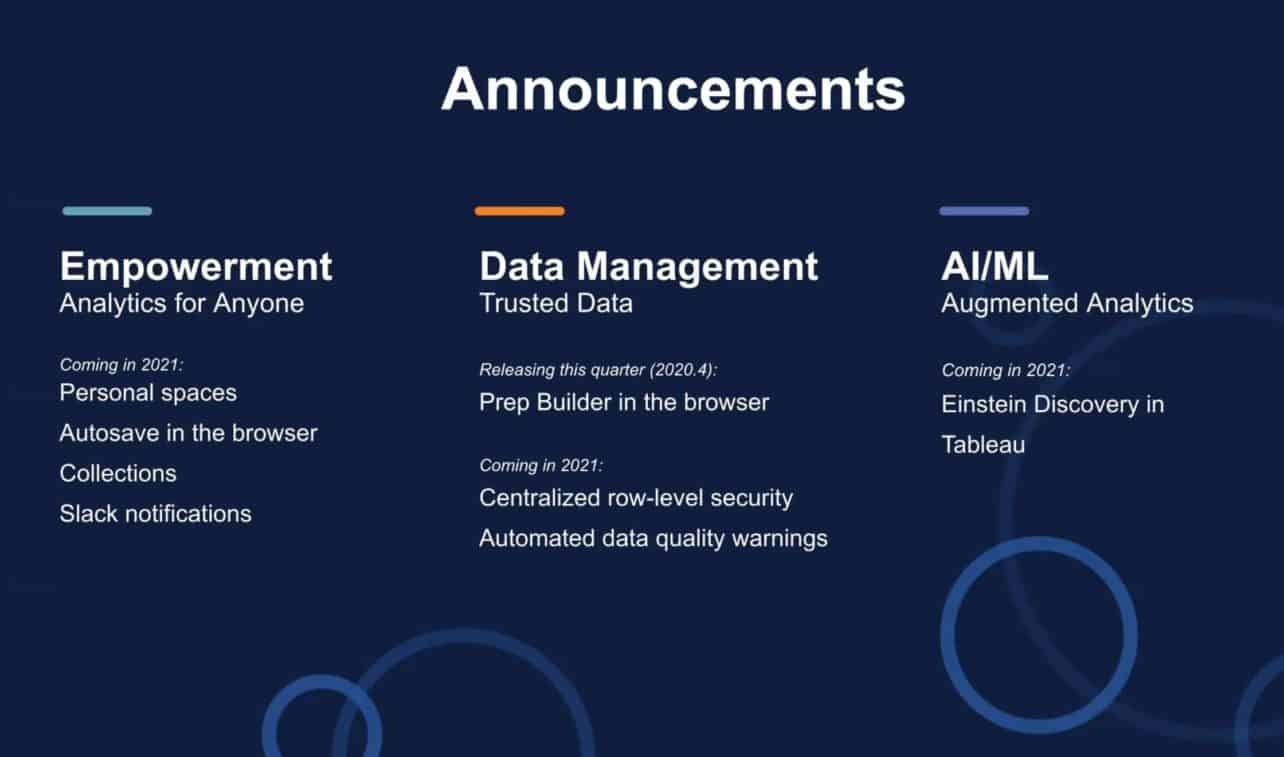 We expect Tableau to experience explosive growth and to become much more powerful than it is today. The unity of Salesforce, Tableau and MuleSoft brings together a lot of innovative technology that should be able to achieve more together. The question that remains is how much time Tableau will need to realize its new vision and convince the market. Bringing this kind of technology together isn't exactly an easy task, but if it works out, the result will probably be great. In any case, it is clearly a product to follow closely.
Tip: Tableau wants to make analytics understandable for everyone