Appian CEO Matt Calkins called process mining 'the question' during his keynote at Appian Europe last week. 'The answer' is what Appian delivers with their Low-code Automation Platform. Seen in this light, Appian's acquisition of Lana Labs earlier makes perfect sense. It clearly is a big deal for Appian. The acquisition was the key topic during Appian Europe. We spoke to Appian CTO Michael Beckley and Lana Labs co-founder Dr. Rami-Habib Eid-Sabbagh about this acquisition. What does it mean for Appian, Lana Labs and its customers towards the future?
We've been writing about process mining here at Techzine for quite a few years now. In particular, we've been following Celonis closely since the end of 2017 (the latter links to a Dutch article, as we didn't publish in English yet back then). Celonis is without a doubt one of the big players in that market, and definitely not a realistic target for a company the size of Appian. However, there are also numerous smaller players that are also steadily growing. One of them is Lana Labs, founded in 2016 by Karina Buschsieweke, Dr. Thomas Baier and Dr. Rami-Habib Eid-Sabbagh in Berlin.
Lana Labs
The vision of the two founders of Lana Labs was clear, says Eid-Sabbagh. They wanted to automate as much as possible in their product and build in more and more autonomy towards the future. In addition, there is a strong emphasis at Lana Labs on making process mining accessible. Not only from an OpenAPI perspective, but also from an organizational perspective. In other words, Lana Labs must be easy to integrate and easy to use for end-users. That also means, among other things, deploying low-code and no-code in the platform.
Those who have been following Appian for some time recognize in Lana Labs' vision at least part of that of Appian itself. That made Lana Labs an excellent target for an acquisition by Appian, Beckley points out. As CTO of a U.S. company, he has been keeping an eye on process mining, basically a European invention, for a number of years. He has seen that process mining has matured in recent years. So the time was ripe to look for a suitable candidate to acquire, and expand their platform further. Seeing the value of process mining early on is not just a story made up with the benefit of hindsight, by the way. This is clear from the fact that Appian was an early partner of Celonis, for example.
Process mining goes beyond academia
When Beckley says that process mining has come of age, he is talking, among other things, about its complexity. For a long time process mining was very complicated. This is partly due to the academic roots of process mining. The discipline originated in research institutes in Germany and the Netherlands, among others. To illustrate this point, the Dutch professor Wil van der Aalst is informally known as 'the godfather of process mining'. This makes process mining a special discipline, because originally there was no specific business model behind it. The risk of this approach is that discussions at process mining companies will remain very academic. That is, it is not so much about practical applicability, but about the scientific merits of the model. Those two things don't necessarily overlap.
Beckley saw the academic approach at multiple process mining companies he approached and had discussions with. Lana Labs, however, was not one of them. Whereas most process mining solutions that Appian looked at were still very complex and thus required a lot of IT knowledge to deploy properly, this was not the case with Lana Labs. Specifically, Beckley mentions data ingestion here. This was (and probably still is) a major problem for many process mining platforms, according to him. Lana Labs, however, does this very well. In part, this is due to the essentially different culture. Both Baier and Eid-Sabbagh were dedicated engineers at heart. It was about more than en academic exercise from the start.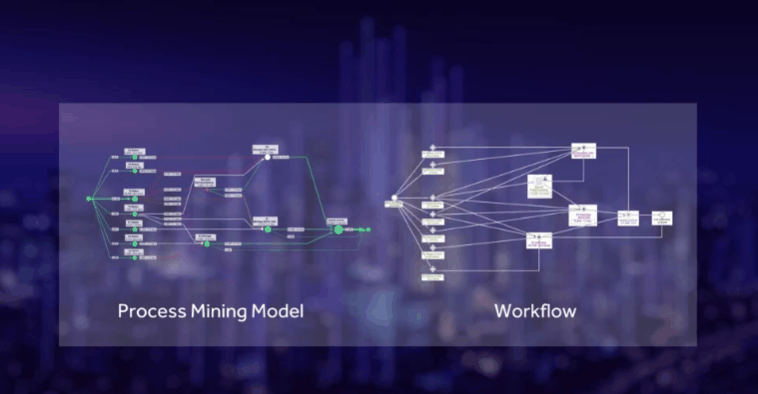 Enterprise grade technology
The technology itself also plays an important role in any acquisition. So that is certainly one of the reasons why Appian went for Lana Labs. For a start, Lana Labs' platform runs in containers in the cloud. That makes its scalability good. For Appian, which primarily focuses on (large) enterprise customers, that is very important. Furthermore, according to Eid-Sabbagh, Lana Labs has had a clear goal towards automation from the beginning. Appian talks about that almost continuously as well. Lana Labs automates by using ML algorithms to detect patterns in processes, for example. The company has also put a lot of work into automatic distribution analysis. This allows you to automatically analyze whether processes are still being handled with normal lead times, for example.
A good match between platforms such as between Lana Labs and Appian has the advantage that the full integration of Lana Labs into the Appian platform can be done very quickly. In fact, this has almost been done already, Beckley indicates. Some improvements had to be made before the integration cloud be up to Appian's standards. Most of these improvements had to do with security. At a start-up like Lana Labs, security was not at the level that Appian requires. More specifically, they didn't formally have all the necessary security certifications, because they hadn't applied for them. For many Appian customers that is a requirement to be able to work with software and to be allowed to do so.
OpenAPI and low-code
As mentioned earlier, two features of the Lana Labs platform were very important in Appian's choice of Lana Labs. It should come as no surprise to anyone that low-code (and no-code) is one of them. If you want to integrate a new component like process mining with the Low-code Automation Platform, it makes sense that that new component also leverages low-code. Furthermore, making low-code as widely accessible as possible is one of Appian's primary goals. We noted that earlier this year, when the company launched Low-code Data. That made it possible to do data integration via low-code.
The other crucial feature mentioned by Beckley and Eid-Sabbagh is the choice of an OpenAPI approach. Among other things, this makes it easier to not only push data into Lana Labs' platform, but allso extract it without major problems. Beckley elaborates on this and outlines the possibilities that Lana Labs and Appian can now offer together. It is now possible to analyze Appian using Lana Labs. You can now analyze your workflows built in Appian from the perspective of process mining before you put them into production. It also gives you an instant overview of all the workflows that are running. You immediately have insight into which ones are working well and which ones are not.
Automatically from question to answer?
The fact that Appian is fully integrating Lana Labs' platform into its own says a lot about its intentions. At the moment, Appian consists of two main components. There's the starting point, where you build workflows in low-code, and there's an extension that deals with automation (using RPA and AI/ML, for example). If you also integrate this with process mining, you know before you start deploying automation workflows whether they function correctly. It gives you the opportunity to optimize even further. In addition, you also have continuous insight into the performance of the workflows.
Such a deep integration is obviously the intention. The goal is to automatically go from "knowing to doing," to use Beckley's words. In doing so, you can automatically turn insights into actions. You can start from the workflow part of Appian or the Lana Labs, process mining part. This dual approach is important, because not every customer has the same requirements. In concrete terms, this means that as a customer you can first analyze your existing processes, then build better workflows for them, or you can analyze workflows you've already created in Appian with the process mining functionality, then optimize the workflows.
Of course it is important that customers are not forced to purchase the entire platform at once. That is certainly not the intention, Beckley says when we ask him about this. In principle Appian never does that. When it comes to RPA, for example, customers can use the built-in RPA capabilities of the Appian platform in the area of RPA, or go for a vendor such as UiPath in combination with Appian. It will be no different with process mining. We do expect some more process mining functionality in Appian's own platform that is tailored to the target groups/industries.
More soon
The exact nature of the integration of Lana Labs into the Appian platform is still somewhat of a mystery at this point. However, the integration is almost complete, so if all goes well, more should be clear relatively soon. We are particularly curious about how deep the integration will be. For example, will you be able to analyze existing workflows within the process mining section with a single click of a button, and then automatically improve them? Or will there 'only' be recommendations from the process mining section on how to modify the workflows? For the answer to these and other questions, we will have to be patient for a while. Process mining may be the question for the answer that Appian can provide with the Low-code Automation Platform, but the exact questions and answers are not yet known.