It is not always easy for organizations to take the long view when it comes to technology investments and initiatives. However, it is good to try to do so anyway. At least that's one of the points Pegasystems wants to make during PegaWorldiNspire. In this regard, it talks about the so-called autonomous enterprise. This is where all organizations need to go if they are not to fall behind or stay behind in terms of technology.
We are at PegaWorldiNspire this week, Pegasystems' annual event, which this year is back in Las Vegas for the first time since 2019. During a session we had with CTO Don Schuerman and CPO Kerim Akgonul prior to PegaWorldiNspire, we talked about things like Pega GenAI, Pega Process Mining, Constellation UX and the DX API. These components are definitely interesting when looking at the bigger picture. They are also part of Infinity '23, the latest version of Pega's platform that will become generally available over the summer.
However, it has been known for quite some time that these components are there or coming. For example, we published an article on Pega GenAI a few weeks ago. The same goes for Pega Process Mining. On Pega's site, you can also find information about Constellation UX and DX API as important components of Pega Infinity, which Schuerman says you can best think of as a "low-code platform for AI-powered decisioning." With this definition, he packs together all the key components of the platform. Below you can see schematically how it fits together: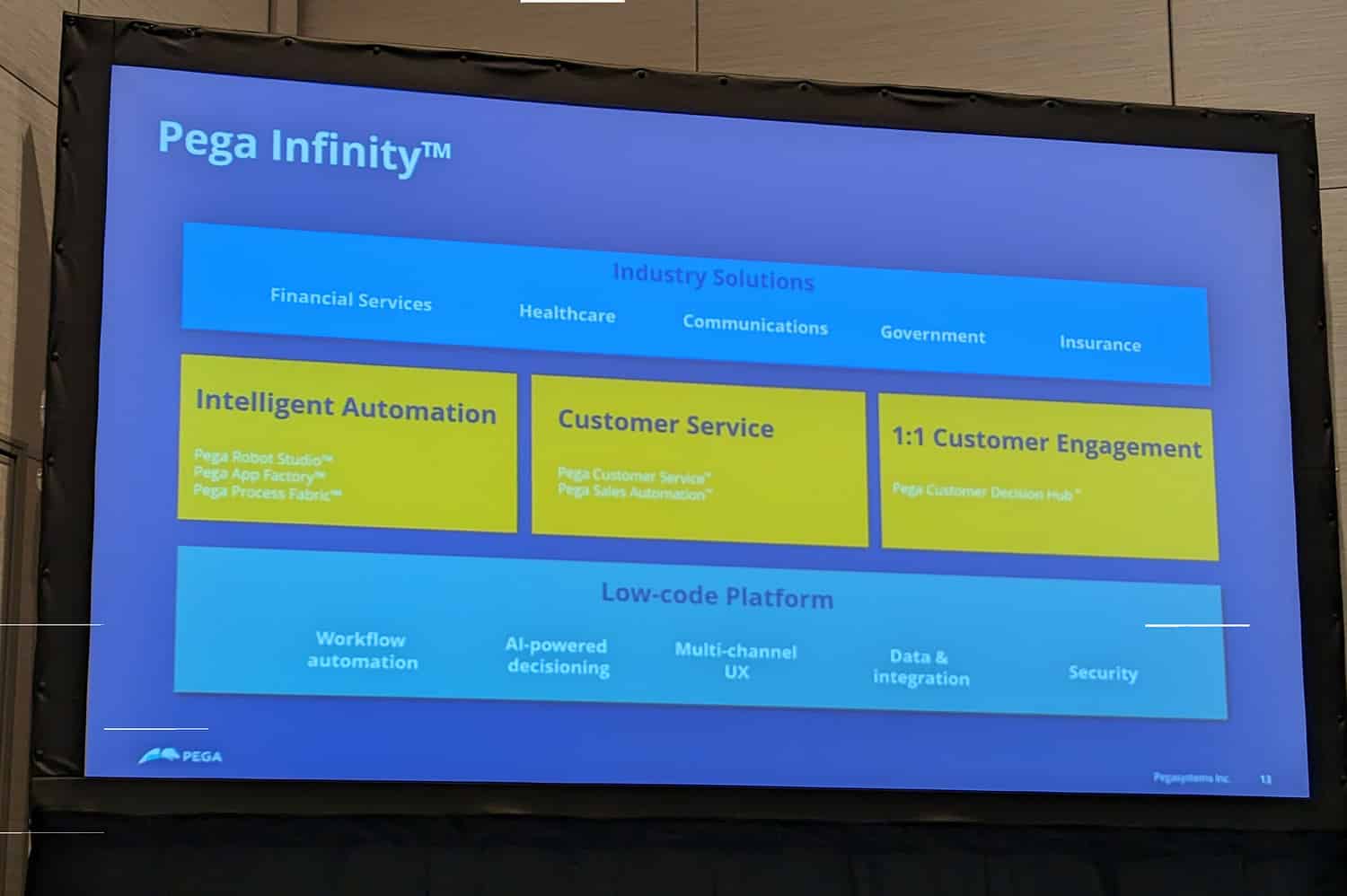 The foundation of Pega Infinity, as you can see above, is its low-code platform. "Everything we do, we put into this core platform," Akgonul points out. The components of that platform allow Pega to offer the three core solutions you see above it in yellow. Above that again are the solutions it targets specific industries.
What is an autonomous enterprise organization?
Some of the news Pega announced this week for Pega Infinity may not be news in the purest sense of the word, but it does indicate where Pega as a whole is headed. Indeed, these parts, along with the rest of Infinity '23, of course, matter a lot to the bigger picture. That bigger picture is what Pega calls the autonomous enterprise. Pega defines an autonomous enterprise as follows:"An organization which comprehensively applies AI and automation to engagement, servicing, and operations across the organization to operationalize agility and create a business that can become self-optimizing."
The above definition sounds very good and is undoubtedly something many organizations want. Pega commissioned a survey of ambitions and plans in this regard. Not surprisingly, almost all respondents (96 percent) indicated that they will be such an organization in 10 years. Currently, 15 percent say they are already at this point, while 36 percent say they will be in five years. Nearly three-quarters (73 percent) indicate plans to move toward an autonomous enterprise.
'Quick fix' results in problems and legacy
A survey like this should not be taken too literally, as far as we're concerned. After all, what respondents say they are going to do and what they actually do are not necessarily the same thing. As such, it is important not to focus too much on the percentages, but rather on the underlying reasons for wanting to change. After all, these are very clear.
We think the most interesting part of the research is that many organizations still go for a 'quick fix' when they invest in technology. These can be solutions to a specific problem, but also standard software packages. This may allow you to move on quickly as an organization, but it does not solve much in the long term. No less than 40 percent of the respondents to the survey even admitted that these "quick fixes" have in the long run created more inefficiency within their organizations. That can't be the point of an investment.
All this software that organizations purchase doesn't just impact the efficiency of the IT environment. Organizations also have to maintain all of it. That costs money, a lot of money. A quarter of survey respondents say they spend between 51 and 100 percent of their IT budget maintaining solutions that are actually no longer adequate. There is a lot of legacy, with a lot of money being put into it.
To eliminate legacy as much as possible, organizations must abandon the "quick fix" method and start working with a platform approach in which systems and (communication) channels are integrated. Only then can you thoroughly automate and allow components to function autonomously.
Pega Infinity wants to make organizations' environments autonomous
Not entirely coincidentally, Pega has such a platform on offer with Infinity. At least that is the company's claim. The components we briefly mentioned above should play an important role in this. With Pega GenAI, the company wants to make generative AI suitable for enterprise organizations. That means it can't just do anything it wants within customer environments. Because it integrates directly into fundamental technology, it also gets all the capabilities in terms of security, governance, auditing and so on. For example, it is possible to run models locally. Then the data never leaves an organization's own domain.
Another advantage of plugging directly into the base platform is that it also makes generative AI available for all use cases. "Any environment that users work directly with can use GenAI," Akgonul points out. As an example, he gives that a developer can use generative AI to convert one language to another. There are also many possibilities in the field of BI, he indicates. You don't have to create predefined dashboards now. You can now query your data directly through Pega GenAI, so to speak.
Process mining also plays an important role in future-proofing organizations and eliminating legacy as much as possible. After all, this makes it possible to continuously optimize workflows. Pega announced Pega Process Mining formally in early May. It is the integration of Everflow, the company Pega acquired last year.
Fundamental innovations are crucial
Finally, we also take a brief look at two somewhat more fundamental components of Pega Infinity '23. That is, these are not new modules like Pega GenAI or Pega Process Mining. Rather, they're building blocks of the underlying architecture. These building blocks also ensure that the future can become autonomous. We would even go as far as saying that they are extremely important for this. Pega builds everything it does on a shared foundation, as we mentioned above. If it wants to provide new functionality within the platform, it will need to continually evolve that foundation.
During our session, Akgonul is also clearly excited about just this kind of fundamental innovation. He begins his talk on Pega Infinity '23 by pointing out something new in the architecture of the Pega platform, DX API. He calls it a "game-changer for customers who want to bring their value as close to consumers as possible, across multiple channels."
DX API stands for Digital Experience API and is a set of REST API endpoints. It allows you to have the front-end you build automatically adapt to any changes Pega does in the Pega Platform. It doesn't matter what type of front-end you use. This can be the Pega UI, mobile, or even a custom front-end. All you have to do is connect the DX API responses to the front-end. In other words, this is an API that includes much more than a standard API. Think of things like UI elements, layouts, and styles.
A second "basic component" that Akgonul is very excited about goes by the name of Constellation UX. He calls it a"major deliverable." Constellation is a design system that aims, among other things, to build applications quickly and accurately. It does this by using templates. This makes developing applications very much faster, according to Akgonul. They also look very nice, according to him. "You can't go wrong, if you build an application based on these templates, it will work no matter where you run it," he states. You don't have to punch in any code at all, he promises. The applications are also very easy to customize.
Building for change is the future
All in all, Pega has a clear vision toward the future. Much revolves around making the software stack more future-proof. With this, if all goes well, it will not create new legacy. That, of course, is something to look out for. But based on what we heard from Schuerman and Akgonul, they are well aware of this danger. Pega is trying to implement innovations at all layers of the platform that seem to explicitly counter this. The company's tagline is Build for Change. That is no empty slogan, we can say based on what we heard today.