New updates make VMware Cloud more secure, efficient and generally more modern.
VMware, like all other major infrastructure players, has been talking almost exclusively about the cloud in recent years. Especially the hybrid or multi-cloud. The company has a single IaaS offering for this, which it calls VMware Cloud. This is a combination of VMware Cloud Foundation for actually setting up the multi-cloud (and on-premises) infrastructure in a single stack and the VMware Cloud Services it provides on top of that. Here's what that looks like globally: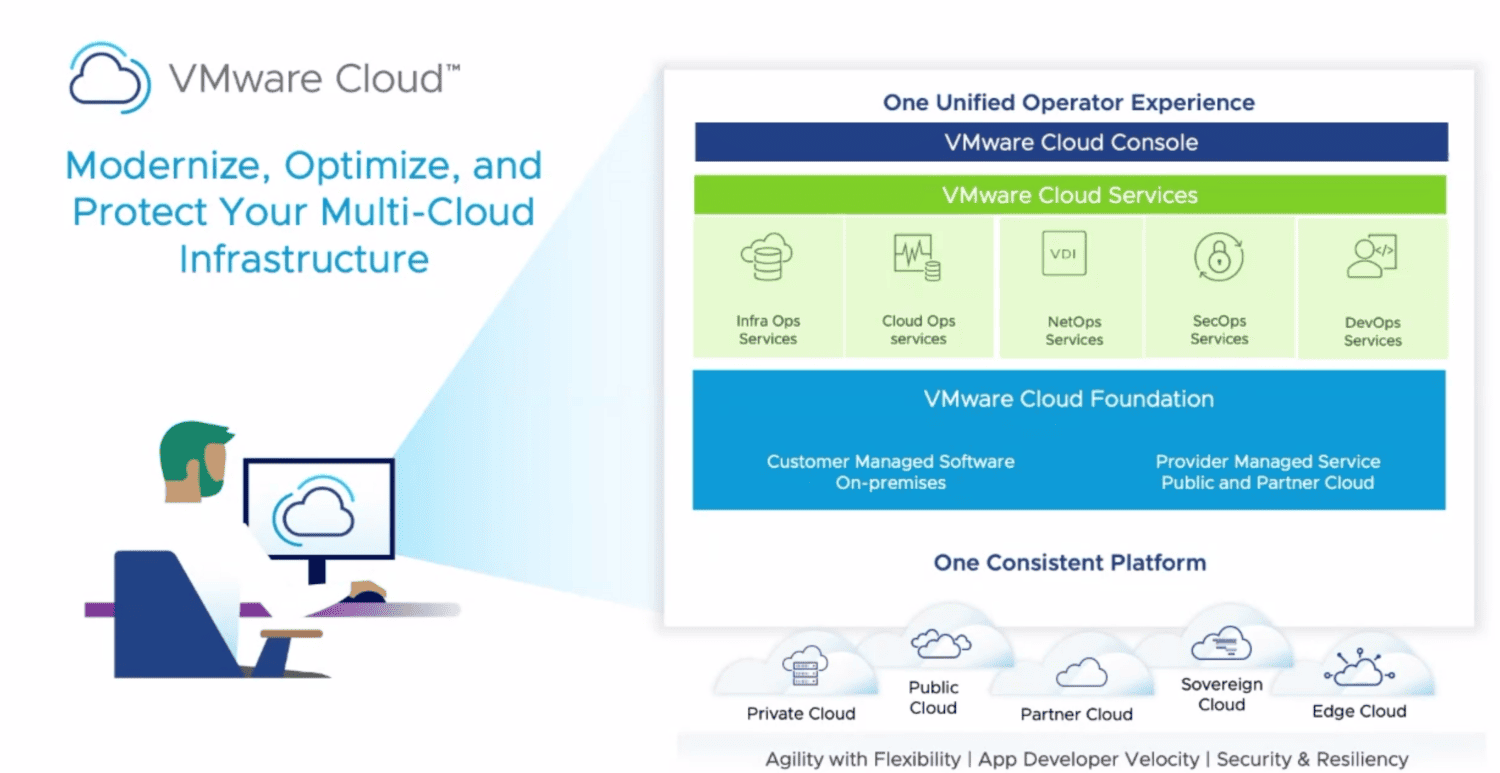 VMware is putting a lot of time and energy into making VMware Cloud Foundation better, we hear from the company. It wants to do this by improving performance (for example, by increasing the number of GPUs), but also by increasing ease of use and – not insignificantly – making upgrades faster. Regarding the latter, VMware claims a 33 percent decrease in upgrade time.
During VMware Explore in Las Vegas, VMware announced some important updates to VMware Cloud. In this article, we list them.
NSX becomes NSX+
We begin with an update on software-defined networking (SDN). NSX is one of the pillars under VMware as a whole. It claims a 70 percent market share by 2022 when it comes to SDN, or NSX. Yet this can always be made a little better. Hence, VMware today announced NSX+. Previously known as Project NorthStar.
NSX+ adds new services that should ensure that organizations get a consistent experience across multi-cloud environments. Not only that, it should also provide greater visibility across clouds to bring Zero Trust closer. On the performance front, we see the addition of an ALB, or Advanced Load Balancer (the industry's first SDN Load Balancer, VMware itself claims). Finally, VMware Cloud should also become a more secure environment, at least in terms of network setup, with the addition of NDR functionality.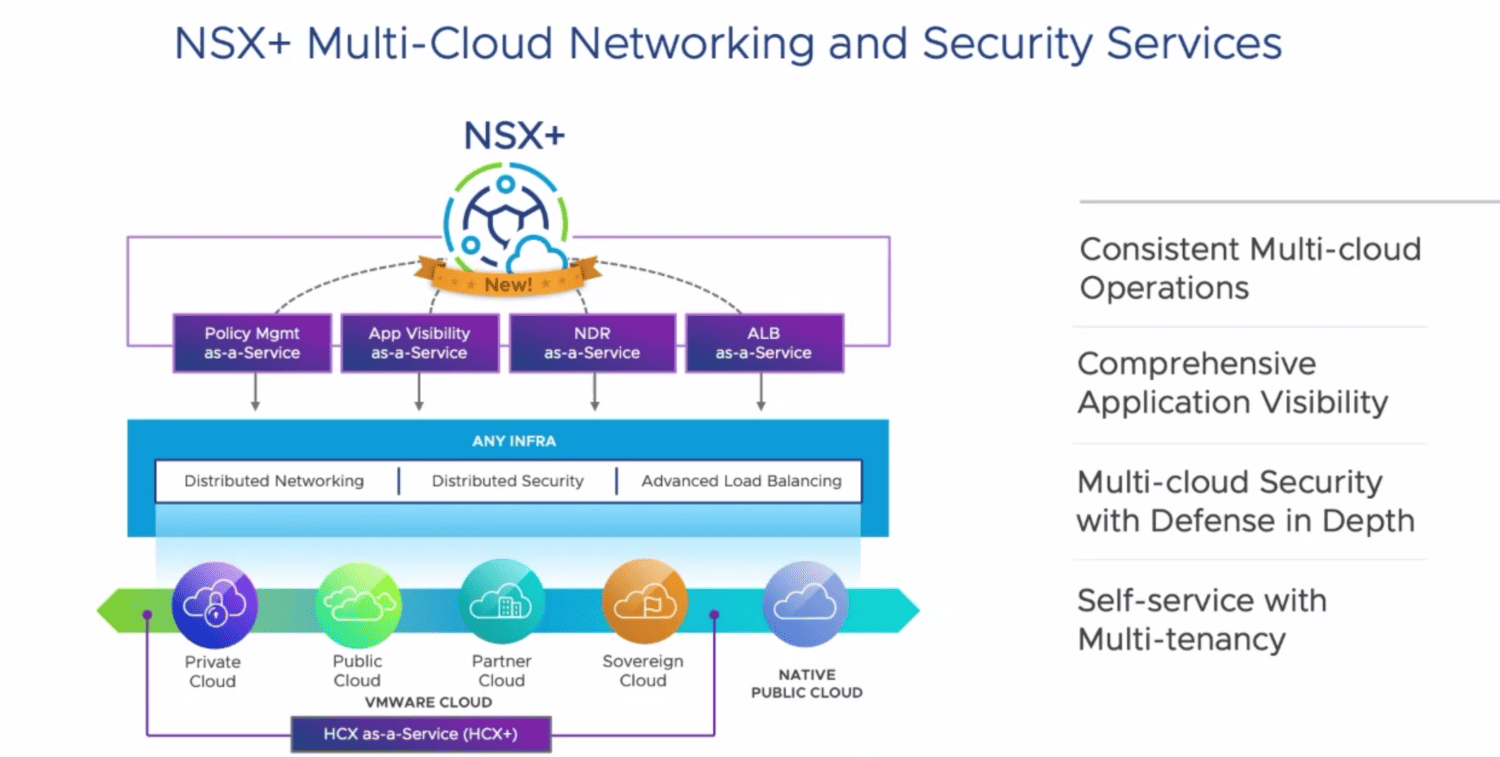 The above four additions are all new services that VMware provides within VMware Cloud, but they can also be deployed natively on public clouds. The official names are Policy Management as-a-Service, App Visibility as-a-Service, NDR as-a-Service and ALB as-a-Service. The whole thing is managed from the VMware Cloud Console. Finally, there will also be a version of NSX+ specifically for Virtual Private Cloud. This will allow VPCs on a shared VMware Cloud infrastructure to still offer hard separation in terms of network, security and the services. The idea is that different teams within organizations will then no longer be limited in their choice of cloud environment, as NSX+ will manage it all in VPCs as well.
vSAN Max
A second major pillar in VMware's offering is vSAN, or virtualized storage. Scalability plays an important role in this. Until now, that has not been vSAN's strong point. That is, vSAN (storage) and vSphere (compute) scaled hand in hand. However, that is no longer of our time. Especially due to the increased popularity of analytics and AI workloads, organizations are dealing with large data sets, which can also grow at lightning speed. The infrastructure needs to be set up for that, without having to scale compute along with it. In other words, disaggregated storage is needed.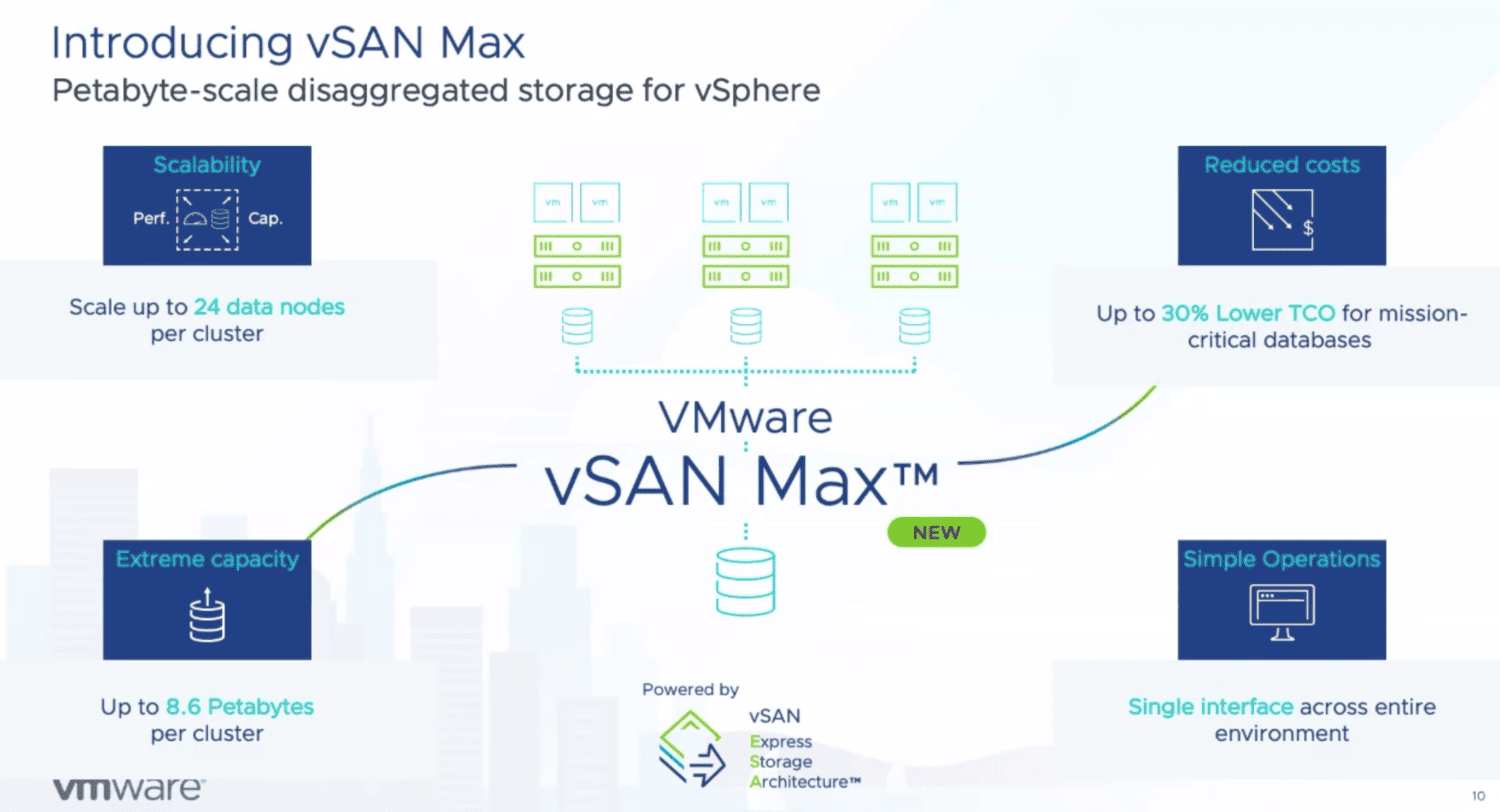 Today VMware announced this disaggregated storage, with vSAN Max. vSAN Max scales independently of compute up to a maximum of 24 data nodes or 8.6 petabytes per cluster. It is built on the vSAN Express Storage Architecture, which should allow the environment to recover very quickly should a component stop working.
Ransomware Recovery and ESXi lifecycle management
Finally, VMware has added some new things to VMware Cloud that are directly and indirectly related to security. First, there is a new version of VMware Ransomware Recovery, an existing VMware Cloud service. It allows organizations to recover VMs in a dedicated IRE (isolated recovery environment). At the bottom line, this results in much less downtime for customers.
The latest version of VMware Ransomware Recovery should reduce this even further. For example, multi-VM functionality has been added, allowing recovery operations to scale up better. Furthermore, it also makes it possible to run production VMs in the cloud while recovering the on-prem environment. This means that organizations can simply keep their production workloads running until the recovery is complete on-prem. A preview of Cybersecure Storage should ensure that recovery is as fast as possible. It does this by integrating the workflow with native vSAN snapshot technology. This optimizes data transfer. Finally, VMware is also making the RRaaS offering available for workloads in Google Cloud VMware Engine.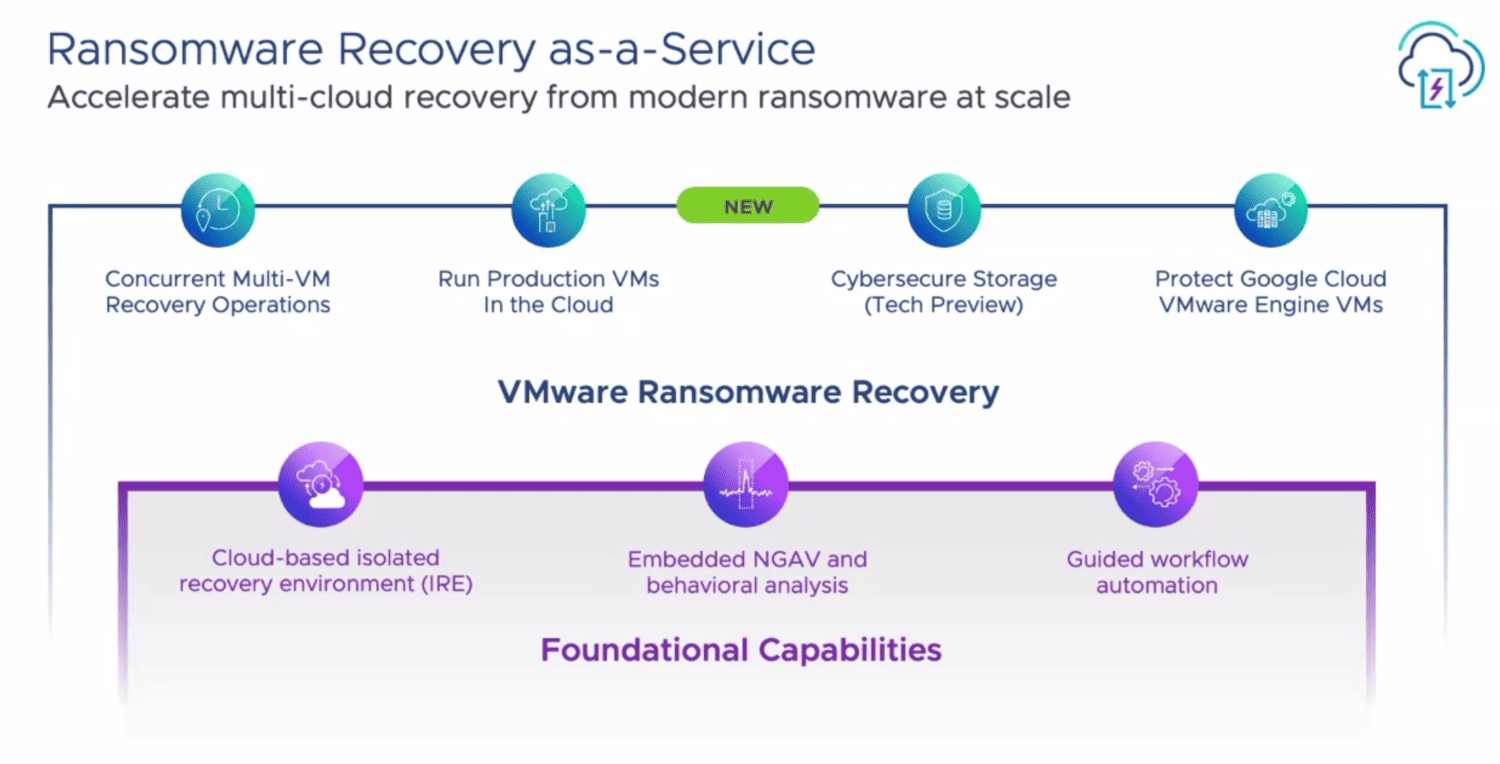 With just protecting VMs from ransomware attacks, of course, you're not there yet in terms of defense. We have also seen many attacks over the past year that seemed to specifically target VMware's ESXi hypervisor. In order to best arm VMware environments against these types of attacks, it is important that everything be provided with the latest updates and patches. In other words, organizations need to make sure they have lifecycle management in place. To make that easier and more attainable, VMware today announced Early Availability of ESXi lifecycle management in VMware vSphere+. Of course, this new functionality is not just there to protect against possible attacks, it also ensures that customers stay up to date on new features in VMware Cloud.
Availability
All in all, there are again quite a few new things to report on the cloud front at VMware. Not all of what we described above is already available. vSAN Max is expected to be available in the second half of VMware's current fiscal year, which runs through the end of January. The ability to temporarily run production VMs in the cloud during ransomware recovery is on a roll for the third quarter of this year. We're already in that now. So that should become available soon.
It's also worth noting that NSX+ is an update for existing NSX customers. As to vSAN Max, that will be offered separately from the existing vSAN offering. Finally, VMware Cloud is available in five "flavors," from VMware Cloud Essentials to VMware Cloud Enterprise. You can see them below.