We were a guest at the Lenovo Datacenter Group (Lenovo DCG) in New York. During Lenovo Transform 2.0, we were updated on their strategy, way of work, new products and important new collaborations. Lenovo already owns the PC and tablet market; it's pretty clear that the server and data center market should be next.
At Dell Technologies and HPE, they will not really be awake from Lenovo's activities in the data center market at the moment. The cake is still largely divided between the previous two, but it will be looked at with a slanted eye. Nobody can fail to notice that Lenovo is doing well in this market segment: the growth figures speak for themselves.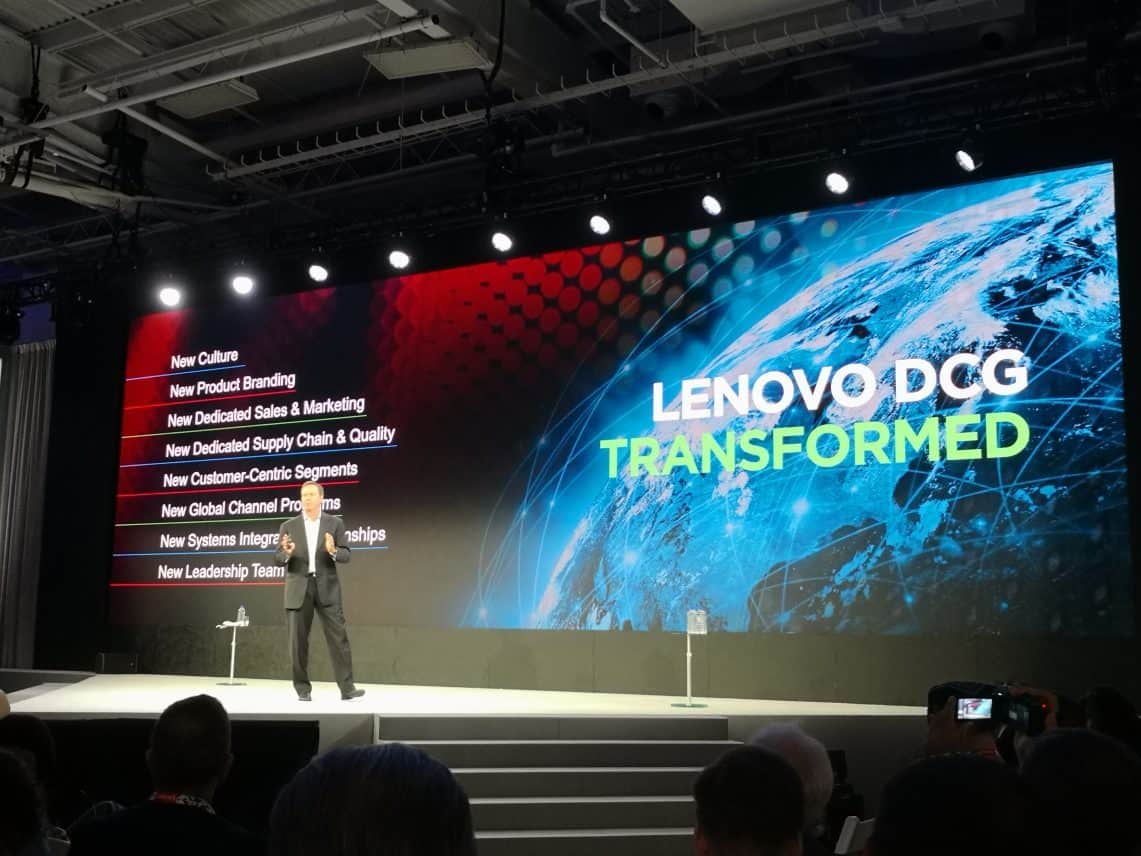 PCs and servers cannot be integrated
However, Lenovo DCG is still a fairly new player in the market, as the company in its current form has only been in existence for a year and a half. When Lenovo took over IBM's x86 server business in 2014, it was decided to integrate the entire business unit into the PC division, a choice that turned out to be the wrong one.
In the end, the data centre division was only a small part of that large PC division, which meant that it received far too little attention. Lenovo was able to conquer the PC market at lightning speed, and that was the main focus of attention. People responsible for the servers and data centres were dissatisfied, and customers were also moved. That's why it was decided in April 2017 to set up the Lenovo Datacenter Group, its own division with its own management. A golden move. Within two quarters, the division grew, and profits rose sharply. In 2017, Lenovo DCG achieved a turnover of $4.4 billion; in the second quarter of 2018, the company achieved a turnover of $1.9 billion. The growth is clearly visible. According to Lenovo, the current growth rate is 49 percent (year-on-year). Looking at the growth in the Netherlands, Lenovo has grown from a market share of 2.6 percent to 12.9 percent, a growth of 552.8 percent.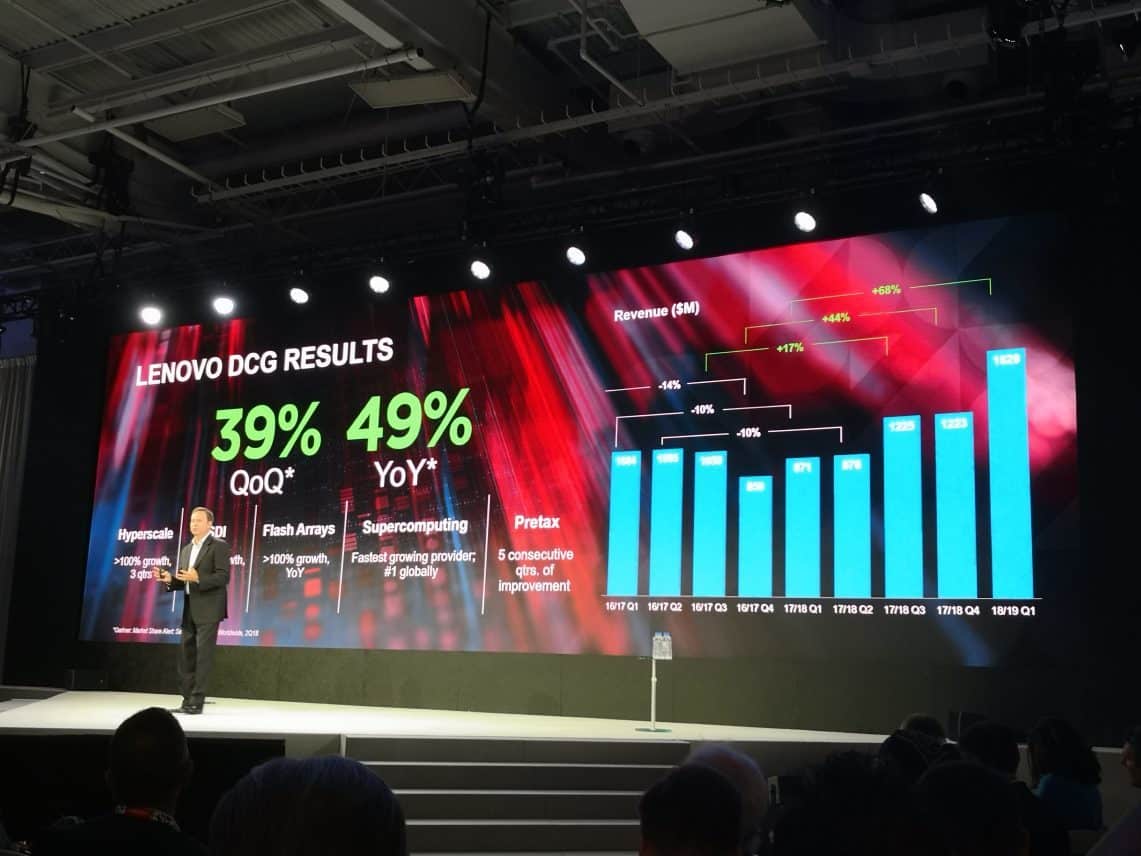 Lenovo DCG has big ambitions
They understand at Lenovo that conquering the data center market will take time. At the moment they don't say they want to be the biggest yet, but indirectly they are hinting at it. The ambitions are high, and at Lenovo Transform 2.0 new products and collaborations were announced in all areas.
It has already become clear that the PC and server business cannot be integrated; the company already has that experience. However, Lenovo states that they can learn from each other. Lenovo has the largest laptop factory in the world, about 40 football fields. There, almost all laptops are produced in a fully automated way. Lenovo also continues to produce desktop computers itself. At the bottom of the line, the differences between the construction of a desktop, laptop or server are not very big. The housing is different, and the sizes of the parts differ here and there, but the basis is the same; a motherboard, processor, memory, storage and possibly some network or RAID cards. For the production of servers, Lenovo DCG can learn a lot from the other divisions within Lenovo.
Lenovo DCG says they are currently busy optimizing their supply chain to provide businesses with complete preconfigured server racks. Lenovo DCG wants to deliver a complete rack full of servers, configured and all, to the customer. Then all you need to do is put the rack in place, plug in the power and network supply, and convert the switches. This allows it to meet one of the most important needs of enterprise organizations. This year we already saw in the Dutch Dell Fulfilment Center that it is tethered on a small scale, so it's not new. It's an important part of our portfolio.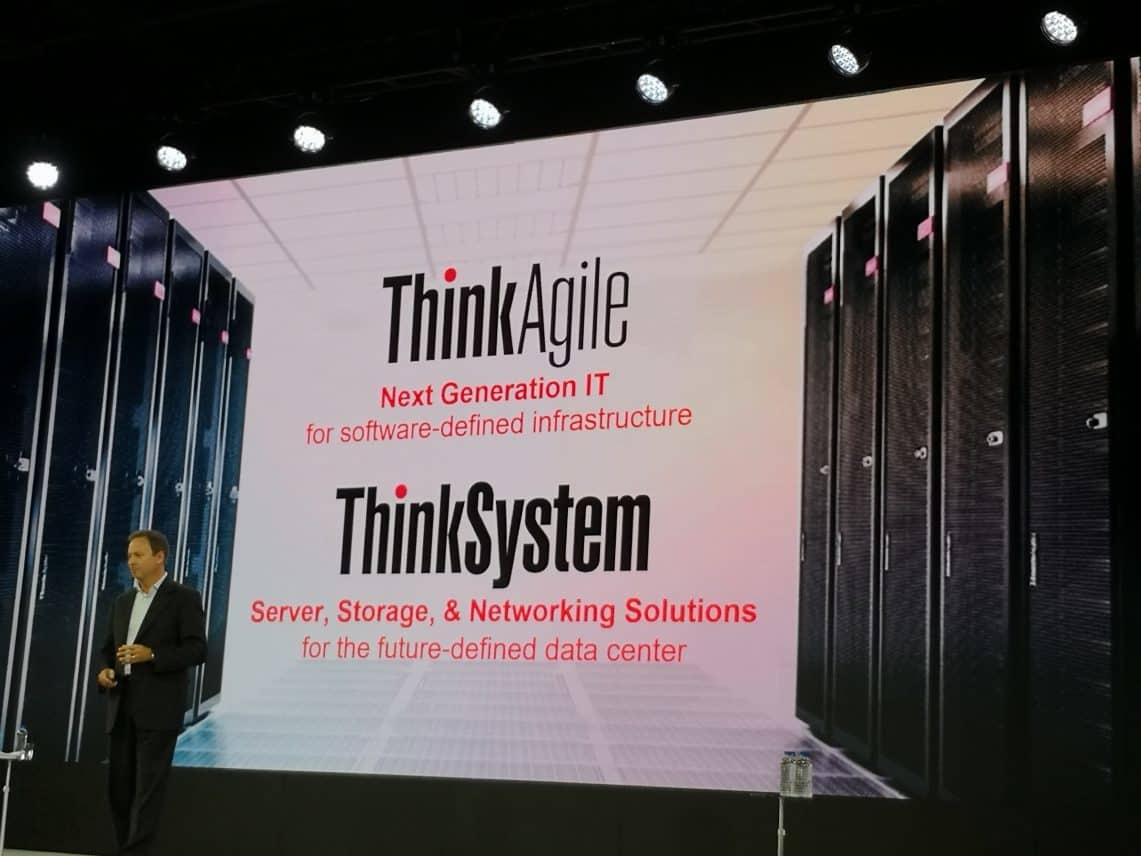 Lenovo DCG sees huge opportunities in the storage market
Within the server market, a separate movement has developed over the past ten years, and this will become even more important in the coming years. This is the data storage market, the storage market. As we have heard from many other tech giants, Lenovo DCG also mentioned the rise of the Internet of Things and the amount of data involved. The fact is that we generate more and more data and want to save it; the arrival of IoT will only increase and accelerate this. At the bottom of the line, companies will have to purchase much more storage. This calls for better storage solutions on the one hand and innovation on the other. For a number of years now, flash memory has become the norm in the data centre market. Within two years, the price of flash is expected to be lower than that of traditional HDD, which means that the focus can be completely on flash. Therefore, Lenovo DCG sees enormous opportunities in the storage market but has chosen not to conquer it on its own.
NetApp is the exclusive partner with whom Lenovo DCG wants to shake up the storage market
Lenovo radiates a bit of a desire to become the market leader in everything: PCs, tablets, smartphones, servers. So why not in the storage market? The PC and tablet markets are in their hands, the server market will take a while, but the growth is there.
Independently conquering the storage market is almost impossible in the current landscape. The competition is fierce, and there are a number of very dominant players. In our opinion, Lenovo was therefore very wise to enter into a partnership with NetApp. This way, they can still become active in the storage market, but they already have proven technology and products to fight that battle.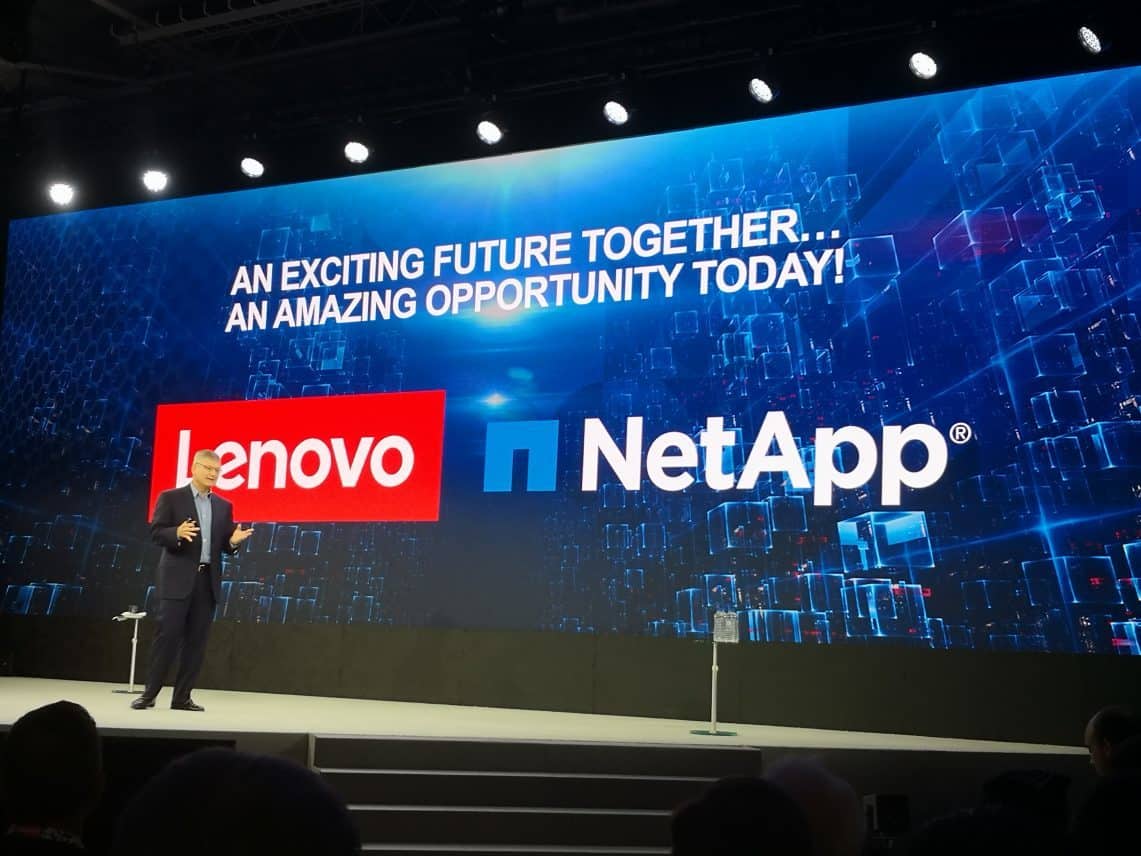 NetApp already has a firm grip on the storage market. This party focuses exclusively on enterprises. That's where Lenovo DCG saw the space. There is an enormous number of companies with server parks that do not belong to the top of the enterprise world, but are active under it. They can't really turn to NetApp. During Lenovo Transform 2.0, Lenovo DCG announced a huge storage portfolio with solutions for SMEs and large businesses. These are Lenovo DCG servers with huge storage capacities and, on top of that, the OnTap software from NetApp. Enterprises can also simply turn to Lenovo DCG for storage solutions. Then Lenovo will sell the standard NetApp products.
In this way, Lenovo and NetApp have divided the cake, while accelerating each other's growth enormously. NetApp already has customers that Lenovo DCG would like to do business with and vice versa. Lenovo is active in 160 countries, where it has partners and a complete supply chain. As a result, the market for NetApp will be much larger in one fell swoop. For Lenovo, the cooperation means that they now have a portfolio to serve more than 90 percent of the storage market. Finally, this collaboration could lead to hardware optimizations, which will make NetApp's software work even better.
Finally, for the Chinese market, the companies have set up a joint venture. There they will really enter the market together in order to offer NetApp products in all market segments. For NetApp, Lenovo is the ideal partner because it knows its way into the Chinese market. It also knows how to meet the requirements of the (local) government.
Growing as an international organization with high customer satisfaction
One of the things that we could not ignore during Transform 2.0 is the current political situation, in which many Chinese companies are unable to get a foothold in the United States or are even being punished. Where parties such as Huawei and ZTE are often mentioned, Lenovo's name never really comes up. It is, after all, a Chinese company of origin. Lenovo says they do not see themselves as a Chinese company, it is not run as such and the headquarters of Lenovo DCG is in Raleigh, in the United States. That's what IBM once opted for, and that's still the case today. Furthermore, Lenovo's management consists of people from all over the world, Americans, Europeans, Chinese and Australians. Lenovo emphasizes time and again that it is an international organization and not a Chinese company.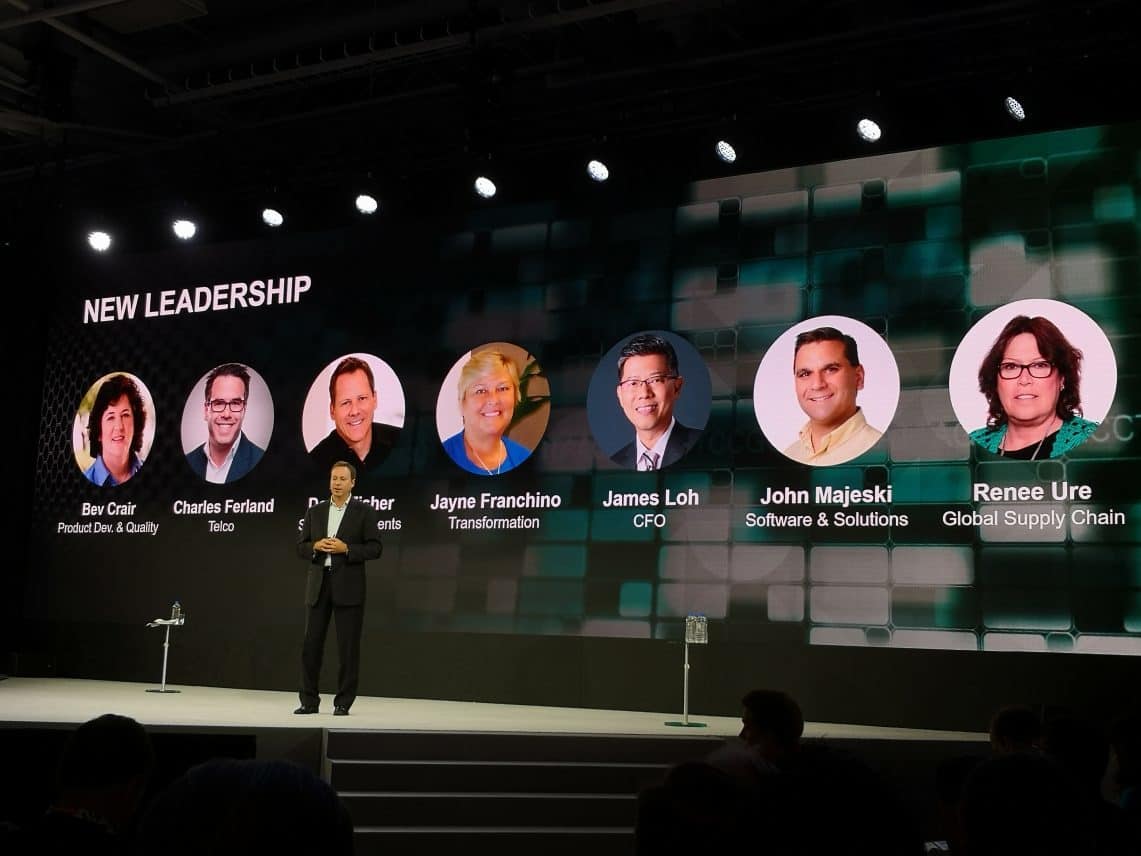 The company also mentions that it has already made several acquisitions in the United States, including a number of IBM acquisitions. Time and again, the authorities examine, examine and finally approve these takeovers. They cannot say whether they are subject to stricter controls than others, but at least not more lenient ones. They also point out that a lot of governments have approved the use of Lenovo PCs and servers. They also maintain links with many governments, as they are also customers, and do not expect problems such as those experienced by some Chinese companies.
"Employee income based on customer satisfaction"
Another important point that Lenovo wanted to make during Lenovo Transform is that it will ultimately judge its staff on customer satisfaction. In functions such as sales and support, one of the most important KPIs is the customer satisfaction rate, which has a direct effect on their income and bonuses. Lenovo wants to retain customers over a longer period of time. Especially for Lenovo DCG, this is very important. To really grow as Lenovo DCG, you need loyal customers.
Lenovo DCG has a broad portfolio and is clearly a player to take into account
The amount of innovation, new products and cooperation that Lenovo reviewed during Transform 2.0 were not bad. Simply too much to list and describe. However, despite the fact that the company now has a broad portfolio of data center solutions, there is a clear focus. The goal is also clear: the current market share of 6.9 percent compared to Dell (18.8 percent) and HPE (16.6 percent) should increase. The future will tell whether that will happen. They are not the least companies to compete with, but in the server and storage market Lenovo's strategy certainly does seem to have a chance.
The company is doing well in the Netherlands, where it currently has a market share of 12.9 percent. The company is also doing good business with the public cloud parties, the hyperscalers. Whether a new product like cloudistics will be very successful will, in our opinion, have to become clear in the coming years when the product has been further developed. Dell Technologies or HPE don't need to wake up yet, but let this at least be a warning. Lenovo DCG is not a one-day wonder; it will be a serious player to take into account.