VMware is available today in all major cloud environments, not to mention on-premise. This remains the primary environment for many companies. We discussed the company's cloud strategy with Boudewijn Aelbers, Director Presales Benelux at VMware, in order to immediately reflect on the developments at VMworld. We also talked to him about the 'technical debt' of companies and how to deal with it.
Those who have followed the developments around VMware have undoubtedly learned that cloud support has expanded considerably in recent months. Large hyper-scalers have been added to the list. In recent times, you have been able to apply VMware technology in your own environment (on-premise), via VMware Cloud on AWS, in the IBM Cloud or at ten or so smaller partners. Microsoft Azure, the Google Cloud Platform and the Oracle Cloud have also recently been added to this list. As a result, the five largest hyper scalers are now suitable for VMware technology.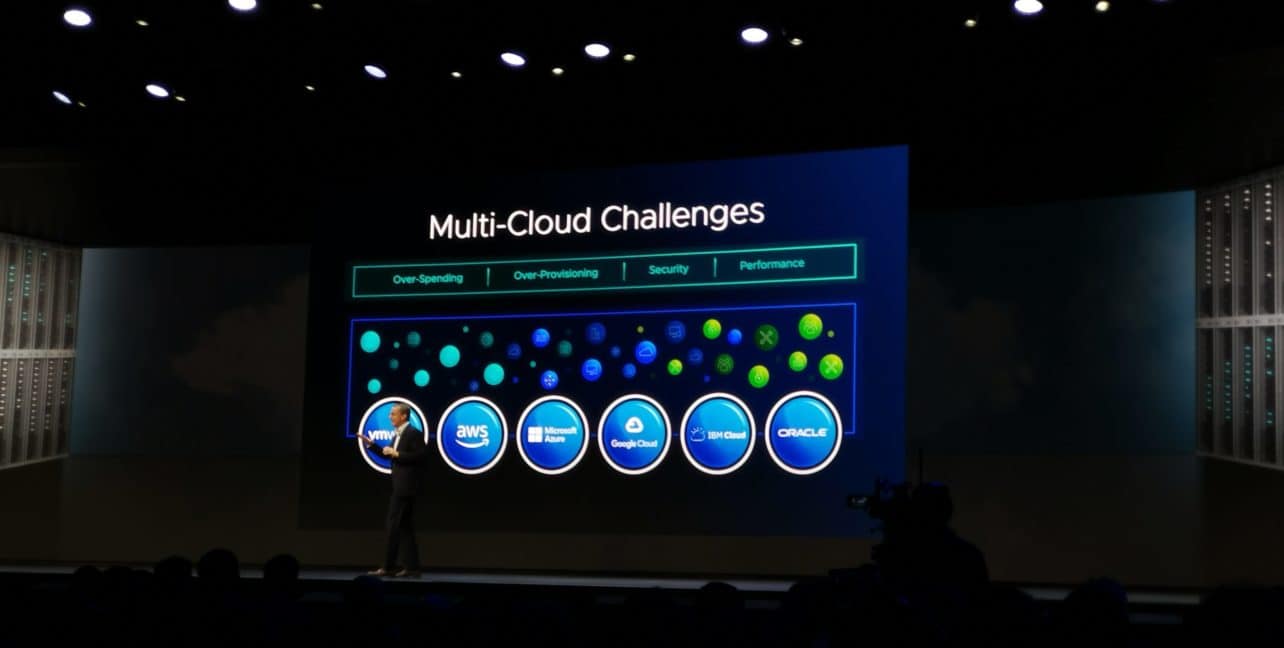 It is good to know that VMware does not do all this itself. Of course, VMware offers the on-premise package in the form of licenses and support. Thanks to technology from parent company Dell Technologies, it is also possible to lease a complete VMware Datacenter as a Service. Furthermore, the VMware Cloud on AWS is a true VMware product. The VMware environments at IBM, Azure, Google Cloud and Oracle are built and managed by partners. Nevertheless, VMware technology is used, so indirectly, the profit is brought in for VMware. This means that VMware tries to support all environments, of itself and of partners, as fully as possible, with the focus on the large hyper-scalers now being the largest. It is now possible to build a multi- and hybrid cloud environment with one technology stack, wherever and whenever you want.
One single pane of glass for all VMware clouds
With cloud.vmware.com, the company today offers a single pane of glass from which you can manage all your VMware environments. Whether your resources run on-premise, at AWS, Azure, Google, IBM or Oracle. It is even possible to migrate VMs from one cloud to another and vice versa. During VMWorld US, a demo was done on stage, in which two VMs, one in AWS and the other in Azure, were migrated to the other cloud. Fully live, without any noticeable downtime. The complete routing of the network was adjusted automatically so that a VM that used to be in AWS can now be reached in Azure and vice versa. It may sound simple, but it certainly isn't.
These are demos that the company can now do live on stage because the software-defined data centre has been perfected. It says something about how far VMware's technology has come. Companies that maintain or invest in VMware technology now have a truly unified cloud experience, no matter where they have their infrastructure running; a hybrid cloud strategy that many companies have been looking for for some time.
VMware Cloudhealth can significantly reduce cloud costs
Most enterprise organisations today have environments which run in multiple clouds. One team has opted for Azure, another for AWS and yet another team sees benefits mainly in the Google Cloud. This doesn't make managing and controlling budgets any easier. Each cloud has its own advantages and disadvantages. This applies to performance, technology, but also costs. There are enormous advantages to be gained if more insight can be provided into this, and if clouds can be compared. This is where the acquisition of Cloudhealth came in last year.
This technology has now been integrated into the cloud.vmware.com portal and offers support for the VMware on-premise environment and the clouds of Amazon, Microsoft and Google. Cloudhealth can, for example, see which virtual machines are used little or not at all, which can be downscaled, or which are close to their limits. But also, which of them might be better moved from cloud X to cloud Y, because that would be a lot cheaper? The egress costs are sometimes of decisive importance in this respect. Bringing data to the cloud is free of charge for all hyper scalers, but retrieving data from the cloud is very expensive. So what you don't want is a gigantic database of several petabytes running in Azure, and the VMs that consult this database in AWS. Then, the budget quickly runs out. Cloudhealth can help with this, and optimises the entire infrastructure, both in terms of performance and costs.
The solution for technical debt lies with Kubernetes
Many large companies have invested heavily in applications, infrastructure and developments in a particular technology or platform over the past ten years. This knowledge and experience now ensure that the company runs smoothly, but also makes it difficult to innovate. Aelbers calls these investments the technical debt of companies, not to be confused with legacy. Legacy is generally an obstacle you want to get rid of, but it is not easy to achieve because complex business processes depend on it. Technical debt relates to investments from the past, which work fine, and which you certainly don't want to say goodbye to yet.
Technical debt should not be confused with legacy
Unfortunately, the new innovative (cloud) technologies do not always work well together with this technical debt. However, it is nice to be able to innovate without having to build a new infrastructure next to the current one, just to embrace new innovations. VMware argues that it is important to be able to innovate easily within your current infrastructure. It now thinks it has found the solution in Kubernetes. Kubernetes is now also supported by vSphere. This makes it possible to run applications within a container on vSphere. All technical debt from the past should be able to run on vSphere, just like new innovative developments.
VMware is also investing in a completely new suite called Tanzu, which we will discuss in more detail in a separate article. This makes it possible to run Kubernetes infrastructure wherever and whenever you want.
VMware needs to keep calm and invest in integration
If we analyse the history of VMware, the company has made a total of about 80 acquisitions since it was founded. Eight of these have been made in the past year. That means that VMware has not only gained new expertise, but also many new products and solutions. We believe that VMware would do well to take a break from acquisitions now and invest in integrating all those acquisitions. Making sure that people get to the right place, but above all that the products are well integrated and that we can quickly say goodbye to a number of product names. Keeping up with the VMware portfolio is becoming increasingly complex. For customers, it can lead to confusion. We have the opportunity to discuss this constantly with VMware, but partners and customers should be able to understand it without all of this discussion.
All acquisitions have not yet been completed. At the moment, the company is still awaiting approval to incorporate Pivotal. This company specialises in application development, which it often does in combination with containers. The next step that VMware will take will focus on containers, among other things. Although this is a real takeover, Pivotal did originate from VMware, so what this really is, is an independent subsidiary returning home. As soon as the approval has been granted, we will undoubtedly hear a lot more about this from VMware. At the moment, the company didn't want to say much about it yet.