At an additional analyst and media summit in the United States, Dell Technologies gave a glimpse into the future. The company's mission for 2030 was announced, a new product was unveiled and a new payment model was presented. In our view, the most important news was the Datacenter as a Service product Power One, which we'll discuss in more detail in another article. Michael Dell's vision is set out in this article.
Once a year, Dell Technologies World is held, where the company presents its latest innovations and products. This year the phone rang for a second time: Michael Dell decided to set up an extra analyst and media summit to talk about the future. That can only mean big news. Whether it actually is big, you as a reader can decide for yourself.
"There is a shortage of people to enable self-propelled cars or other data innovation"
Before we got to the announcements made by Dell Technologies, we were first treated to a piece of vision and the Achilles heel of today's IT market. According to Michael Dell, the future of the IT market lies in data. Data is going to make the difference. This is already happening at some companies, but at others the data journey has yet to begin. Over the next ten years, everything is going to change, and the global economy will become data-driven. The introduction of 5G also plays a major role in this, because with the advent of 5G, edge computing will become huge, which is where the biggest opportunities lie for Dell Technologies.
However, there are major challenges that companies will face. Everything around us will be digitized and connected to the Internet. Edge computing and the Intenet of Things will grow explosively. But that also means that data will soon be in many different places. All that data will have to be brought together from different infrastructures, which is enormously complex. Michael Dell says: "Dell Technologies is the only company that can do this. With this, he is mainly referring to Dell for Edge devices and VMware for linking different networks and devices, but he also specifically mentions Pivotal in combination with VMware as the leader in Kubernetes.
In the end, Dell is of the opinion that the technology itself will not be the problem. The company can supply the products. The problem is the people. People don't have enough capacity to work with this technology and data and to really innovate. At the moment, according to Dell, it is still impossible to introduce self-propelled cars because the human capacity is not there.
"Today, people in the IT world, mainly developers, spend too much time solving simple infrastructure problems rather than building algorithms or writing code that will change the business and the world. Actually, Dell Technologies is saying that too much capacity is wasted on simple tasks, and too little real innovation takes place.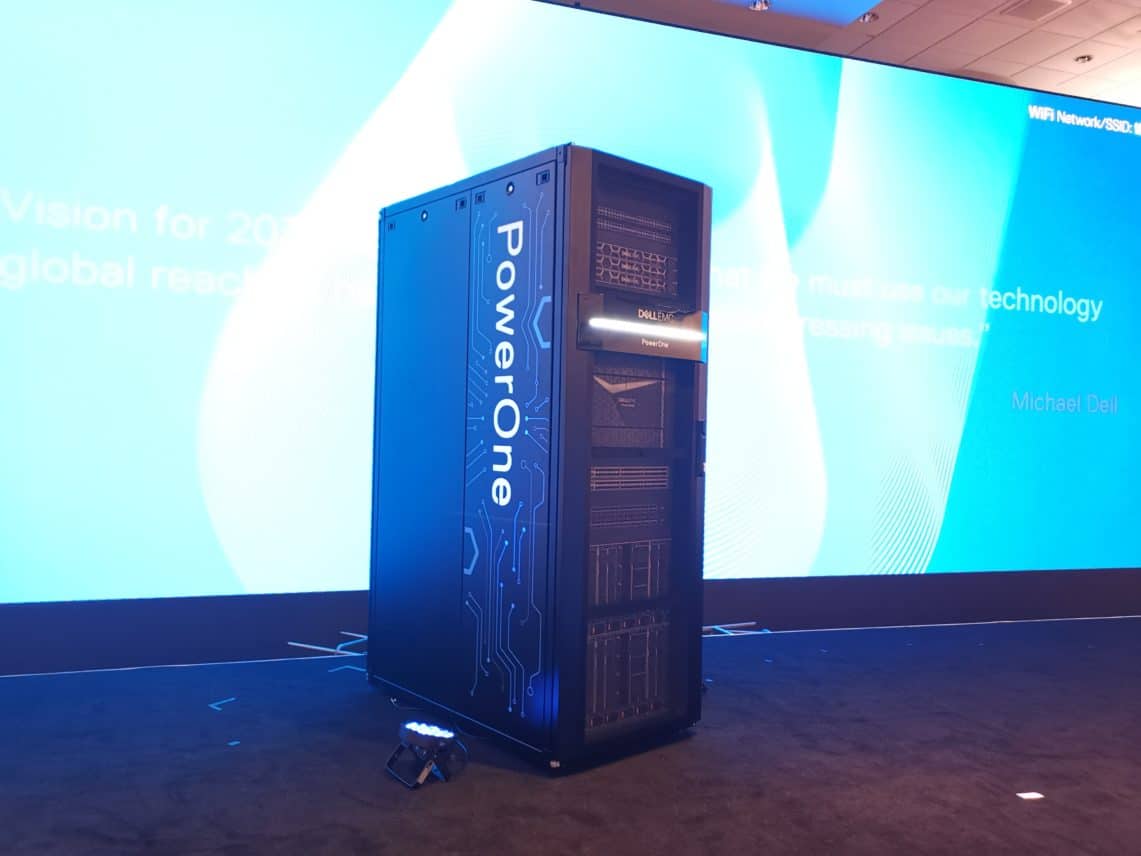 To address this, Dell Technologies is now providing an autonomous data center, as to keep IT operations from worrying about managing simple infrastructure.
Pay by consumption or as-a-service
Following in the footsteps of other players in the market, Dell Technologies could not lag behind. Whereas HPE (with Greenlake) and Lenovo (with TruScale) had already set up such programs, it will soon be possible to purchase many products like these from Dell, either using a consumption model or as-a-service.
In concrete terms, this means that companies will no longer have to make a one-off payment, but that the price will be poured into a subscription model based on usage, for which a monthly fee will be paid.
In the case of laptops, it will be a fixed amount per month, where you have the entire system at your disposal, and in case of problems someone will be present the next day to solve it. In addition, the product will be replaced with a new model over time.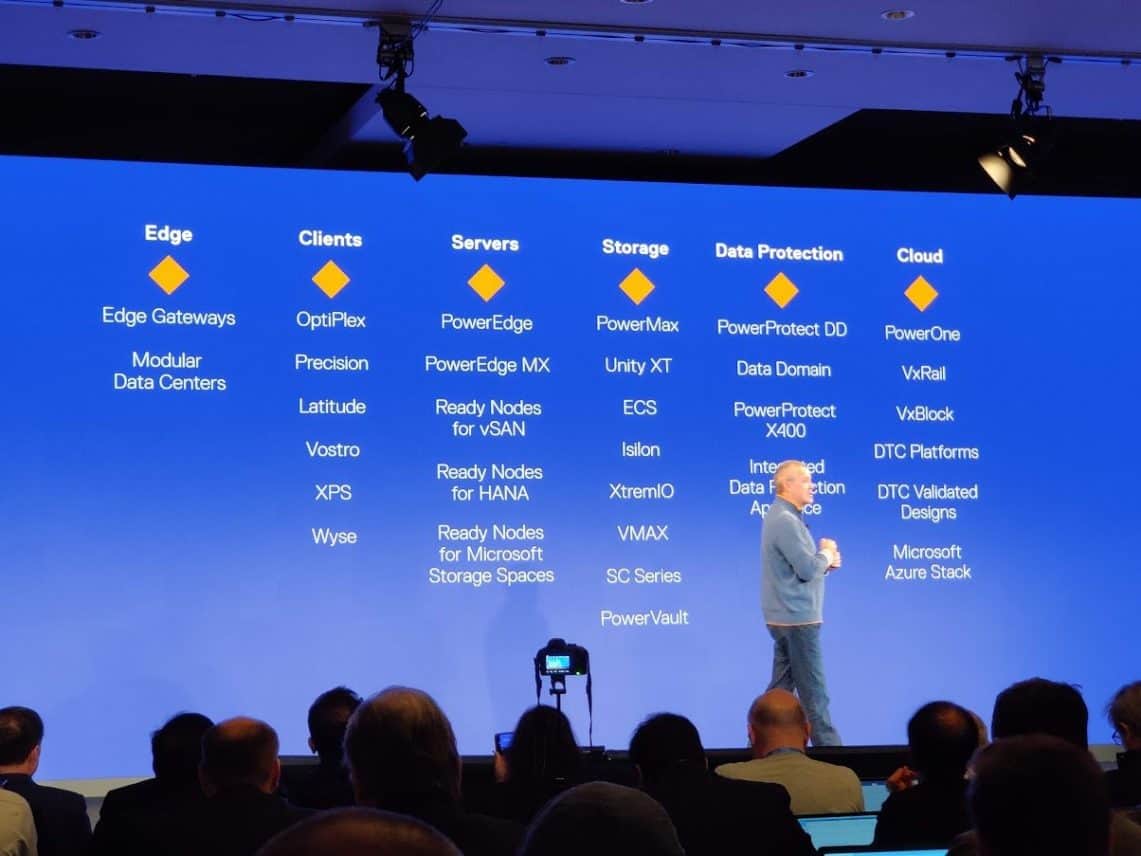 In the case of a server, for example, the price model is based on the use of the number of CPUs or calculation cores, or on the amount of storage capacity in use. With servers, in many cases, a product will always be delivered with a healthy dose of overcapacity. In this way, the customer can scale up at any time, if necessary, without having to deliver new hardware first. It's an extra piece of service that hardware vendors do have to deliver, to cope with the competition and flexibility of the cloud. For Dell Technologies, it's a big next step. In a broader market perspective, the company simply follows its competitors. We don't exactly know what products are available as-a-service or through a consumption model. At this point in time, Dell Technologies wasn't able to answer that question. For example, we don't know if the network division with switches and access points will be available through these new price models.
2030 objectives – Progress made real
Finally, Dell Technologies presented its objectives for 2030. Dell Technologies' 2020 targets have now been met, so it's time for new targets. Goals that should improve the company and polish its image, but above all, goals that respond to the opportunities granted by today's discussions. Four pillars have been defined for 2030.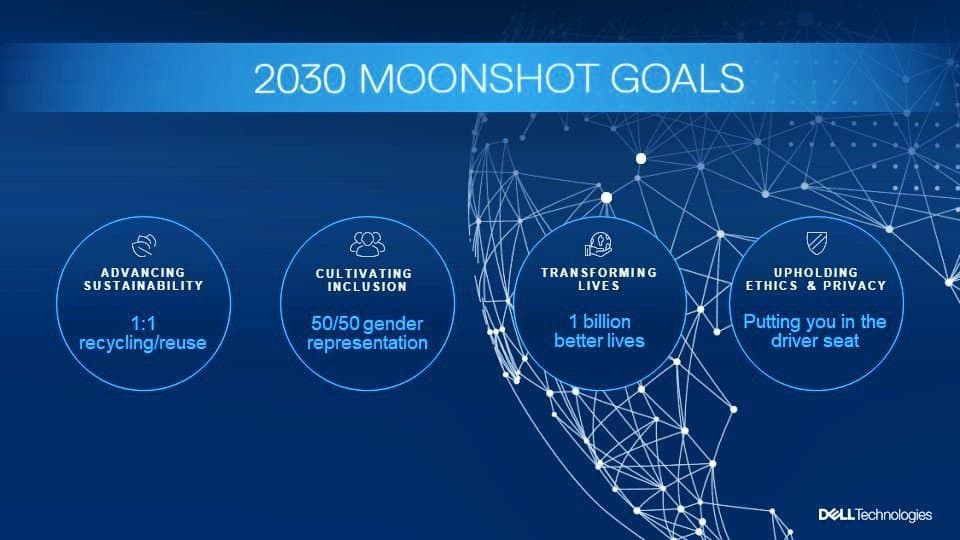 Advancing sustainability
By 2030, Dell intends to recycle or reuse an equivalent product for each product purchased by a customer. The goal is for Dell to be an entirely green business, with no harm to the environment from the products it sells. A good initiative, but we suspect it won't take ten years, as several companies are already well on their way to achieving this.
Another objective is that all packaging materials should be environmentally friendly and, in all cases, made from recycled materials. Finally, the company wants to try and use recycled material for 50 percent of parts in new products; this is a more difficult challenge.
Cultivating Inclusion
By 2030, 50 percent of the total workforce at Dell Technologies has to be female. Among the top level, the 'global people leaders', that quotum is only 40 percent. As far as we're concerned, Dell Technologies is completely off the mark here. First of all, let us emphasise that a company that only employs men or women is not ideal. The same can be said about a multinational that employs only Western white people. Differences in gender and culture can contribute on different and more fronts, which can make a company more successful.
However, we do think that fixing the male/female split at 50/50 is the wrong move. In this case, Dell Technologies will most likely be hiring people based on gender, rather than the knowledge and experience they have to offer, because the main goal is to achieve that magic 50/50 ratio. We believe that it doesn't matter whether it's 50/50, 60/40 or 70/30, or maybe 40/60 with women being the majority. In the end, there has to be a mix, but staff knowledge should always be the deciding factor. A man who is actually more competent could now be rejected because he is not a woman. And if it has to be 50/50, why not do the same for high-level management? Because that's where men are allowed to keep the upper hand?
Transforming lives
Dell Technologies wants to improve the lives of 1 billion people. By providing better medical facilities, education and economic opportunities. People who would like to work in IT are welcome at Dell Technologies, preferably women of course. Dell sets up its own educational programs in many countries to attract new talent and give people opportunities.
Upholding ethics and privacy
Dell Technologies will automate its data processes to make it easy for customers to manage their personal information. It looks like they missed something at Dell Technologies, as they've had to offer this for a long time, which in Europe is called GDPR. Now they're going to make it available globally so Americans can manage their data as well.
We have, of course, tried to go deeper into this by asking questions, but Dell Technologies did not want to say much about the four pillars for 2030. Not about how the company is going to get them, how they were created, or how realistic they are right now.
Conclusion
As this was an additional analyst and media session, where Michael Dell explained his vision and where Dell Technologies came up with new products and solutions, we were a little disappointed. The future of data, and the fact that the IoT and the edge market offers a huge future for many companies are, of course, not anything new. Certainly not for Dell Technologies, as we've heard it several times already. The edge market is becoming much bigger than the cloud market, according to Dell Technologies. They already called this in 2018. Unfortunately for us, these are just visionary words. We can't tell you how Dell Technologies is going to set up an edge strategy, or when the Dell edge products are going to conquer the world. There has not been a word about that yet.
There was PowerOne, an autonomous data center. Very innovative and certainly interesting, but we had to move heaven and earth to get some more background information on this product. It will undoubtedly create new opportunities and business at Dell Technologies, and for customers, it can be a good solution to relieve some stress in their IT department, but it doesn't add much to the data and edge computing vision.
Paying based on consumption and as-a-service is a market trend that Dell Technologies simply has to go along with. The goals for 2030, a better environment and improving the lives of a billion people, are fine. In terms of diversity, however, the company is setting a completely unrealistic goal, and extending the GDPR to the rest of the world isn't really worth mentioning. Dell Technologies has missed quite a few opportunities to present itself well.