NetApp announced BlueXP today, a new management and configuration offering for hybrid cloud environments. NetApp BlueXP promises to be a step toward what NetApp itself calls the 'evolved cloud'.
Within hybrid environments, data is spread between on-premises environments and the (public) cloud. This poses challenges, as it results in a rather complex environment. How do you make sure you keep an overview of your data and manage it as efficiently as possible? Both issues are crucial for organizations that want to use data to get ahead. Doing everything manually is out of the question these days. So you will have to move toward some degree of AI-driven data management. That is, you need some form of AIOps. NetApp developed BlueXP for this, a control plane that enables visibility, overview and data management within hybrid cloud environments.
Centralized storage management for on-prem and cloud
NetApp BlueXP is a SaaS service that sits on top of the distributed data landscape of organizations, so to speak. The promise from NetApp is that you can optimally organize this data landscape through this control plane. This all starts with being able to centrally manage the storage that resides in on-premises and (public) cloud environments. To do this, NetApp leverages the deep integrations it has built over the years with Microsoft Azure, AWS and Google Cloud. The company has had a very strong hybrid and multi-cloud focus in recent years. Azure NetApp Files, Amazon FSx for NetApp ONTAP and Google Cloud Volumes Service and Cloud Volumes ONTAP are a direct result of this. On the on-premises side, you can manage NetApp AFF, FAS, StorageGRID and E-Series hybrid systems from BlueXP. This can all be done from a single console.
AIOps
The ability to see everything in a single console is a first step. NetApp BlueXP is also intended to reduce manpower demands for on the actual management of the distributed environment. This is where AIOps comes in. BlueXP uses AI/ML to set up storage environments quickly, with fewer people. When setting up, you get fully automated insights about available resources, as well as the risk profile of the environment. In addition, BlueXP can use AI to indicate the health of your environments. The idea here is that it not only monitors to provide notifications the moment there are problems with infrastructure or workloads. It also proactively provides insights into future issues. You can then prevent these. In part, this is possible thanks to the integration of NetApp's own Active IQ technology.
Cyber resilience
A third component of NetApp BlueXP has to do with cyber resilience. The new control layer also integrates data protection and cybersecurity. In NetApp's own words, zero trust is the starting point for BlueXP. A ransomware dashboard is also provided. This gives organizations enterprise-wide insight into ransomware vulnerabilities. Not only that, BlueXP also indicates how to fix these vulnerabilities. Here, too, NetApp promises that simplicity prevails. Fixing vulnerabilities is also largely automated. NetApp calls it a single-click process. That is, all a customer has to do is indicate that BlueXP should fix it.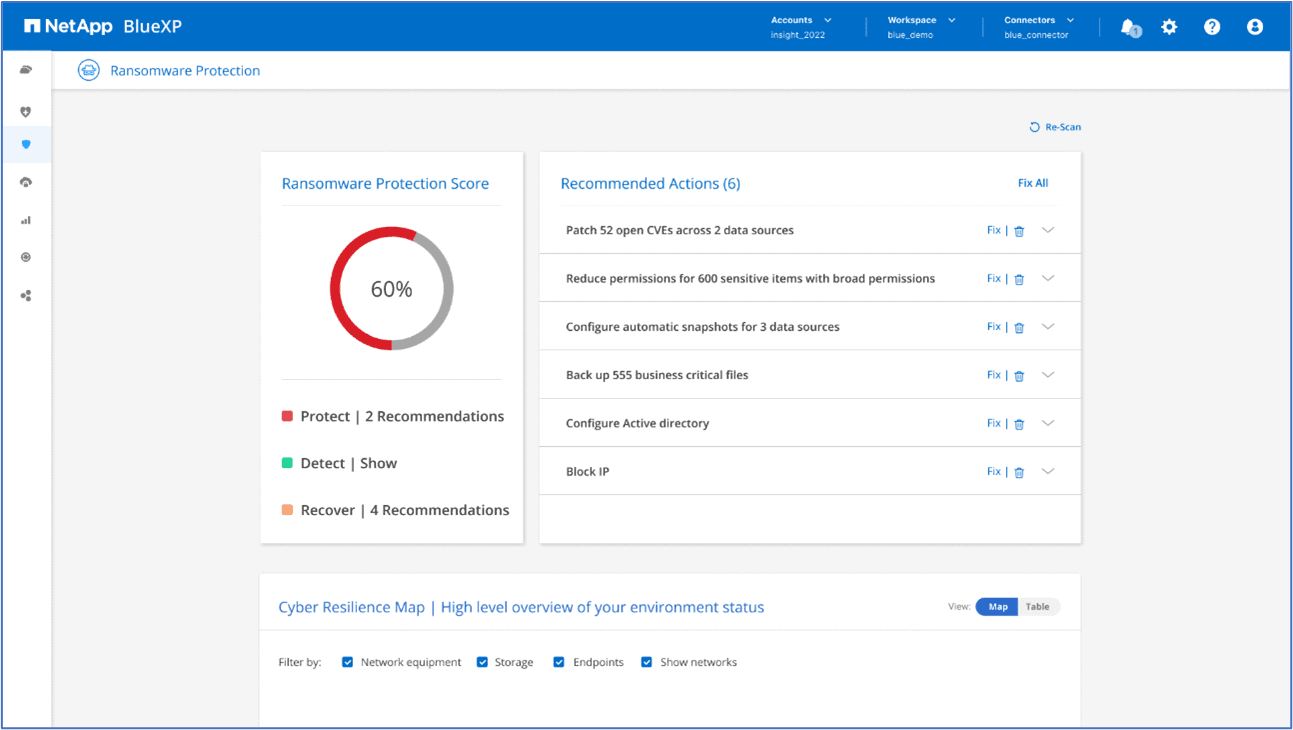 Governance and data mobility
One of the big advantages of being able to oversee your entire environment is that it also makes it possible to properly set up things like compliance and governance. NetApp BlueXP has something to offer in this area too. It performs AI/ML-driven audits at the level of the data, but also of the users. With this, BlueXP should be able to detect all anomalous behavior in real time. It can then also initiate certain actions to deal with this properly.
Data isn't always in the same location in a hybrid world. Data mobility is getting more and more common. NetApp BlueXP makes it possible to copy, sync, tier and cache data between all the major public clouds and an organization's own data center(s). This shouldn't be much more complicated than drag and drop, according to NetApp. Moving data like this poses no security risk, according to NetApp. The data is protected in transit as well as when it is at rest. NetApp also promises that it will not move the data into the most expensive storage tiers.
NetApp BlueXP is available to all customers
We mentioned above that NetApp BlueXP is a SaaS service. That suggests that purchasing this new control layer has a pay-per-use billing model. However, this is not the case. During a prebriefing on BlueXP that we attended, it was stated that there is no cost to use BlueXP. It is free to all NetApp customers. In addition, it is available as SaaS, but customers can also run it in a VPC environment.
The pay-per-use concept does show up in the components you manage through BlueXP. For example, there is a so-called Digital Wallet with licenses for data services. These licenses can be interchanged between services, depending on an organization's needs. Think of the various services around data protection, privacy and governance. The requirements for these services may change over time. Being able to change the licenses around makes managing it a bit more flexible. NetApp Keystone, NetApp's storage-as-a-service offering, is also integrated into BlueXP. Finally, if it is up to NetApp, BlueXP will also become the management layer for NetApp's ONTAP data management software. That is, NetApp calls BlueXP the preferred method to manage ONTAP.
NetApp BlueXP: result of years of focus on hybrid cloud
We have been following NetApp for many years. It is interesting to see how the strategic choices made some five years ago now result in BlueXP. NetApp had long been an established name on-premises. The key challenges for the company were primarily in the cloud. So that became the main focus in terms of product development. NetApp's emphasis on embracing or leaning into the cloud, as they call it, provided the deep integrations with Azure, AWS and Google. At the same time, the company also made some tough decisions about its own on-prem portfolio. For example, NetApp discontinued its HCI offering just a few years after it was announced. It also moved away from its own Kubernetes service, in favor of Project Astra.
Not all of the above developments directly resulted in NetApp BlueXP. However, it is clear that NetApp was willing to make sacrifices to achieve the company's overarching vision. Without the strong focus on hybrid or multi-cloud, the deep integrations with public cloud providers probably would not have happened. And without these deep integrations, the development of BlueXP in its current form would not have been possible. We obviously have to wait and see how BlueXP will perform in practice, but at least on paper NetApp has taken a big step toward true hybrid or multi-cloud data management.