Google Bard will soon get extensions for third-party apps, according to 9to5google. This will allow Bard to better compete with OpenAI's ChatGPT.
During Google I/O 2023, Google disclosed that meanwhile, work is already underway to support extensions or plugins for Bard. Among other things, the tech giant announced an integration with Adobe Firefly's generative AI models. This will soon allow users to more easily turn creative ideas into high-quality images and edit them via Adobe Express.
Integrations with other third-party applications were also announced. Specifically, integrations with Kayak, OpenTable, ZipRecruiter, Instacart, Wolfram and Khan Academy. When these integrations will become available, Google has not yet indicated.
Nine extensions for Google Bard
Research by tech site 9to5google shows that this integration landscape is becoming available sooner than expected. They discovered a UI with what may be an early preview of the Bard extensions.
When these integrations become available, they will initially be about nine extensions for third-party applications. These are Instacart, Kayak, Google Maps, Google Flights, Google Hotels, Opentable, Zillow, YouTube and Redfin. Interestingly, other applications are still missing, such as Expedia, which is already available for ChatGPT.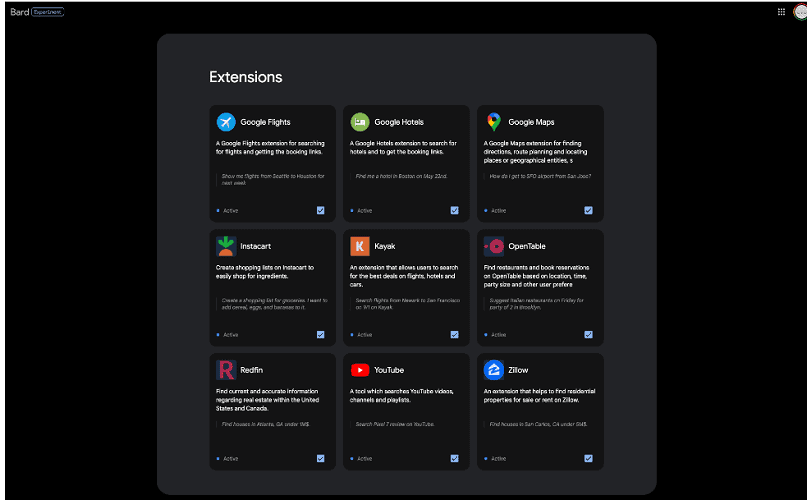 In addition, Google would also develop extensions to Bard for its Workspace applications, according to the tech website. Think chatbot access for Google Docs, Gmail and Google Drive, among others.
Also read: Google Bard finally finds its way to Europe