Microsoft announced the arrival of Bing Chat Enterprise at the Inspire 2023 event. This version of the generative AI chat tool will give enterprises more control over their data and data privacy.
With the introduction of Bing Chat Enterprise, the tech giant wants to accommodate companies looking to deploy generative AI tools in terms of data privacy and governance. Companies are often hesitant to use generative AI tools because of concerns about the security of their corporate data. They do not want the AI tools to read this data and thus potentially incorporate trade secrets and intellectual property into their models. That way, data could leak.
Bing Chat Enterprise does not store data
Bing Chat Enterprise should prevent this from happening. According to Microsoft, all data that is put into the solution and comes out remains protected. This should give companies access to better answers, greater efficiency and new opportunities for creativity.
Within the AI tool, data is not stored and Microsoft is not able to read employee data or other business data. Nor is customer data used to train the underlying AI models.
Recently added is the Visual Search functionality, which allows Bing Chat Enterprise to answer questions about uploaded images and search for relevant content on the Internet based on that information.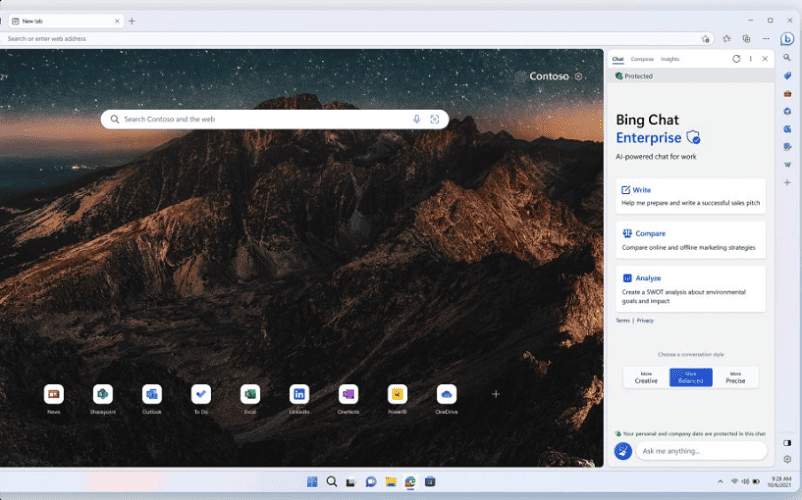 Free in Microsoft 365 enterprise subscriptions
The AI tool is now available in preview and free for users of Microsoft 365 E3, E5, Business Standard or Business Premium. A standalone version will also be available soon for a fee of $5 per month.
Furthermore, the tool will soon be available from Microsoft Copilot, for example.
Also read: OpenAI officially releases model behind Bing Chat to regain attention