OpenAI is letting developers integrate GPT-4 into their own products. To do so, the company is making the API of the language model generally available. At the same time, the company's chatbot attracted fewer visitors in June. It marked the first time web traffic lowered, so the new API will be great news for OpenAI to regain attention.
Organizations with a paying API subscription to OpenAI's services can now get to work with GPT-4. For this, the language model has been officially released via an API.
OpenAI describes GPT-4 as "our most capable model." According to the company, millions of developers already showed interest in GPT-4 when the ChatGPT API was released. "We envision a future in which language-based models can support any use case."
GPT-4 differs from its predecessors in its wider scope of prompts. An image can now accompany the command you give to the chatbot. For now, though, this feature is still in the testing phase and is therefore not yet available.
Later this month, new API developers should also gain access to GPT-4. How many new developers get access simultaneously will depend on the availability of computing power.
ChatGPT loses popularity
Making GPT-4 publicly available may allow OpenAI to regain public attention, as the company's chatbot attracted fewer visitors for the first time last month. This trend was marked by Similarweb.
In June 2023, the chatbot generated 9.7 percent less web traffic than it could in May. Microsoft's chatbot saw a small decrease in web traffic, while Google's Bard attracted about the same number of visitors. Although the web traffic generated by Bard falls into insignificance compared to that of Bing Chat and ChatGPT.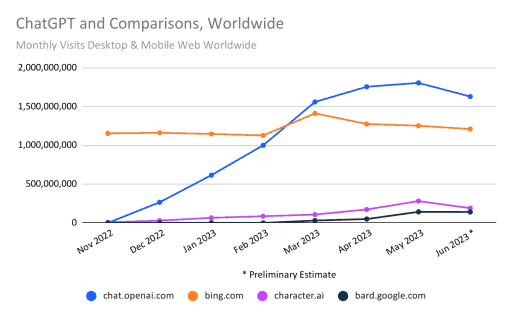 Source: Similarweb
David F. Carr, senior analyst at Similarweb, concluded that a new reality awaits chatbot developers: "Chatbots will have to prove their worth, rather than taking it for granted, from here on out."
Few tears
Carr does, however, nuance that statement. "Whether OpenAI management is brokenhearted about the dip in traffic is debatable." ChatGPT contributes nothing to OpenAI's revenue model. For the company, the tool serves only as a demonstration of its capabilities with language models. Based on the chatbot, developers know what to expect when they pay to integrate GPT-4 into their own applications.
OpenAI also previously tried to commercialize its chatbot with ChatGPT Plus. That subscription gives users anytime access to the tool, works faster and gives users quicker access to new features. The company tried to get users onto the paid version soon after ChatGPT was introduced, as Sam Altman, CEO of OpenAI, admitted to Elon Musk that he could cry a good deal when considering how much it costs to provide ChatGPT with sufficient computing power.
Competition is picking up
Moreover, competition for ChatGPT is increasing. When the chatbot was launched, OpenAI was still playing more or less alone in the field of these tools. Later Bing Chat joined, which runs on GPT-4. As an established name like Microsoft, owner of Bing Chat, came to play along in the field of chatbots, things got real for competitors. Google then finally introduced its chatbot Bard in America but is not entirely convinced about it. Moreover, more and more companies serving the business market are introducing their own chatbot.
Tip: Microsoft and OpenAI frustrated over each other's chatbots
Outside America, more and more companies are also showing interest in developing their own version of the AI tool, hoping to win over their home market. China's Alibaba introduced its version, Tongyi Qianwen, in April.
The need to use ChatGPT is falling away in part because of increasing competition. As the creator of the first chatbot for the general public, the OpenAI name won't be off the radar anytime soon. Should ChatGPT continue to attract fewer visitors as a free service, OpenAI will only be happy to pull the plug on the loss-making chatbot and focus on its paying customers.