Salesforce presented Marketing GPT and Commerce GPT at its Connections event in Chicago, two new solutions based on generative AI. With these, Salesforce is fleshing out more of its GPT initiatives that it showed earlier this year. Today it brings you the marketing assistant you never had.
Salesforce is hosting its Connections event in Chicago this week. At this event, it is giving full attention to the company's marketing and commerce solutions. That includes new products or at least product features. Salesforce's earlier path with Einstein GPT is taking more shape here. Today, for example, it unveiled Marketing GPT and Commerce GPT.
Salesforce revises GPT naming scheme
Salesforce experts or followers may have already noticed it, it did escape our notice at first, but Salesforce has revised the naming of its GPT portfolio and made it more straightforward as far as we are concerned. Earlier this year, it was still using "Einstein GPT for …..", with the dots filling in sales, service, marketing, developers, or Slack. Now it's just Marketing GPT and Commerce GPT, just like it's Slack GPT and Tableau GPT. We have been told Einstein GPT is still the umbrella brand name.
Marketing GPT
The preview we saw earlier this year of Einstein GPT for Marketing was an initial version of Marketing GPT that the company is now presenting more extensively. With Marketing GPT, Salesforce customers can get support from a generative AI through a chat interface when doing their marketing work. It is best compared to a personal marketing assistant, but one that performs fast and efficiently. It gets the job done when you ask. It doesn't need to drink coffee first, take a bathroom break, or get the kids from school. This marketing assistant produces the result of your query within seconds, the speed depending on how complicated the query is.
What to expect.
In the demo earlier this year, they showed how they use a chat interface to ask an AI to build landing pages. Salesforce has now added the creation of personalized emails (templates). In addition, it becomes possible to test and improve those e-mails for more engagement.
Audience segmentation can be complex at times, especially when you have many filters and a complicated marketing campaign. Who exactly do you want to reach and what filters are the best match for this? Through the chat interface, you can naturally explain who you want to reach and the AI will create the audience segmentation with corresponding filters for you.
With Marketing GPT you can also get more information and knowledge about the audience segment. In fact, there is an automatic link to the Data Cloud, where it can gather customer data and revenue figures. In addition, it is possible to enrich this even more with third-party data.
Furthermore, Salesforce Marketing has provided GPT with the functions to create texts and images. This can be done by asking, for example, "write an informal engaging text about…", but it can also be based on brand voice, style guides and existing messages. This is to ensure that styling and word choice is uniform within an organization.
Commerce GPT
Commerce GPT is brand new and allows Salesforce customers to provide a customized commerce experience throughout their customer's entire buyer journey. From the beginning, for example the first website visit, all the way to the end, the delivery of the product.
The strength of Commerce GPT seems to lie primarily in its connection to the Salesforce Data Cloud. This allows for real-time recommendations during the shopping experience of the customer. Targets and goals can be set for he commerce environment and the AI can help and advise how to meet those goals. For this, Salesforce has combined several solutions: Data Cloud, Einstein AI and Flow.
Furthermore, Commerce GPT can improve the shopping experience by using generative AI to generate missing product descriptions. Also, any missing catalogue information can be generated with AI, improving the shopping experience. The more complete a catalogue is, the better filters will work, and the Commerce platform will work.
With Commerce Concierge, Salesforce goes even further to take the shopping experience to the next level. It states that with Concierge you can further improve the loyalty and shopping experience by providing a shopping assistant to your customers. Concierge is a chatbot that can be implemented behind messaging apps or websites where customers can ask questions. The chatbot can make personalized recommendations to move customers towards the right product.
Salesforce is working with many partners, including DEPT, Media.monks, NeuraFlash and Slalom, to develop this new generative AI ecosystem. For this, large language models (LLMs) and data models are being developed. More and more models will be needed to improve the experience within different Salesforce solutions, but also within various industries.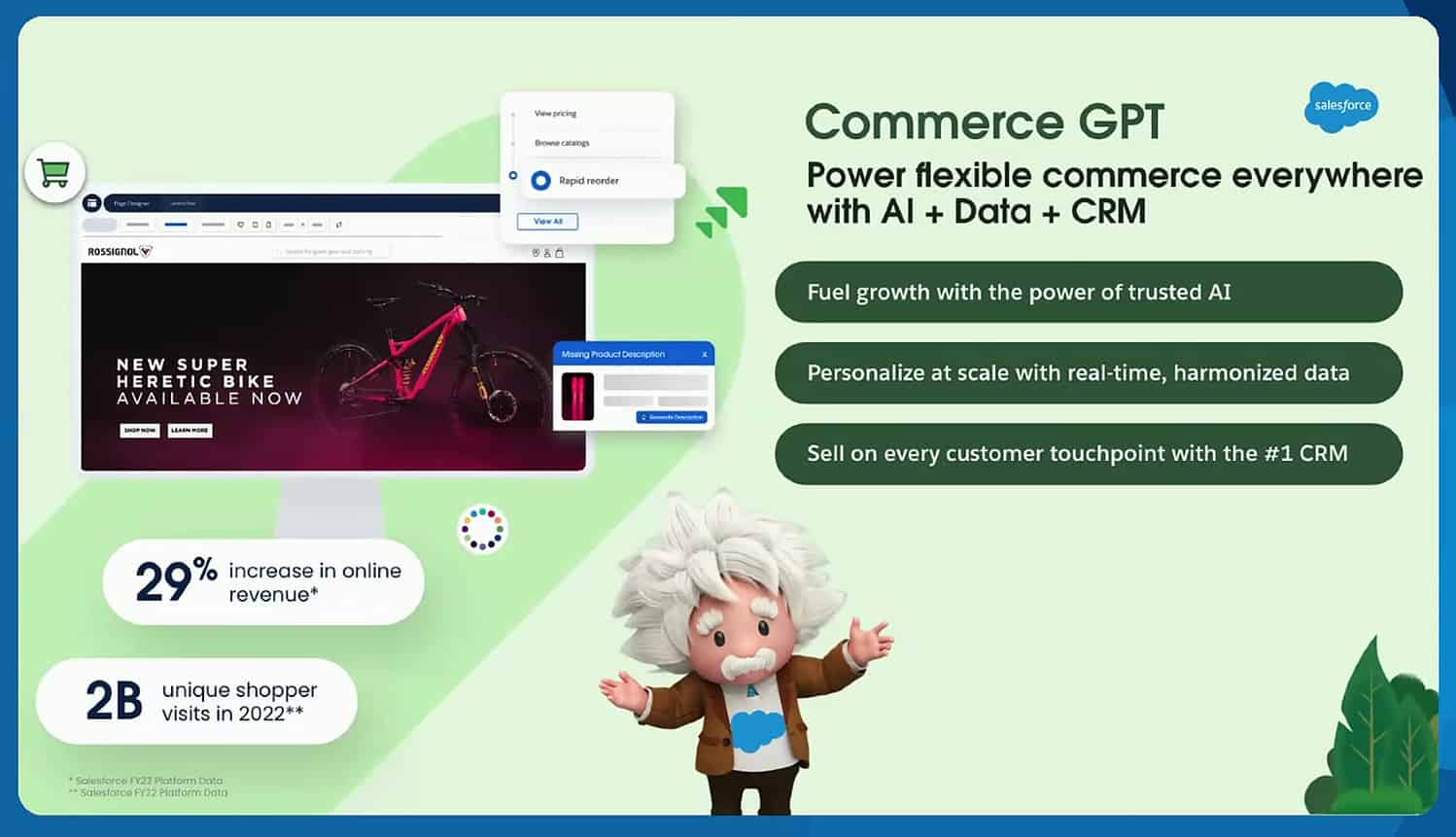 Availability
The first features of Marketing GPT and Commerce GPT will appear in a pilot phase this October. Then everything should become widely available to customers in February 2024.
Salesforce all-in on generative AI?
Salesforce seems to be going all-in on generative AI. The company has already presented several solutions based on generative AI.
While we understand that the technology is very interesting for Salesforce, especially from the personal assistant perspective. Customers can design pages and emails much faster. They get a marketing assistant that completes the task instantly. There are still some risks and dangers to take into account. We've raised this with Salesforce before, they told us they had it under control by implementing a fair amount of restrictions on generative AI, the so-called guard rails. For example, customer data is always separated from the AI and the data cannot flow back into the model. Furthermore, Salesforce can use application logic to check the generated content with the company data to ensure correct outcomes.
Still, we notice from these new products that Salesforce continues taking steps to broaden the solution. Like with Commerce Concierge, it will be harder to put hefty guard rails on that. The question is if Salesforce can keep all their generative AI within the guard rails, or if one will derail in the future and show unexpected behaviour. For Salesforce, working with many enterprise companies, having an AI derailing is not an option. We are curious to see how this will develop in the future and how Salesforce will keep control over all its AIs.
To be clear, this is a more generic problem, not one that only Salesforce has to deal with. All companies working with generative AI have to keep them under control.