Salesforce is hosting its World Tour event in New York this week where it is presenting Slack GPT. Slack GPT is the ideal assistant in Slack to summarize conversations. Although Slack GPT is directly linked to Einstein GPT and gets many more features, the role of assistant to keep you informed of conversations is the most impressive.
Earlier this year during TrailblazerDX 2023, Salesforce introduced Einstein GPT for sales, service, marketing and developers. Also featured at the time were Einstein GPT for Slack and ChatGPT for Slack. Where the latter is a plugin from OpenAI. Einstein GPT for Slack now simply bears the name Slack GPT.
Slack GPT works in and with Slack, as well as the Salesforce platform
Many organizations use Slack, but possibly not Salesforce, Slack GPT will become available to them as well. So, even though Slack GPT is based on Einstein GPT, Slack GPT is not limited to Salesforce customers.
The main feature of Slack GPT is the ability to have missed conversations in channels easily summarized by Slack GPT. This eliminates the need for users to read endless conversations between colleagues with all the arguments to find out what was decided in the end. These are things that Slack GPT can quickly summarize in a few paragraphs.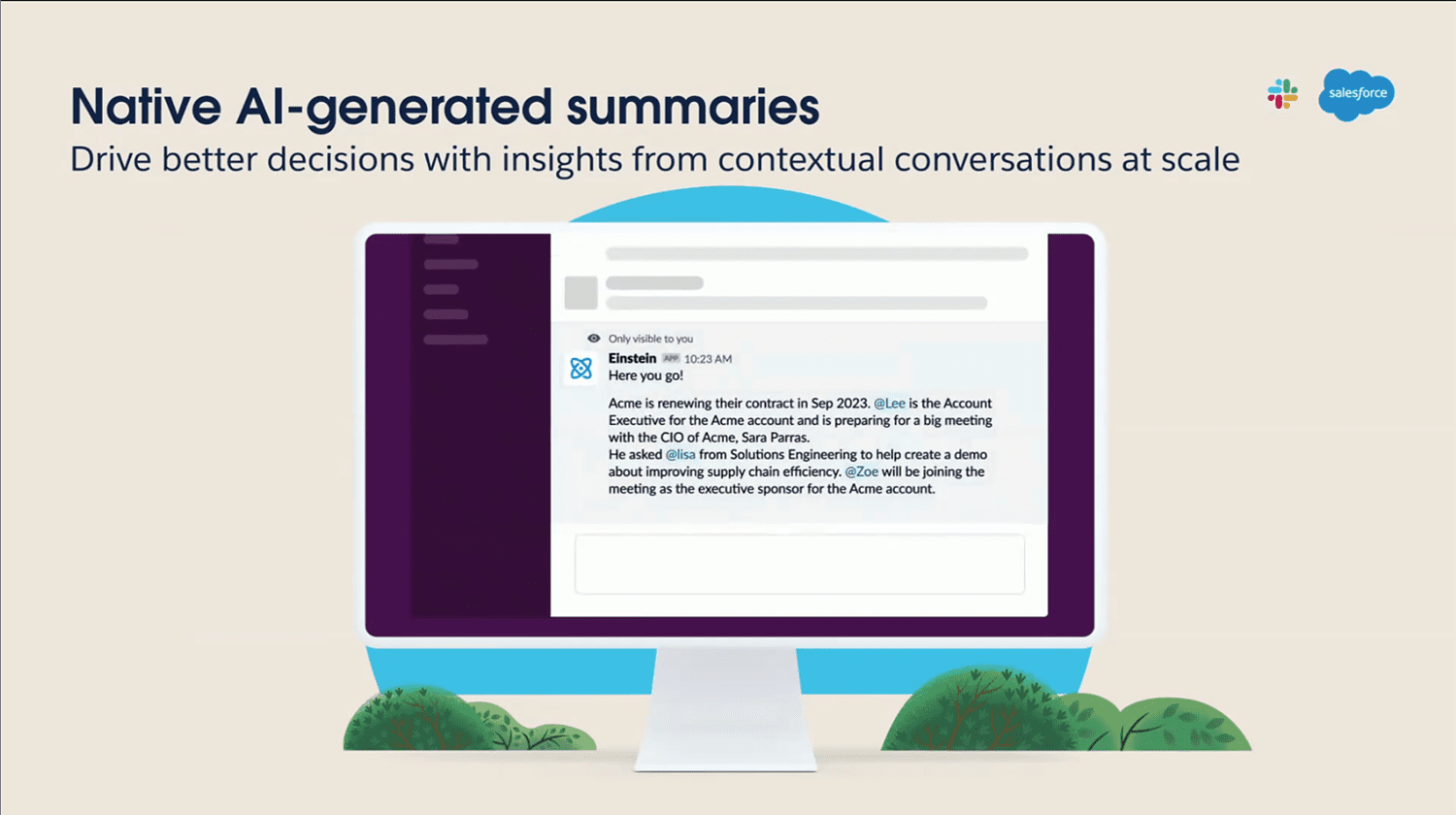 Slack GPT as a note-taker
Another valuable feature of Slack GPT is the ability to take notes during Huddles. Huddles are group conversations in Slack via an audio or video connection. In a Huddle, you can have conversations with a group of colleagues or clients. You usually assign someone to be a note-taker, but that task can now be performed by Slack GPT. After the Huddle, you can quickly get a summary of the conversation.
Workflow automation and insights in Slack
Salesforce, after acquiring Slack, presented the vision of Slack as a digital headquarters. The place where you can present valuable information in a compact format. Allowing you to quickly track the day-to-day operations. At Techzine, we researched this and built our own digital headquarters.
Now, with the introduction of Slack GPT, the company is taking its vision several steps further. The integration between Salesforce and Slack comes out-of-the-box. So you can very easily use Slack GPT to get an overview of a customer in your CRM system, what service requests are open, etc. All kinds of information from Salesforce can be easily accessed in Slack.
With the introduction of Slack Canvas, it also becomes possible to present data more comprehensively with charts and larger tables. The Slack Canvas is visually oriented, whereas the typical Slack environment is more structured for chat and text. So data can also be presented in a Canvas environment. Slack Canvas is officially available but is still being rolled out to customers' existing environments. This may take another several months.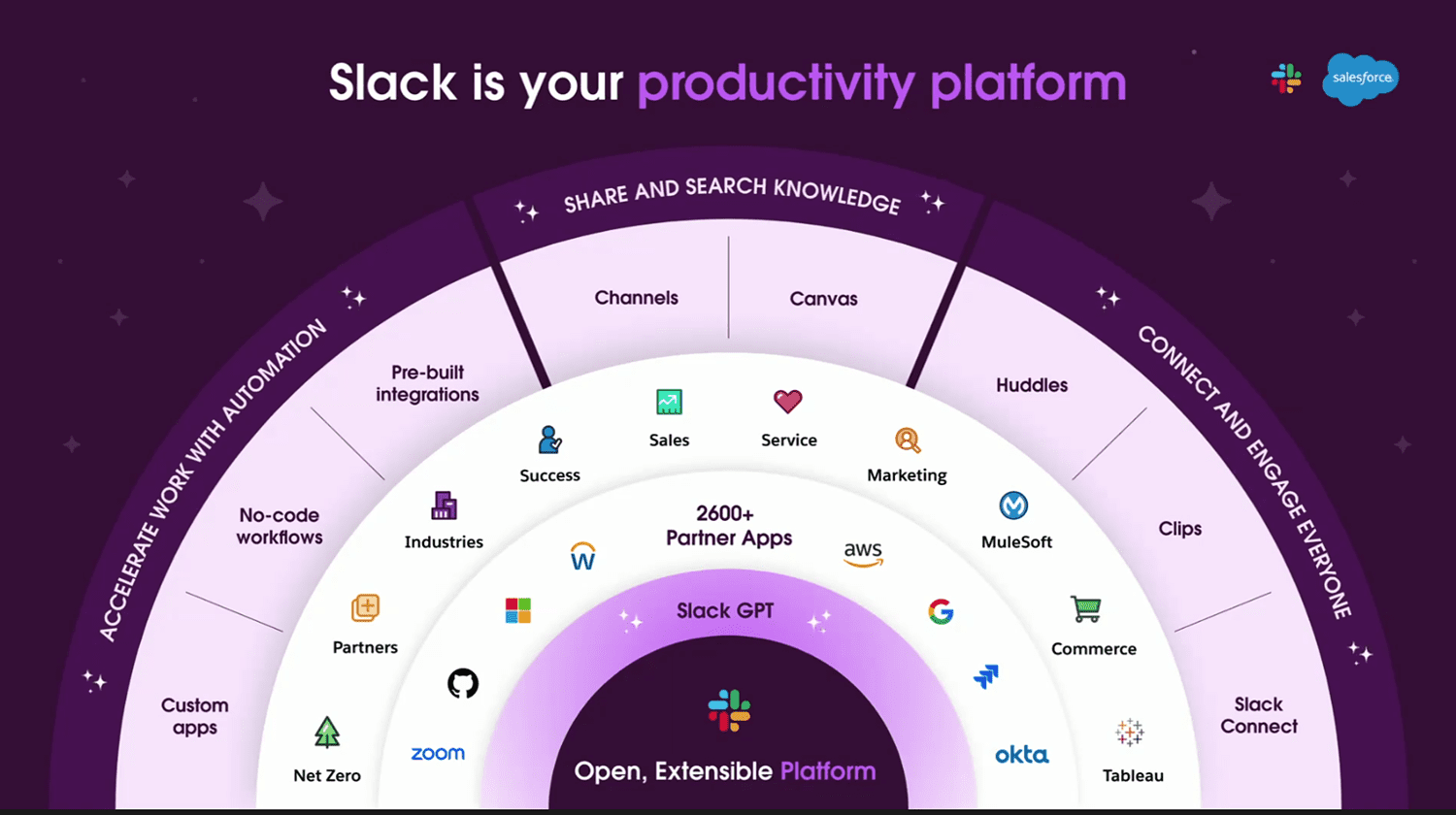 Slack GPT also works with self-built workflows
Slack has been working on a new application platform and workflow builder for some time. This should finally become available this summer. It will then become possible to easily connect different cloud services and data sources in a no-code way. Slack GPT should also be able to activate these kinds of workflows and present any results in a Slack Chat or Canvas. This will make it even easier for organizations to make Slack their digital headquarters.
Courtesy of MuleSoft, Slack will soon be able to connect to more than 2,600 third-party applications.
Also read: Salesforce introduces Einstein GPT for sales, service, marketing and developers