During Dreamforce, Slack announced that its messaging service is undergoing a major overhaul. The service has been rebuilt, with a more modular architecture. The abilities of the platform remain the same. You can still exchange messages. However, the vision as a digital HQ has taken on more shape.
Building blocks
The main changes are twofold. For one, Slack has now added building blocks to the platform that allow users to create their own workflows. This was already partly possible before, but before that users still had to host their self-built apps somewhere themselves. That is a thing of the past; the building blocks now simply run on Slack. Building blocks can now communicate with each other as well. For example, creating a ticket in Jira can cause an Outlook Meeting to be scheduled as well.
Slack is going to make available a library of open source templates, in which commonly used building blocks will become available. The Slack community can also contribute and make building blocks available. So if a building block does not exist, it can be built by a developer. According to Slack, developing building blocks is easy and low-threshold.
Developing workflows with existing building blocks does not require any programming knowledge at all. Any user should be able to do that.
The well-known Slack Forms also remain and can be integrated into a workflow with multiple building blocks.
Also read: Formula 1 uses Salesforce to improve fan experience and sustainability
Slack Canvas
As mentioned, the innovation is twofold. Namely, in addition to Building Blocks comes Slack Canvas. Because it is named Canvas, we immediately had to think about a big white screen you can draw on with your colleagues. Fortunately, it is not. The Canvas is like an empty piece of virtual paper, but instead of drawing you can put all kinds of information on it. Think of bulleted lists of information, to-do lists, videos, embedded Slack messages, upcoming meetings, information from Salesforce Customer 360, information from Tableau and basically any information from any other application you want. You can also share documents, like Word documents, PDFs or images.
It is even possible to put a building block behind that information, so you can respond to something or take a process to the next stage. For example, in large sales projects where you have to go through several stages.
During Dreamforce, we saw a few examples of Slack Canvas. There is the example of the onboarding canvas, where a new employee is creatively given all the necessary information and actions to properly onboard. From watching a video, reading documents to some workflows to get a phone and credit card from the company. The new employee can also join all relevant Slack channels at the touch of a button. Such an onboarding canvas gives a bit more freedom that the very strict onboarding workflows we sometimes see elsewhere. Such an onboarding canvas can fill the entire screen.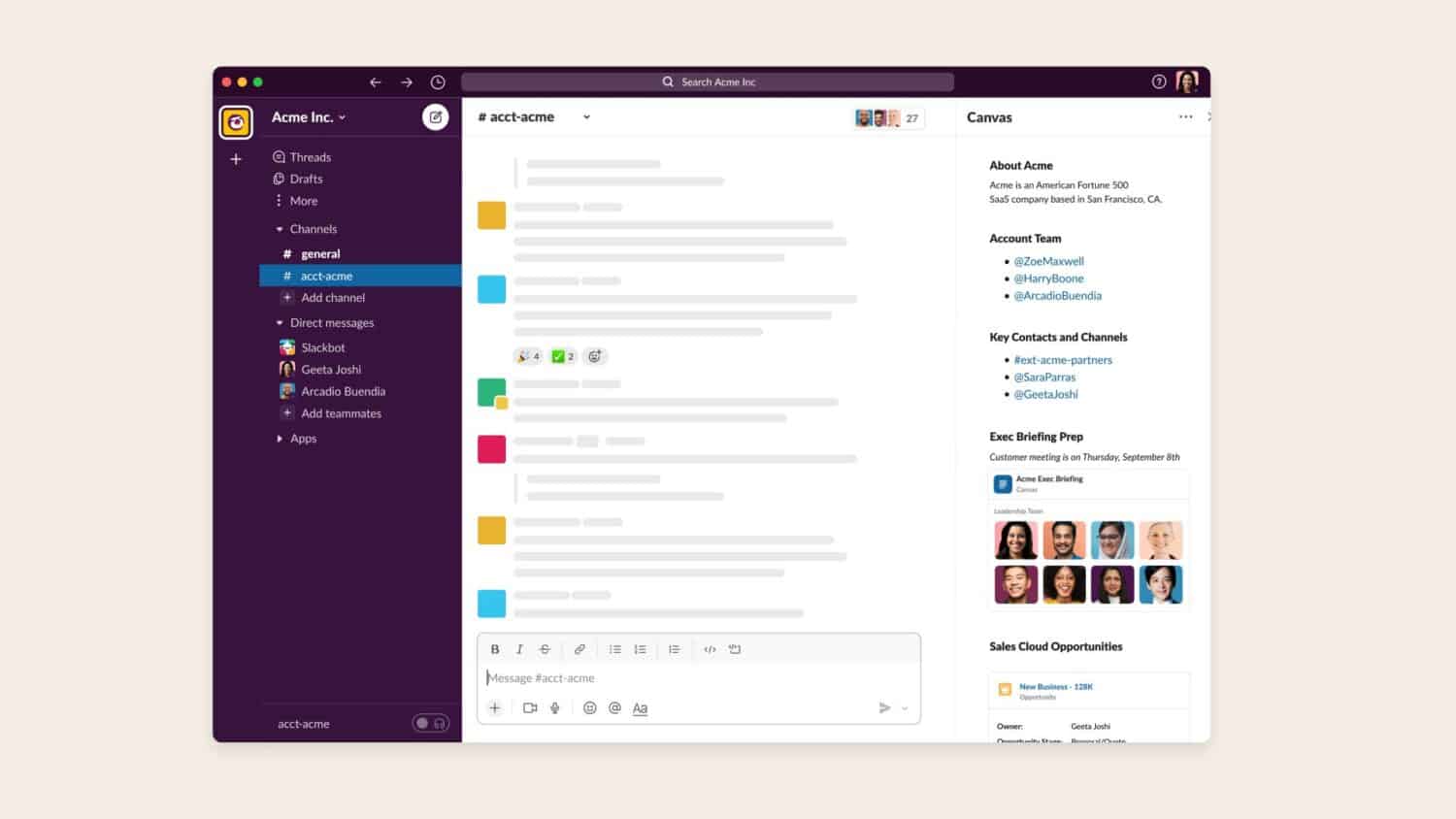 Another example is the ability to create a canvas per channel. By default, this is displayed as a sidebar on the right. This can hold important information relevant to that channel. If it is a project, this includes, for example, who the project leader is, what the status is, when the next meeting is scheduled and what the goals are. It can also contain blocks that can be used to kick off workflows directly. It gives a Slack channel much more momentum and overview. Participants don't have to read back hundreds of Slack messages when the Canvas is maintained during the project. So it fulfills the task of a Digital HQ. It also undoubtedly makes for a little less Slack messaging and repetition. It makes working in Slack a little more efficient.
Slack Huddles
Finally, one last update, which we find less exciting as it was actually already known. Slack Huddles now gets support for video. Huddles until now were only audio meetings, but now video will be added. Also, multiple participants can share their screen to show things to colleagues or other participants. This should make collaboration a little better. Also, participants can point things out in the screen shared by someone else, to improve collaboration a bit more.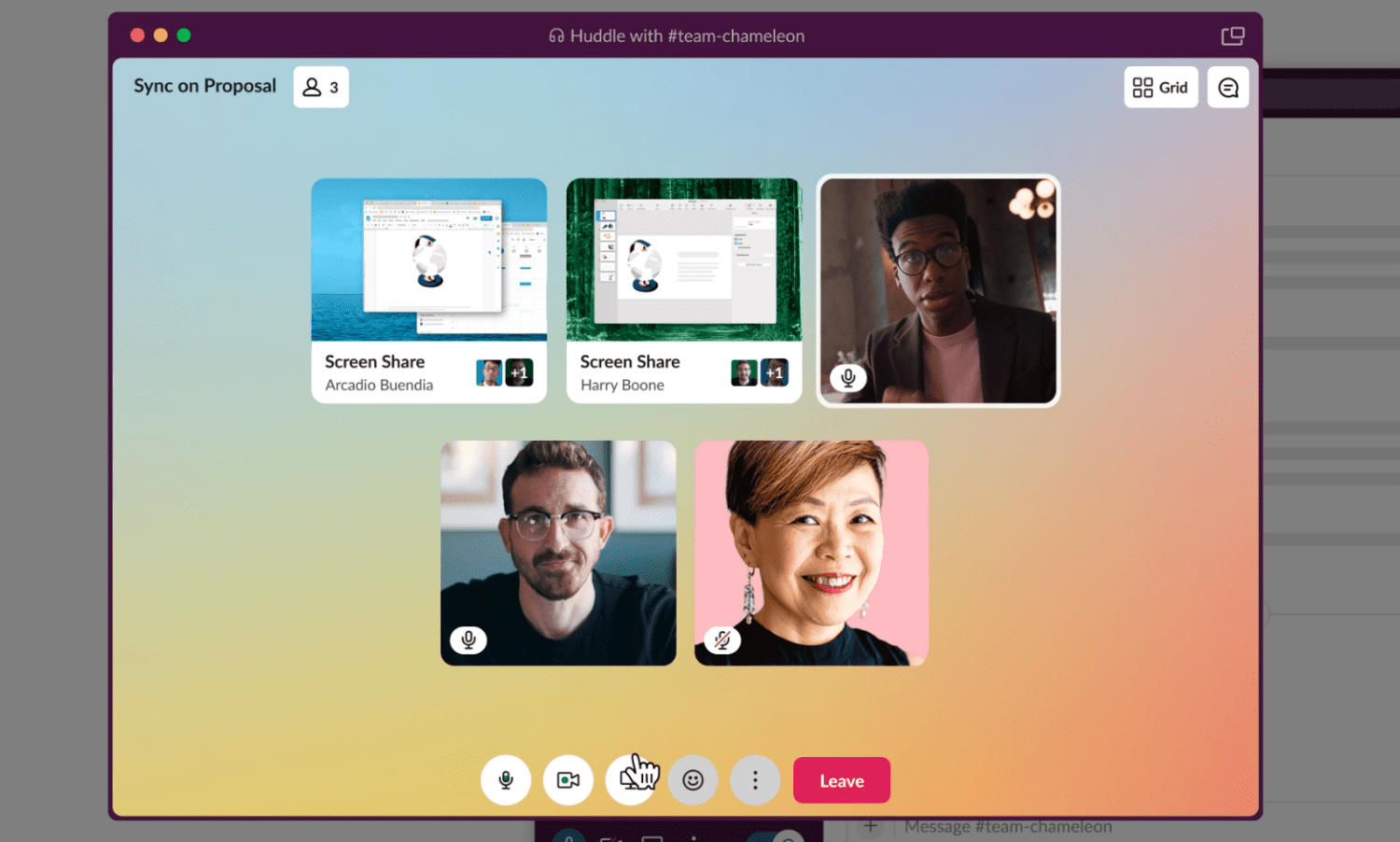 The main point Slack makes with this announcement is that it is a lightweight video session that you can start with a click. The story about lightweight probably appeals to many people, as many meeting apps these days have a hand in overloading your PC. Slack promises this certainly won't happen.
Availability
The new version of Slack Platform is now available in beta to developers. When it will be made widely available is not yet clear. Slack Canvas will become available next year. Slack Video Huddles are available immediately.