Last weekend, Formula 1 visited Zandvoort again. It seemed almost impossible that the Netherlands would return to the racing calendar, but they succeeded. Good to know is that Formula 1 has no regrets about Zandvoort. According to Formula 1, it's an example of how to organize a good event, create a good fan experience and be sustainable. This immediately raises the question of what Formula 1 itself is doing to improve the fan experience and sustainability.
Since late 2016, Formula 1 has been owned by Liberty Media, an American company that wants to take Formula 1 to the next level. Liberty Media's vision is very different from that under the leadership of Bernie Ecclestone, the businessman who previously held sway.
Social media
Liberty Media's first change was to embrace social media. Under Ecclestone, social media was all but banned. Posting photos and videos of an F1 race on social media was not allowed. They actively send out take-down orders to remove F1 footage from social media. That may sound unrealistic today, but it was nevertheless the case. Liberty Media embraced social media and has extremely expanded its social media presence in recent years. All F1 teams and drivers have also become much more active on social media.
Making Formula 1 popular in the United States
Liberty Media also wants Formula 1 to finally break through in the United States. In the US, Indycar and Nascar are much more popular than Formula 1, but a country with over 330 million residents is commercially very interesting. In addition, Liberty Media wants to bring the sport closer to the fans, so there is more interaction and engagement. That makes for more loyal fans who want even more Formula 1. The Netflix series Drive to Survive has laid a good foundation in the United States to generate interest in Formula 1. There has been some criticism from drivers that Netflix was adding a little too much drama. Still, it has had a positive effect on the popularity of the sport. This year Formula 1 has a race in Austin and Miami. Next year Las Vegas will be added. That will probably become the Monaco of Europe, where all kinds of celebrities will be visibly present. That will definitely help to make F1 bigger in the US.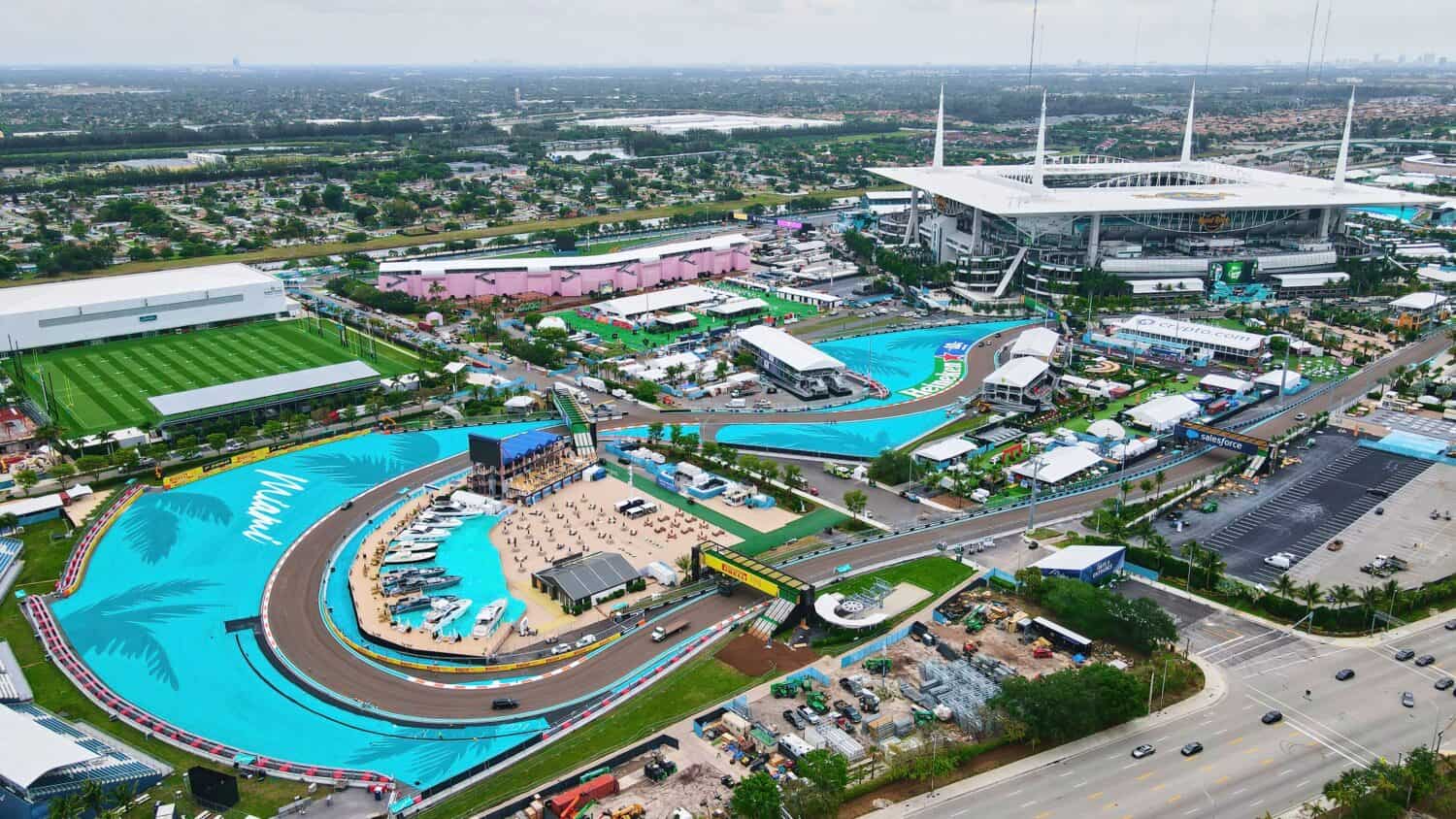 Expanding the fan experience beyond the weekend
So in recent years, Formula 1 has been busy making changes to make the sport more attractive. The organization wants to make racing more spectacular and the racing calendar more challenging. It is also experimenting with sprint races on Saturdays.
During the race weekends Formula 1 has things pretty much in order. It is now time to move on to the total fan experience, so Formula 1 can reach fans more often, also outside the race weekends. There are many opportunities for this in the digital domain. The big question is of course, how they will reach and engage with fans.
That's where the collaboration with Salesforce comes in. Salesforce has already helped several organizations build a fan base or expand customer loyalty. A loyal customer of a company can also be a fan of the brand. For example, Salesforce is working with the Olympics to improve the fan experience and create opportunities for athletes. In addition, there are many large companies that use Salesforce to create some sort of community and fan base. You can think of KLM for example.
Read also: What is the state of your Contact Center and how can you improve it with technology?
We spoke with Koen Rakers, Director EMEA Brand Strategy at Salesforce. We discussed with him how Salesforce can help Formula 1 improve the fan experience and what it takes to do so.
It's all about data
To improve the customer or fan experience, you need data. Not a little, but as much data as possible. The Salesforce Customer Data Platform plays a huge role in this. All the data that Formula 1 has on its fans goes into this platform. This includes personal data such as who the fan is, where the fan lives, which F1 articles the fan has read and which videos were watched. This creates a profile on which analysis can be done and the experience can be improved.
Suppose, based on the data, it turns out that someone has an above-average interest in a particular driver. Then Formula 1 could, for example, recommend videos with the highlights of that driver or races driven by the driver in the past. Any other articles related to that could also be recommended.
How does Formula 1 get that data?
Perhaps you are now wondering how Formula 1 gets that data. Formula 1 can collect that data with its own apps and websites. For example, you have the official Formula 1 app, which shows a lot of news and the live timings during the weekend. For this, you need a user account and for some features a subscription. Then there's F1TV, an app that lets you watch live Formula 1 races. Millions of people are subscribed to this. Finally, there is the Formula 1 website, which offers the same features as the apps.
These proprietary services of Formula 1 are used to create a fan profile and see how the fan experience can be even better. Salesforce and Formula 1 have only been working together since the beginning of this year to give substance to this. Because of this, you have probably not noticed much of this initiative, but if we are to believe Rakers, this will change in the coming year. Most fans will probably not notice this immediately, but if you have read this article, you may notice it faster.
Tailor-made content
The most important asset Formula 1 has to enhance the fan experience is all the content it owns. All the races that have been driven in the past have been recorded and digitized and can therefore be watched back. The fact is that very few fans will think of watching back the 1998 F1 Grandprix of Brazil. Although that may be a very nice race, we didn't check, fans will not easily do this. People probably also just want to see the highlights of a race and not the full length.
Formula 1 needs to get to work with that huge content library to get the highlights. Think of certain driver highlights from different races or certain track highlights over the years. The content must become simpler, faster and easier to access. Exactly how Formula 1 will do this is not clear. No doubt we will find out soon.
Formula 1 also lacks data
The way Formula 1 is currently organized also means that Formula 1 is still missing a lot of data. Formula 1 owns every race that takes place. The circuits that are raced on, however, pay Formula 1 to organize that race. The circuits earn that money back, if all goes well, by selling tickets and luxury VIP boxes, for example. Not every circuit is profitable. Sometimes (local) governments step in because it is also good promotion for the region.
The people who buy a ticket for an F1 race do business with the circuit and not with Formula 1. So Formula 1 does not know which fans visit the circuits. That may sound like a big loss, but the fan who visits the circuit may be very different from the fan who watches a race through the app.
Formula 1 also makes a lot of money by selling the broadcast (streaming) rights. For example, in Europe, many countries have ViaPlay offering a Formula 1 subscription. All fans who have a subscription to ViaPlay and watch the races that way are also not on the radar of Formula 1, because ViaPlay owns that data.
Building a fan base is a win-win
Building a fan base and improving that fan experience is ultimately a win-win situation. As a fan, you get better content at your disposal. You experience Formula 1 even better. The Formula 1 organization has more contact with the fans and can therefore ask for feedback and build on it. Commercially, having a large fan base with all that data is also interesting. Sports events ultimately live from advertisements. If you know your fan base well, ads can be shown tailored to it. For example, a male viewer might see an ad from a beer brand, while a female viewer might see a perfume ad.
What many people don't realize is that this is already happening. Only it is not yet so specific. At a Champions League match, for example, the advertisement differs per channel and country and, of course, the stadium. See the example below.
In Formula 1 this is also possible. Around the track and sometimes even above the track, all kinds of advertisements can be seen. F1 can replace these in real-time with ads that better suit a particular country. In the future, it could even adjust the ads around the track in the app's video feed. For now, it's not technically feasible to do that for each user individually, but it doesn't have to be. If Formula 1 creates dozens of profiles that fans can fall into, then it only needs to provide dozens of streams with ads that match that profile. Then once a user starts watching Formula 1 through the F1TV service, they get the stream that fits their profile. This is a commercially very interesting offer. Companies can then target advertising to an audience of millions.
That obviously makes Formula 1 more profitable. At the same time, it also provides investment opportunities. Although we don't know what exactly Formula 1 is investing in, we can see some examples that the organization is making choices for the fans and the drivers. For example, the Belgian circuit Spa-Francorchamps is hugely popular with fans and drivers. However, it is no secret that this organization can't and won't pay as much for organizing a race as countries in the Middle East do. Nevertheless, Spa will be back on the racing calendar next year.
There is also cautious talk about adding more teams in a few years. This will result in more drivers on the track and could provide more spectacle. The main objection of the current teams is that if the existing prize pool has to be shared with more teams, there will be less left for each team. If Formula 1 were to increase the total prize money, that argument should be off the table. We have no idea if Formula 1 is considering that, but in order to make that kind of investment, money has to be made.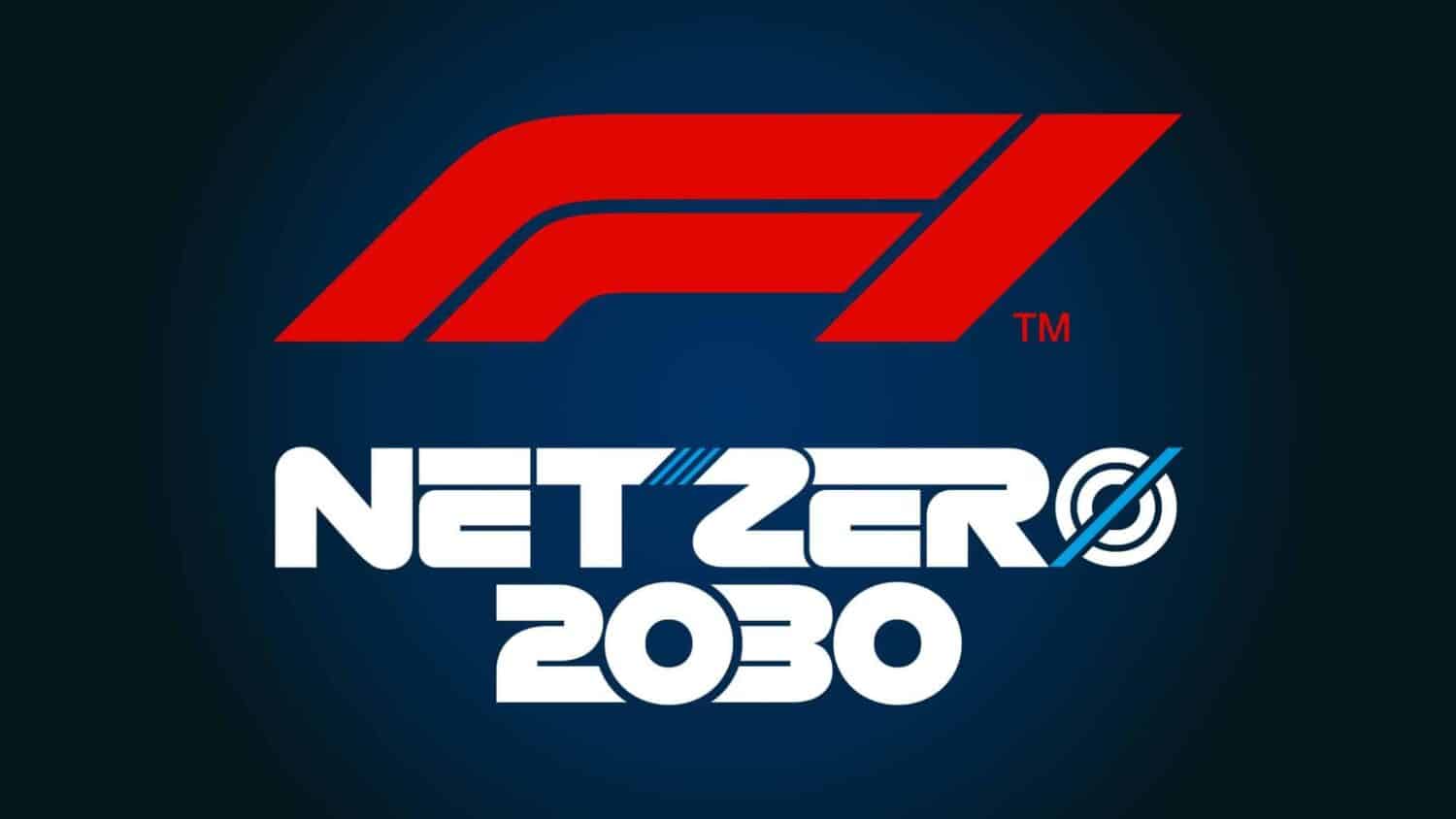 Investing in sustainability
Formula 1 will be investing heavily in sustainability. The organization wants Formula 1 to be carbon neutral by 2030. That seems an enormously difficult task, but that is the mission. Salesforce has the so-called Salesforce Net Zero Cloud. This is a solution for companies to become carbon neutral. For example, Salesforce itself has been carbon neutral for years. Just like many other IT companies, many others are working hard to become neutral. Formula 1 has taken this example and also wants to reduce its impact on the environment. They have set the target to become carbon neutral in 2030.
Perhaps you have already heard that Formula 1 will start driving with a biofuel that is a 100 percent carbon neutral from 2026. There will also be new engines that must be able to handle this fuel. However, for Formula 1 to become carbon neutral there is a lot more that needs to be changed. Formula 1 has much more impact on the environment then just the race itself. What to think of the hundreds of trucks that drive through Europe from circuit to circuit? Or, even worse, the many cargo planes and private jets that fly equipment and staff around the world when racing outside of Europe.
Motor racing does not exactly have a green image. Formula 1 is aware of this and wants to improve it. Zandvoort, however, made an example. In 2022, it was impossible for fans to visit the circuit by car. People are only welcome by bike or public transport. It is even impossible to visit Zandvoort (the village) by car. However, there were of course exceptions for residents, staff, supplies, etc.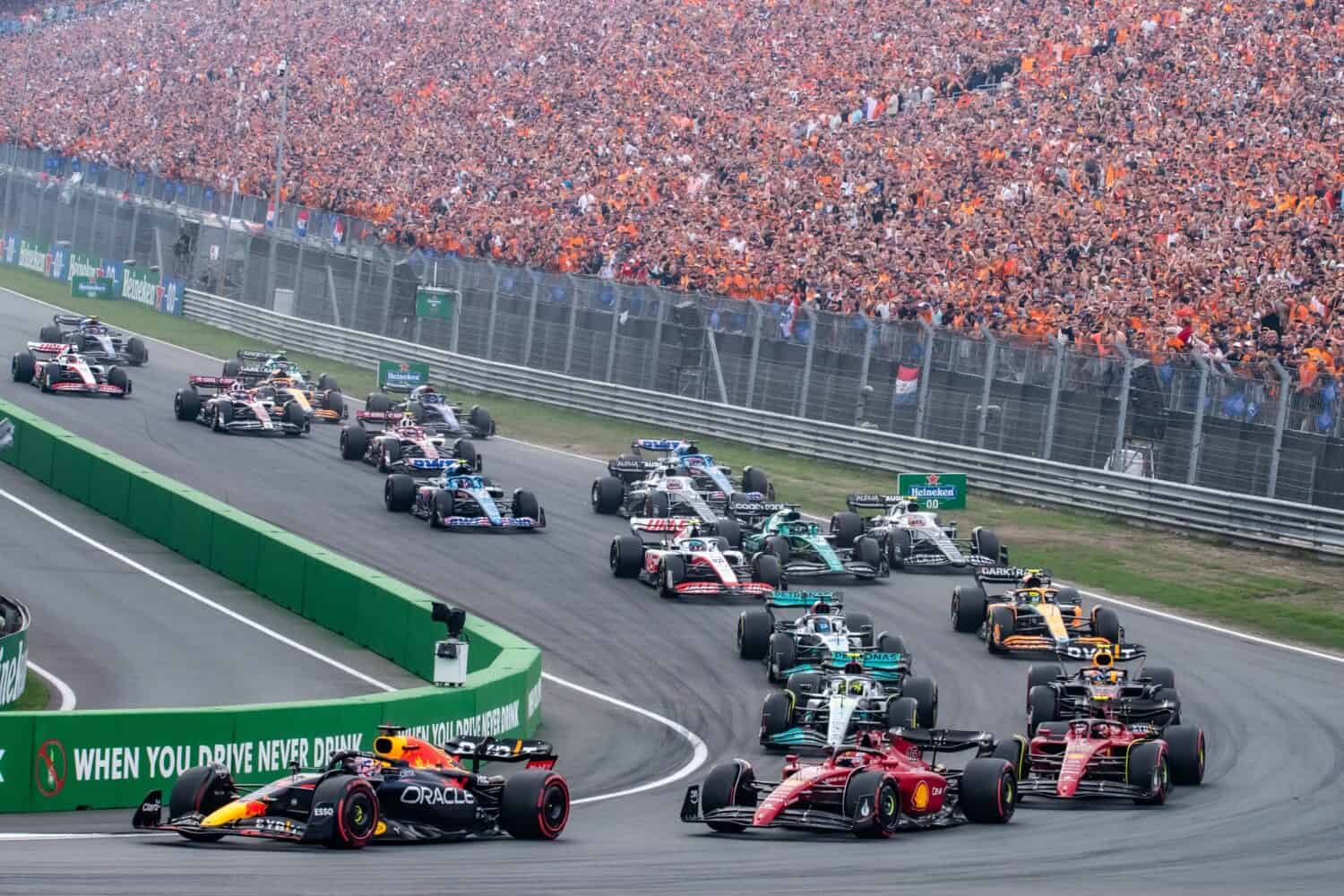 Zandvoort does that very cleverly. It is a small circuit. It runs the risk of not being able to compete financially with circuits elsewhere in the world. Zandvoort takes the F1 goals into account, and made a huge difference in sustainability. According to F1 director Stefano Domenicalo, Zandvoort has raised the bar for the organization of European races. The event is well organized. It's the total picture in terms of entertainment, racing and sustainability.
Back to sustainability. All those movements from track to track and the F1 race on the tracks. Formula 1 will collect all that data and feed it or feed it automatically to the Salesforce Net Zero Cloud. This will give the organization insight into where the CO2 emissions are the highest and what it can do to reduce it. There will be all kinds of sensors placed along the circuits to measure CO2 emissions, for example. Ultimately, it will take several years before the biofuel is available.
The algorithms in the Salesforce Net Zero Cloud must provide insight into how Formula 1 can become carbon neutral. Ultimately, Formula 1 will always emit some CO2, but the goal is to make it a bare minimum so it can be compensated. This can be done by planting trees, for example. Then Formula 1 can be carbon neutral. However, that will take some years. First, they need to significantly reduce CO2 emissions.