This week Dreamforce starts again. For Americans, there is a physical event, the rest of the world can enjoy virtually. The kick-off is tonight with the opening keynote. We had the opportunity to be updated on the wonders of Salesforce, which this year revolves entirely around Slack. Salesforce recently acquired slack.
Slack and Salesforce are now part of the same company. They do remain two separate platforms. Although Salesforce has immediately done everything in its power to make these two separate platforms work well together. The company has built no less than 16 integrations between Salesforce products and Slack, all of which will be introduced during Dreamforce.
What is Slack and what makes it unique?
For those who don't know Slack yet, we will give a summary. Slack is, just like Microsoft Teams, basically a communication and collaboration platform. Primarily you work together with colleagues, but you can also communicate and collaborate with business relations and customers. You can communicate via text, audio and video.
What makes Slack more unique than, for example, Microsoft Teams, is that Slack is already much further with integrating third-party applications into Slack. Thousands of integrations are already available, allowing you to add tasks to a project management solutions using commands in Slack, or post messages directly to social media from Slack. You can look up contact details in a CRM system to share with colleagues. Slack owes its popularity to its low threshold, speed and many integrations. Certainly, in comparison to Microsoft Teams, Slack is more of a lightweight application. Slack administrators can also quickly build workflows and integrations with third-party applications on the Slack platform itself.
Building Slack integrations in Salesforce Lightning
Building integrations is something that Salesforce also offers in its Salesforce Lightning platform. The ability to integrate third-party applications with Salesforce makes their products a lot better. But now, Salesforce has two separate platforms that can integrate with third-party applications in their own way. Then there is also MuleSoft, a company acquired by Salesforce two years ago that specialises in building integrations. Salesforce's integrations are therefore primarily driven by MuleSoft technology. Slack uses its own technology to integrate.
That adds an extra challenge, but Salesforce has tried to bring the platforms closer by extending Salesforce Lightning with a Slack module. Developers on the Salesforce Lightning Platform can now easily build integrations for Slack. They don't have to learn about the technology that Slack uses. They can use their existing knowledge and tools from Lightning to build integrations for Slack. A smart move by Salesforce.
Salesforce sets a good example with 16 integrations
The acquisition of Slack was completed recently, but Salesforce says it already started building integrations between Slack and Salesforce at the beginning of this year. Salesforce wants to change the way companies communicate, both internally with colleagues and externally with customers and partners, once and for all. One of the goals is to reduce the number of e-mails significantly, and communication must be better coordinated. According to Salesforce, Slack is the key. Or, as we already stated in the title, the world of Salesforce revolves around Slack from now on.
A summary of some of the integrations Salesforce has developed:
Close deals faster with Slack-First Sales
With Slack-First Sales, sales teams can collaborate in real-time to close deals. Salespeople can now access, update and share their Salesforce orders and customer data directly from Slack. They can also set up alerts in Slack when there are updates on their accounts.
Faster resolution of cases/tickets with Slack-First Service
With Slack-First Service, service teams can act faster when cases or tickets come in. They can quickly detect what the ticket is about and connect the right expert to it to resolve the ticket quickly. Salesforce added an extended search to find the right expert fast. If needed, multiple employees or even complete teams can collaborate on a high priority ticket to get it solved.
Better marketing campaigns with Slack-First Marketing
With Slack-First Marketing, marketing teams and agencies can better collaborate in a digital workspace. They can better plan their marketing journeys with the help of Einstein Recommendations in Slack. Also, Pardot automation allows everyone to collaborate by showing the information of a customer in one view.
Other First solutions
There is also Slack-First Commerce, to provide trends and business insights. Slack-First Experience offers more insights into marketing campaigns and CMS integrations to publish content. Slack-First Platform, the previously described possibility to build apps. Trailhead for Slack, within Slack, you can now learn to work with Salesforce solutions. Slack-First Analytics provides insights to make better and faster decisions. With MuleSoft for Slack, you can create integrations with third-party applications that may be less easy to connect to Slack. MuleSoft allows integrations to be made with mouse clicks instead of writing code. There is also Quip for Slack. Quip documents work directly in Slack.
In addition, there are specific industry solutions that now also integrate with Slack. Slack-First Banking, Slack-First Healthcare and Life Sciences, Slack-First Philanthropy, Slack-First Nonprofit and Slack-First Education. All in all, there are a lot of Slack-First integrations built.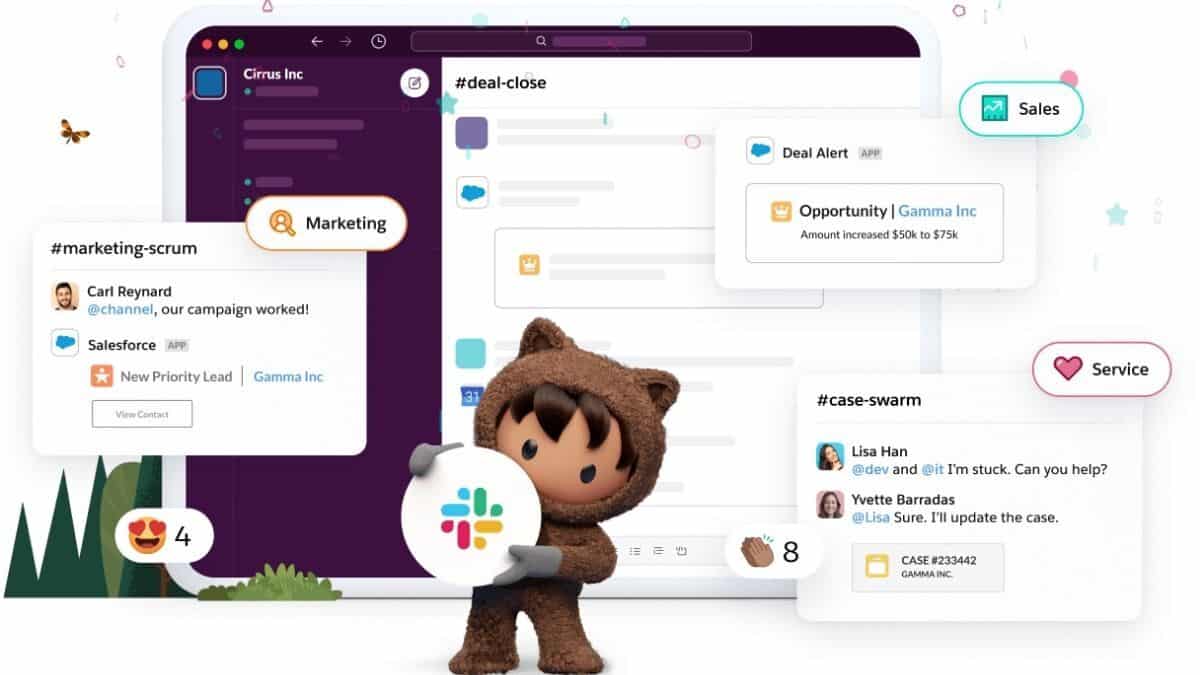 Slack is your digital headquarters
The main message from Slack was that it wants to be your digital headquarters or digital HQ. An example they gave is that once you founded your company, you used to look for an office building from which to start running your business. Nowadays, especially since COVID, that is a thing of the past. After founding a company, you first have to set up your digital infrastructure. So people can find the business digitally, but also so that employees can collaborate and communicate. Slack wants to be that digital hub, the digital HQ, where all the information and applications come together, partly due to all these integrations. So that incoming messages, tickets and opportunities can be acted upon more quickly.
In most organisations, managers spend an enormous amount of time on 1-to-1 communication. They type a massive amount of e-mails to explain or manage people. Slack wants to use innovations to try to reduce the amount of e-mail and give managers more time.
One of those ways is with Slack Huddles. These are special groups that more or less replace meetings and form a kind of interactive slow-meeting. Team members can share text, recorded video or audio (clips) or documents to draw attention to something. The other team members can view this at a convenient time and, if necessary, respond. Such a Slack Huddle can slowly lead to new creative ideas. It can also be complemented by a physical or virtual meeting once a week or once a month.
These Huddles are a new way of asynchronous communication that Slack believes in because it allows people to manage their time more efficiently.
At Salesforce, they switched to Slack earlier this year, and all employees are more or less forced to work with it. This has already resulted in 46 percent less e-mail.
Slack and Salesforce
We must admit, when Salesforce announced the acquisition of Slack, we were somewhat sceptical. We did not immediately see the added value for Salesforce. Certainly not given the 27.7 billion dollars involved. At the time, we thought that an innovative solution to improve communication between companies and their customers could also be cheaper. After these presentations, the larger vision behind this acquisition has become much clearer.
As far as we are concerned, the success of the takeover depends on whether Slack will succeed in fulfilling the role of digital HQ. Just as Salesforce with Salesforce Customer 360 can offer an overview of all customer information. That saves a lot of headaches and offers real added value. A digital HQ should soon be able to combine all data from all business tools so that people can work more efficiently. Can make decisions faster, and there is more overview of business processes.
With these first 16 integrations, Salesforce has provided a basis that can serve as an example. We are curious to see what Salesforce and Slackk will add in the upcoming year.
Tip: Salesforce+ wants to become the Netflix of the business user