Microsoft has added ChatGPT functionality to Dynamics 365 under the name Copilot. Adding AI to the ERP and CRM solutions should make users more productive.
Microsoft is busy rolling out ChatGPT AI to multiple solutions. Recently, the functionality has already been added to search engine Bing, the Edge browser and Skype.
With the introduction of ChaptGPT for Dynamics 365, the tech giant is taking the use of the AI tool one step further. Copilot should facilitate and also automate the use of the tools. Also, the addition of ChatGPT functionality should accelerate further innovation and ensure better business outcomes.
Available for many Dynamics 365 solutions
Copilot functionality has been added to many Dynamics 365 solutions. With this technology, users of Dynamics 365 Sales and Viva Sales, for example, are able to create summaries, product and pricing information, and get insights from Microsoft Teams meetings.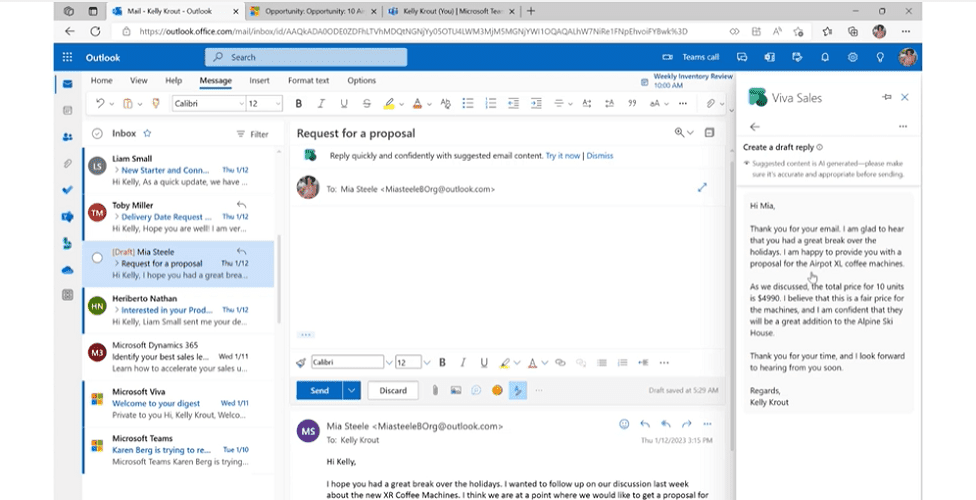 The addition of ChatGPT functionality to customer experience and contact solutions, for example, will enable agents to compose AI-based emails, run chats entirely through a virtual agent, and transfer them to a human when the AI can't figure it out.
Marketers can greatly simplify their work processes, including by setting up specific target groups with a few simple search queries, having reports created for these target groups from the available data and also presenting insights into these segments.
Copilot for Microsoft Dynamics 365 Business Central provides quick product descriptions for online stores, among others, based on metadata such as color, material and size. In addition, the AI functionality can adjust the tone of voice, as well as the format and length of the description. This way, marketers and other content specialists no longer have to adjust texts before they go live.
Supply chain solutions within the Dynamics 365 suite of solutions, such as Microsoft Supply Chain Center and Microsoft Dynamics 365 Supply Chain Management, are also now getting Copilot's ChatGPT AI functionality.
This allows, for example, a much better prediction of possible disruptions to supply lines. This is based on news reports, weather reports and information from suppliers who proactively report certain problems. Agents can thereby write "outreach" emails, run orders on different routes, predict new delivery dates and engage alternative distribution centers to meet customer demand.
Added functionality to Power Platform
In addition to the ERP and CRM solutions, ChatGPT functionality has been added to the low-code platform Power Platform. This functionality should give existing bots more functionality with conversational features and adds generative AI models to Microsoft Power Apps and Power Automate.
Within Power Virtual Agents, the new generative AI functionality helps train bots on corporate Web site content. These enhanced bots can then easily answer customer questions without having to "write down" every question and answer.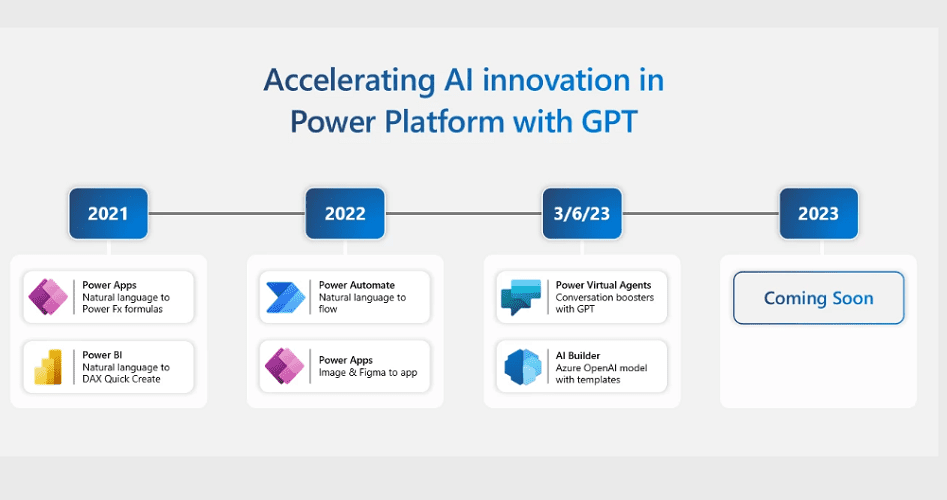 Within AI Builder, it is now possible to preview generative AI models using a new low-code interface in the Azure OpenAI Service.
This makes it easier for developers to integrate generative AI models into their applications for various functions. Think of summarizing reports and sending them with Power Automate. For example, a chat application can completely automatically send summaries of collaboration threads after sessions have ended.
Both applications for the Power Platform are currently only available in a (limited) preview and then only in English and in the US.
Also read: Microsoft rolls out AI chatbot Bing to mobile devices and Skype