As expected, Google is coming out with a host of announcements during the I/O event. The tech giant announces the expected counterpart to Microsoft's AI variant Bing. It's dubbed "the new Google search experience" by Google, and was previously known as Project Magi.
Those expecting to get started with Google's AI search features in the here and now are limited to Google Bard. The chat feature no longer has a waiting list, following the lead of the Microsoft Bing AI bot.
Also read: Microsoft Bing Chat, Google Project Magi or no AI search at all?
Integrations, integrations, integrations
The news around Google Bard shows an integration of the chatbot feature with the regulars in Google's suite of applications. Just as Microsoft has also added visual elements to Bing, Bard now includes within the chatbot window the ability to display Google Maps results or add AI-generated captions to Google Lens matter.
Reliability is key with search engines and is something that Google has greatly improved over the past 20 years. At the AI level, this story becomes a lot more difficult, as chatbots tend to sometimes say something completely nonsensical full of supposed confidence. Therefore, starting next week, Bard will integrate better footnotes, both to text and pieces of programming code.
Finally, Google is integrating the Bard feature with Google Docs and Gmail, so formatting should no longer be a problem when siphoning content. As icing on the cake, Google Bard now also has a dark mode.
Google AI search: still experimental
There has long been some caution at Google regarding the use of AI. CEO Sundar Pichai recently warned everyone about the negative effects artificial intelligence can have. Specifically, Google is gradually working on AI when it comes to its flagship product: the Google search engine that made the company big.
For now, "the new Google search experience" is only available through a Google Labs waiting list, but gives a glimpse into the future. The Search Generative Experience (SGE) should make the search engine more "visual, snackable, personal and human.
AI search provides a "snapshot" of the most important information coming from a search at the top of search results.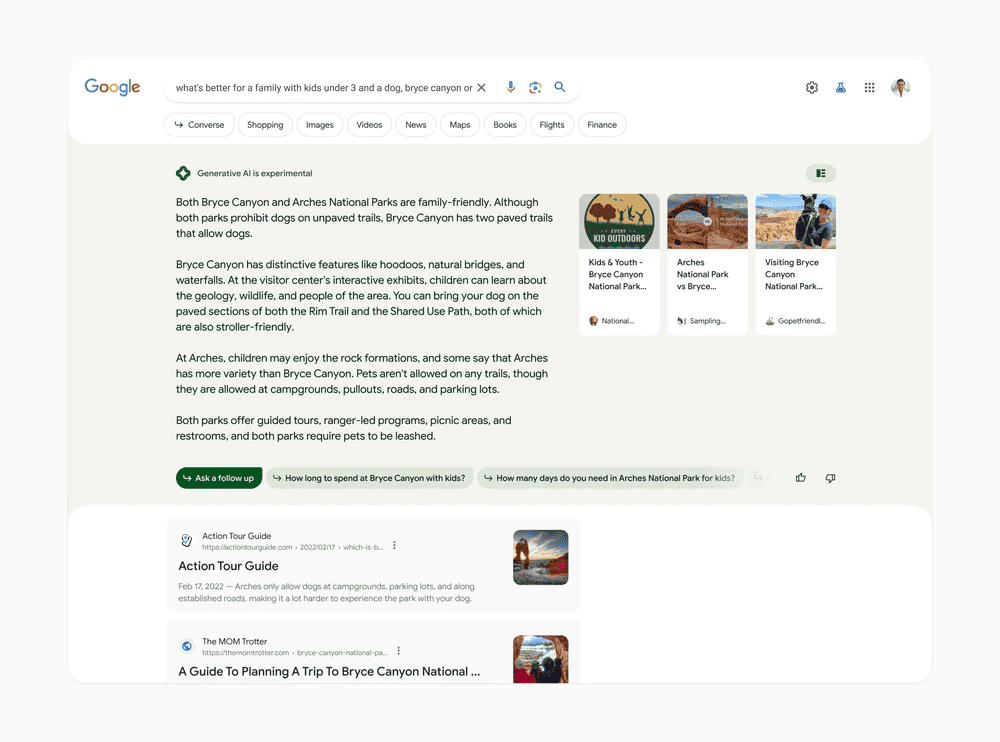 In addition to the broad search example, Google promises a better shopping experience, which the company no doubt earns much more from than looking up any fact. Generative AI should help consumers make smarter choices by contrasting products.
So those who want to try out all this in the form of SGE will have to wait a while for access because of the waiting list. Ultimately, like its competition, Google continues to indicate that all of this is experimental and may contain errors. After all, the message remains: a lot is possible with AI, but we haven't solved all the problems yet.
Alarmism
Incidentally, Google itself recently revealed quite a bit of AI alarmism. For example, a Google engineer argues that open source is winning the battle for generative AI versus Google itself and also the Microsoft-supported OpenAI. Still, once again we see the advantages that a proprietary ecosystem offers for the likes of Google: the integration of different features makes an AI application for consumers and organizations a whole lot more dynamic.