Apple announced several updates for its iWork suite of productivity apps, showing off new features in Keynote, Pages, and Numbers. For Keynote, Apple added a live camera view that presenters can use to engage directly with the audience as they make a presentation.
The tool leverages the front-facing cameras on Macs, iPads, and iPhones to allow presenters to stand next to their presentation while presenting. Apple said this addition is well-suited to lectures, how-to videos, and remote presentations using video conferencing apps.
Multiple presenter mode
To get a more elegant look, masks, frames, drop shadows, and reflections are available to resize and restyle video objects. Users with external cameras can connect them to their Mac to get additional video angles. iPhones and iPads can be used for live demos, leveraging a feature that allows a presenter to share the screen with a connected device.
For those making remote presentations, the new multi-presenter provision allows for there to be more than one presenter, facilitating turn-taking during the presentation. Pages now has an automated feature that displays text and images in a single-column flow (optimized for iPhone).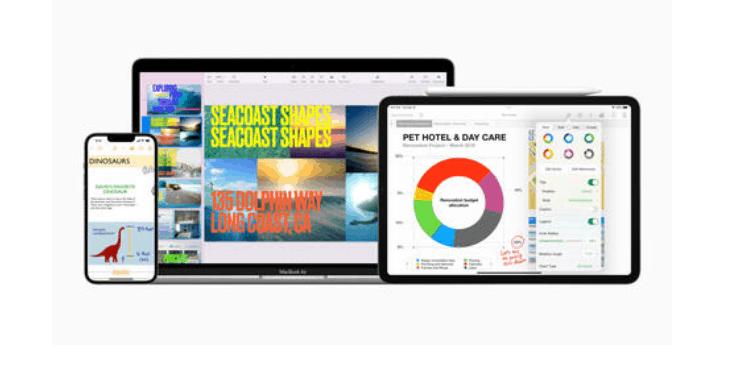 Text and Numbers
Apple said the changes it made make it easier for people to work on-the-go, adding that many people now read Pages documents on their smartphones than on other devices. The latest update sees Screen View automatically displays text, images, and additional elements in a single-column, continuous flow optimized for the iPhone screen.
Text is enlarged to make it easy to read, with photos and drawings sized to fit the display and horizontal scrolling on tables.
Screen View is available for all word processing documents, with no additional setup required. As for Numbers, it has been updated to add pivot tables (they bring new data analytics capabilities) which help users summarize and rearrange information to identify trends and patterns easily.