The latest version of VMware's virtualization software for Apple Fusion introduces support for Arm-based Mac devices.
VMware announced that the introduction of VMware Fusion 13 and VMware Fusion Pro Player provides Windows 11 support for both Intel-based and Arm-based Apple Silicon processors. This should make it easier to run Windows 11 on Apple Silicon-based laptops and PCs.
New virtual TPM
Support for Windows 11 virtual machines (VMs) is made possible by a new virtual Trusted Platform Module (2.0). The TPM is recognized as a validated TPM and can be added to any VM. It stores contents in an encrypted section of VM files to provide a secure enclave.
A new encryption method was added to support the TPM. The encryption method only encrypts the parts of VMs that support the TPM. This makes the encryption performant and secure. Furthermore, encryption passwords are stored in the keychains of Macs, meaning passwords don't have to be input every time the VM is started. Users can configure a password or have one automatically generated by the VM.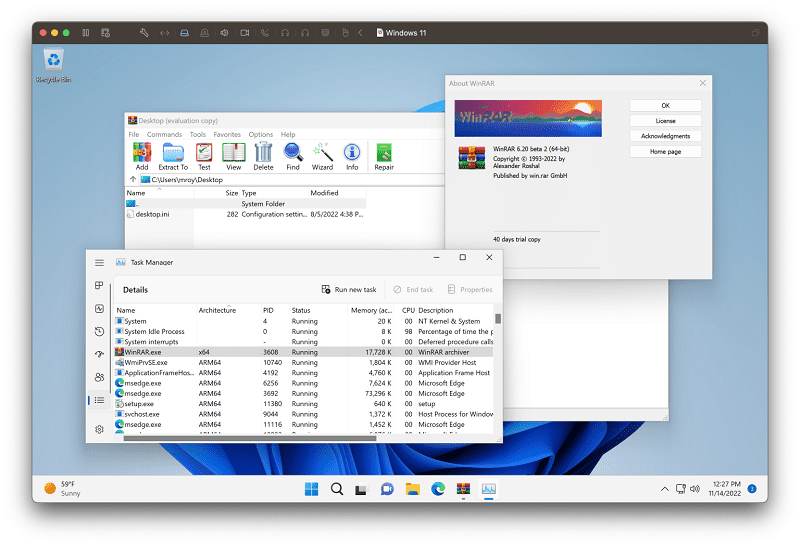 Intel and Arm functionality
VMware Fusion 13 introduces various features for Intel- and Arm-based Macs. Windows 11 has full support for VMware Tools on Intel-based Macs. This allows host-guest interactions like drag & drop, copy & paste, folder sharing and USB/Camera device passthrough.
In terms of graphics, the Intel version offers support for OpenGL 4.3 in Windows and Linux VMs. DirectX 11 graphics are also supported. Furthermore, VMware Fusion 13 continues to support eGPU devices for increased graphics performance.
For the Arm version, VMware Tools supports new virtual graphics and networking functionality. OpenGL 4.3 enables fast 3D hardware acceleration for Arm-based Linux VMs running Linux kernel 5.19 or later.
VMware specified that VMware Fusion 13 on Apple Silicon has to run the dedicated Arm variant of Windows 11. The standard Intel/x86-based version of Windows 11 is not supported. Windows 11 on Arm has built-in emulation functionality for applications originally compiled for Intel and AMD processors.
Availability
VMware Fusion 13 is available as a single DMG for both the Intel and Arm versions. This benefits large-scale deployments and avoids confusion about which version should be installed on which device. Free personal licenses remain available.