Cisco is giving Webex a major update. The networking giant wants to offer the most suitable platform for hybrid working. Among other things, its collaboration with Microsoft is being expanded.
According to Cisco, hybrid working remains a major challenge for companies — especially when it comes to bringing employees at home and in the office together for meetings. Research indicates that many meeting rooms lack efficient videoconferencing functionality and most companies fail to get the most out of videoconferencing.
The new updates and collaborations for Webex attempt to bridge the gap. Cisco aims to deliver the best all-encompassing videoconferencing tool for businesses.
Various updates
New features include the Whiteboard App, which provides whiteboard functionality for any browser, Cisco device and Webex application. Furthermore, the new Vidcast tool allows participants to quickly edit videos and create high-quality content for presentations.
Additionally, Webex Calling has gained new features in Hybrid Events that should provide a new 'lobby' experience for virtual events. Users can broadcast resumes, photos of speakers, overviews of sponsors, schedules and more. Webex Webinars also gained more functionality for incorporating branding and personalization for virtual meetings.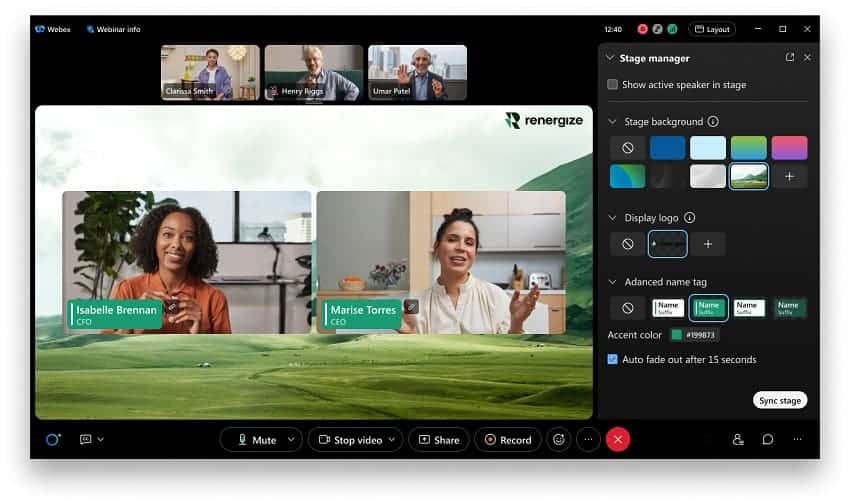 Audio watermark
Inaudible 'audio watermark' technology has been introduced on the security front. The feature adds unique watermarks to speech. As a result, users can safeguard intellectual property vested in speech and other audio.
In terms of management capabilities, Cisco has integrated the Webex Control Hub with Cisco Spaces. This gives administrators visibility into meeting room usage and air quality. Like a digital coach, the new 'Control Hub as a Coach' service helps administrators set up meeting rooms
Microsoft and Apple
In another announcement, Cisco underscores it understands that companies use multiple platforms from multiple vendors for hybrid work. Instead of standardizing a single collaboration platform, users leverage multiple solutions. As such, Cisco features interoperability with Microsoft Teams, Google Meet and Zoom.
The tech giant has decided to step up its collaboration with Microsoft. All of Cisco's Webex devices now offer a complete Microsoft Teams Room experience. This gives customers more choice among conferencing hardware and collaboration platforms.
The tech giant has also expanded its partnership with Apple. iPhone and iPad users can now share camera content via the Cisco Webex Meetings app.
New device and blueprint
Furthermore, Cisco introduced a new device for its Webex environment, Cisco Room Kit EQ. According to the networking giant, the application is suitable for corporate environments. The application is based on the Cisco Codec EQ AI appliance. Cisco Room Kit EQ can thereby deliver lifelike meeting experiences. It transforms large rooms into hybrid working environments to engage both remote and in-office employees.
The application is supported by a new blueprint for hybrid work environments, the Hybrid Workspace Design Guide. This blueprint, inspired by Cisco's own New York office, combines various ideas and principles on Smart Building solutions, collaboration, networking, security and other technology. Ultimately, the blueprint should produce a highly efficient hybrid workspace.