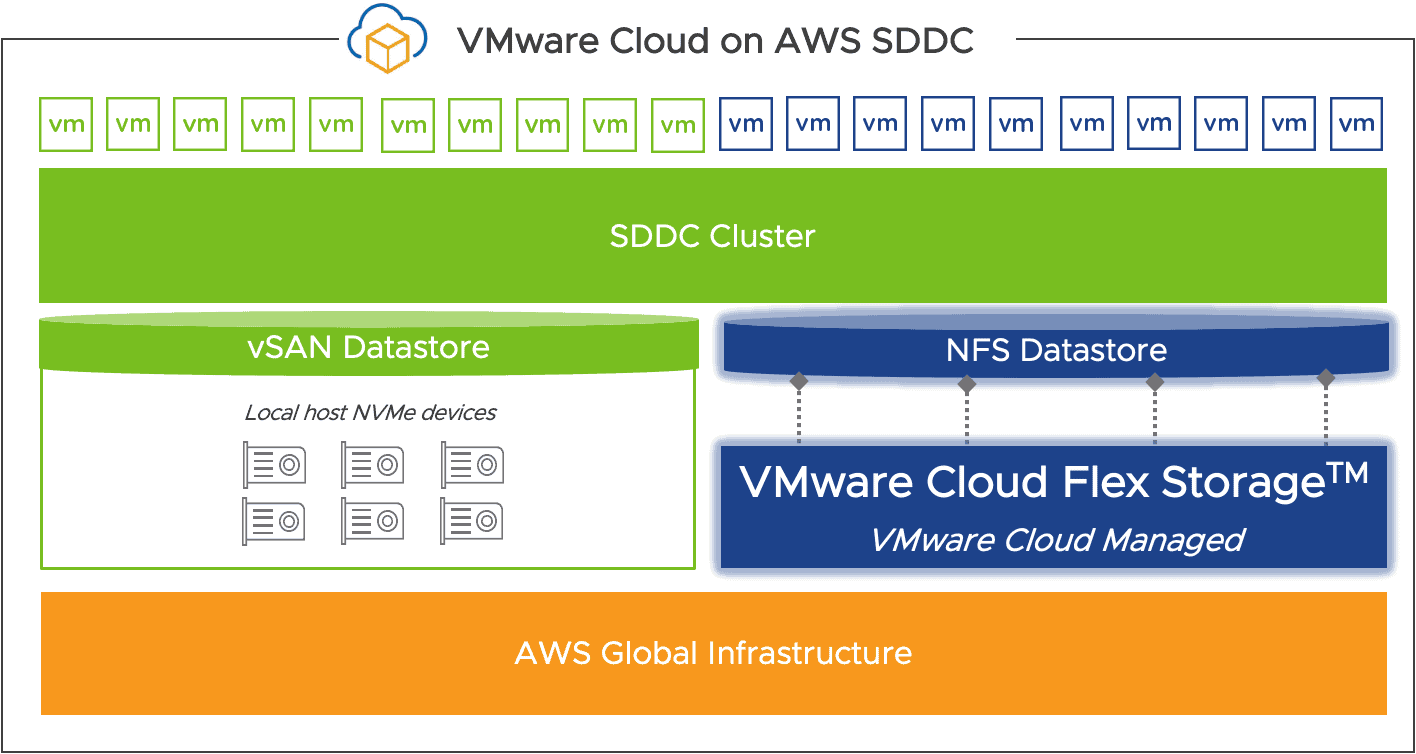 VMware introduced Cloud Flex Storage. The managed storage service allows companies to scale storage capacity.
Cloud Flex Storage is a scalable, elastic service based on a pay-as-you-go model. The service is based on VMware Cloud on AWS. Companies can set up storage directly in the VMware Cloud Services Console and dial in the required capacity without adding additional hosts.
The redundancy of hosts is key. Previously, VMware only sold cloud-based storage based on hyper-converged infrastructure. Customers always had to purchase additional computing power for more storage space.
In addition, the solution supports virtual machine lift-and-shifts without having to adjust the data layer. This can save a lot of time for cloud migrations.
VMware Cloud Flex Storage is currently available in closed beta. The official release date is unknown.
Alternative to VMware vSAN
Customers also using VMware's vSAN on-premises storage services can use Cloud Flex Storage to distribute data to multiple storage environments. VMware indicates that Cloud Flex Storage will soon be cheaper than its on-premises VMware vSAN solutions. Whether the cloud-based storage service will eventually replace vSAN is unclear at this time.
Technology
Cloud Flex Storage is based on VMware Cloud Disaster Recovery Service. In turn, the latter is based on a Log-Structure Filesystem, developed by Datrium, an acquired organization. The Log-Structure Filesystem has a two-tier design. One of the tiers features a so-called 'immutable' layer, which stores data that cannot be modified. The other layer is used for caching.
Both layers are based on NVMe drives with a backend of object storage. Everything is built on AWS S3. According to the tech giant, the technology enables speed and extensive data security. Cloud Flex Storage is well-suited for backup, ransomware protection and data recovery.
Tip: VMware application transformer promises to run legacy apps in containers