AlloyDB for PostgreSQL is now generally available. Google Cloud wants to make it easier for companies to shift workloads from traditional on-prem databases to open-source cloud-based databases.
AlloyDB is especially suitable for companies looking to modernize their most demanding database workloads, according to Google Cloud. The fully managed database service was introduced as a preview earlier this year.
AlloyDB is built on open-source database management system PostgreSQL. This allows users to more easily migrate existing PostgreSQL applications without changing underlying code.
On top of PostgreSQL's native functionality, the managed database service includes additional AI-based management capabilities and complete integration with Google Cloud's AI and data analytics services.
New functionality
Since releasing the preview, the cloud giant has added various features. AlloyDB gained security capabilities such as customer-managed encryption keys and VPC Service Controls. In addition, the offering has been expanded to include a new dual vCPU/16 GB RAM configuration.
Other additions include support for PostgreSQL extensions such as pgRouting, PLV8 and armcheck. Furthermore, Google Cloud's Database Migration Service was recently updated to support migrations from PostgreSQL to AlloyDB.
AlloyDB is also integrated with cloud service Datastream. The latter enables data capture and replication for BigQuery. In addition, AlloyDB now features autopilot capabilities for automatic storage provisioning and 'adaptive auto-vacuuming'. This should simplify the management of the cloud-based database environment.
Storage service
The database service runs on an intelligent storage environment tailored to databases. The environment allows AlloyDB to scale up and down seamlessly while delivering consistent performance.
The storage environment also features built-in AI and machine learning, acceleration capabilities for analytics and automated data tiering. According to Google Cloud, this makes the managed database service ideal for high-performance workloads with minimal management involved.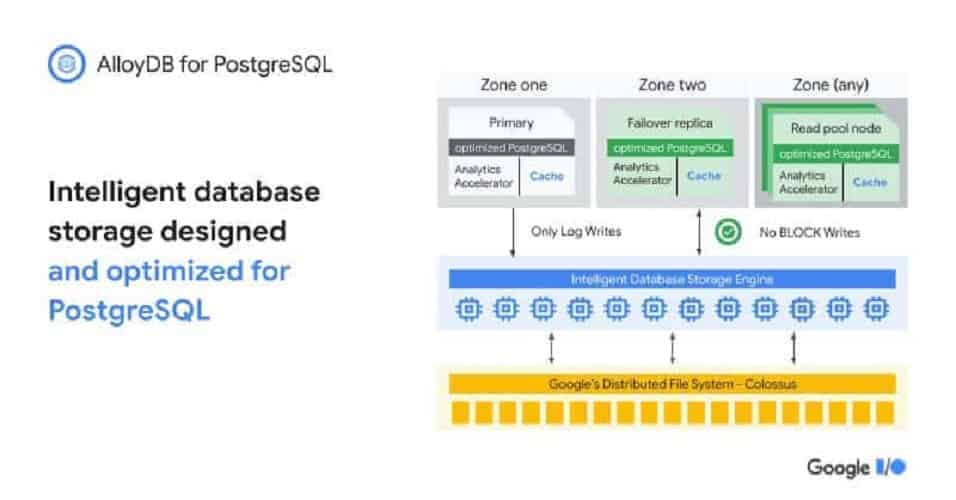 More performance
AlloyDB offers up to four times more processing speed than standard PostgreSQL databases for transactional workloads, according to Google Cloud. The cloud provider claims processing speeds are up to 100 times faster for analytical queries.
AlloyDB offers a 99.99 percent SLA and regional availability. According to Google Cloud, problems within the managed database environment are detected within 60 seconds, regardless of the size of the database in question.
Preview rates will be applied until December 31, followed by regular rates starting in 2023.