Microsoft is preparing the launch of its new Surface Pro 8 model. A leak reveals exactly what to expect. Twitter account Shadow_Leak published a photo of the Surface Pro 8 from what looks to be a retail listing. Microsoft might also introduce the Surface Go 3 tablet.
The account claims the Surface Pro 8 will ship with a new 13-inch 120Hz display with narrow bezels and two Thunderbolt ports. Last week reports indicated the Surface Pro 8 would ship without USB-A ports, in favor of USB-C and Thunderbolt. The report added that Microsoft has been testing 120Hz displays for the Surface Pro line.
It checks out
The leaked image and specs appear to line up with what sources have been saying about Microsoft's plans. The leak also reveals that Microsoft is making the shift to removable SSDs on the Surface Pro 8.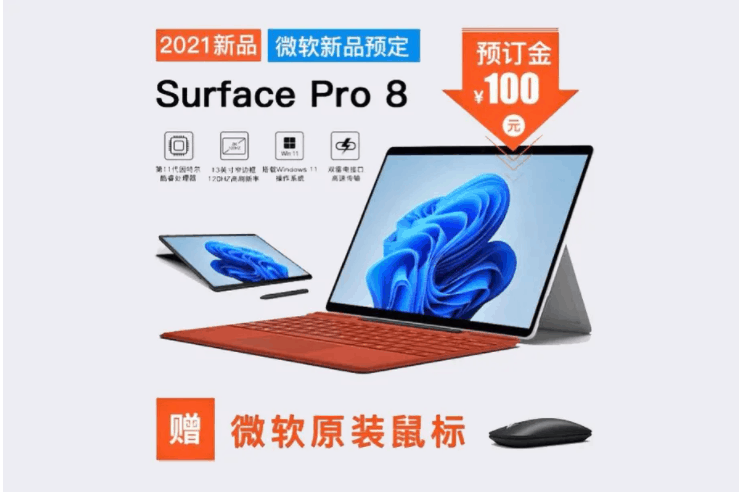 That move matches the Surface Laptop 4, Surface Pro X and Surface Pro 7 plus. It will make it easier for users to swap out drives when they need to. Microsoft has also scheduled a product launch for Thursday this week (Sep. 22) which will include announcements for the new Windows 11 and the Surface series.
The Surface Go 3
It is possible that the Surface Go 3 will be presented, for which a dealer has revealed almost all of the details before the official launch. The dealer is a Thai provider called ITCity. It has already listed the new Microsoft Surface Go 3 in three versions on the Shopee portal, including SKU numbers and technical specs.
The Surface Go 3 doesn't look too different from the previous model. The dealer also confirms two new CPUs (the Intel Pentium Gold 6500Y and the Intel Core i3-10100Y). The Surface Go 3 is more of a budget model for lightweight users, where the Surface Pro 8 is more targetted to the business professional, who requires an average performance. For the more heavy weight users Microsoft has the Surface Laptop and Surface Book series.