Google is integrating Chrome OS Enterprise with cloud-first contact center companies like Edify, Genesys, Vonage, Five9, RingCentral, and 8×8. This move sees Google release Chrome Enterprise Recommended Contact Center stacks that will be available from partner vendors and CDW.
Google Chrome OS Enterprise is a signal that contact center stacks are a hot market. Even Zoom is buying Five9 to gain a foothold in the contact center market.
Cisco has WebEx, a notable contact center player. The cloud center efforts became crucial to operations when service agents moved on to remote work.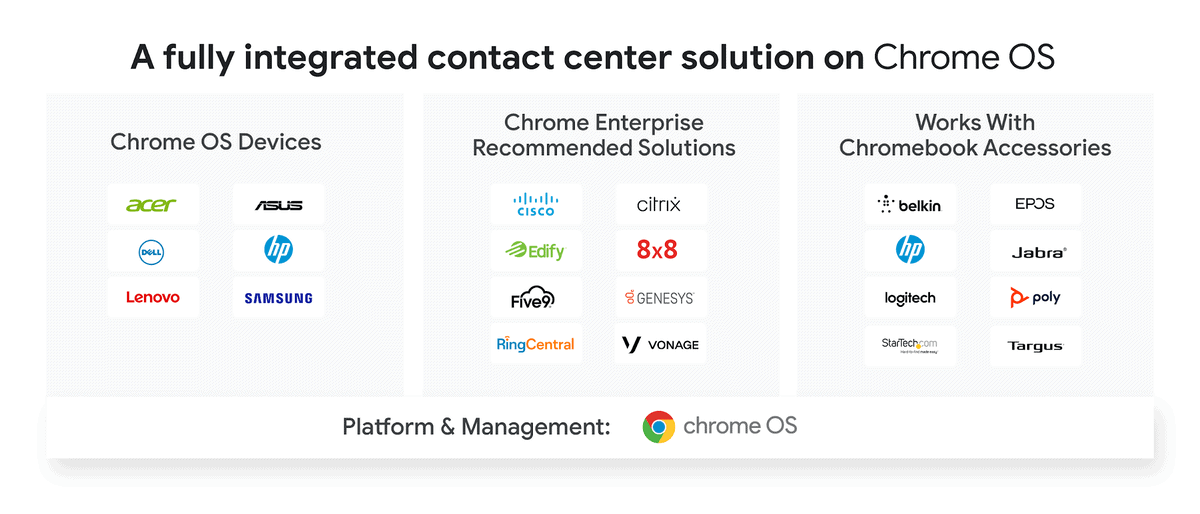 What Chrome OS Enterprise wants to do
Chrome OS is aiming for this space because it can entice IT, admins, with simplified deployment, updates, and management tools. As far as endpoints go, Chrome OS Enterprise is fully capable of simplifying management for distributed contact centers.
Director of Product Management for Chrome OS, Thomas Riedl said the operating system looks to replicate the success it has enjoyed in education and target specific industries with customized efforts.
Riedl said that the product is validating the end-to-end experience, adding that contact centers pivoted and two-third of agents are remote workers. The challenges abound and are, according to Riedl, in Chrome OS's wheelhouse.
What's included?
Google said the Chrome OS contact center solutions include:
Software that's validated and optimized for Chrome OS
A Citrix Ready Chrome OS verified for deployment in contact centers. Citrix Workspace on Chrome OS is validated for contact centers, adding that Google and Citrix will validate more endpoints, peripherals, and apps on Chrome OS.
Devices certified to work with Chrome OS and Chromebooks, with more than 15 certified headsets for contact centers, including Poly, Jabra, and EPOS.
Making the deployment and management of scattered contacts easier may be what this market needs