Dell Technologies recently introduced its ruggedized HCI appliance Dell VxRail VD-4000. This appliance offers the same technology as the Dell PowerEdge XR4000 system, but in a ruggedized version for edge environments.
The now-announced ruggedized version of the PowerEdge XR4000 system is especially suitable for extreme edge environments, according to Dell Technologies. Think of environments where the HCI appliance is exposed to extreme temperatures, has little bandwidth and also little physical space.
The Dell VxRail VD-4000 has all the VxRail benefits that you find on other VxRail systems. For example, increased efficiency, workload management automation and simplified operations management.
TIP: Dell Technologies acquires cloud orchestration platform Cloudify
Two versions
The Dell VxRail VD-4000 is available in two custom chassis versions. The first available chassis is a standard rack. The second available chassis is 14 x 10.5 -inch in size and looks like an ordinary shoebox. This version can therefore be ceiling or wall mounted.
The rack version features space for four 1U node sleds, two 2U node sleds and vSAN witness or a combination of 1U and 2U node sleds. The compact version features two 1U node sleds and vSAN witness card or a single 2U node sled.
According to Dell Technologies, vSAN witness is an essential part of the entire configuration. This enables 2 node configurations. It features its own Intel Atom processor with two RJ45 ports. Through these ports, the vSAN witness can be connected directly to compute nodes.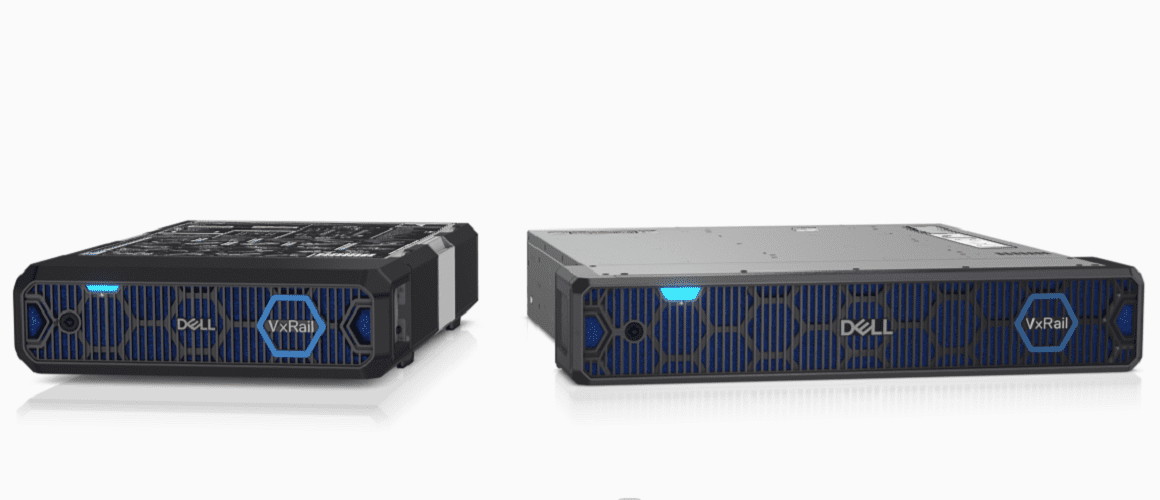 Intel Xeon processors and Nvidia GPUs
Under the hood, the Dell VxRail VD-4000 runs on Intel Xeon D processors. According to the tech giant, these processors are specifically designed for edge environments and feature a variety of built-in technology. These include built-in AI, security and highly compact computing power to deliver high data throughput.
In addition, the edge HCI application integrates and supports Nvidia A2 and A30 GPUs that allow users to perform powerful analytics at any location and use machine learning to run AI applications, for example.
The rugged HCI appliance operates between temperatures of -5 degrees and 55 degrees Celsius. It has also been tested to withstand shock and vibration and features so-called Network Equipment-Building System (NEBS) and Military Standard (MIL-STD) standards.
The Dell VxRail VD-4000 series of rugged HCI applications are available immediately.