The new Synology NAS DiskStation DS1823xs+ is made for storing unstructured data, backing up, sharing and syncing files or managing (camera) surveillance systems.
The DiskStation DS1823xs+ is a compact storage appliance with a capacity of up to 144 TB and 324 TB with an expansion package. The tower model is designed for enterprise environments where server cabinets or data centers are not available.
The storage application is especially suitable for storing unstructured data in offices and studios, backing up endpoints and servers in office environments, sharing and synchronizing files between devices and locations, and managing local (camera) surveillance systems.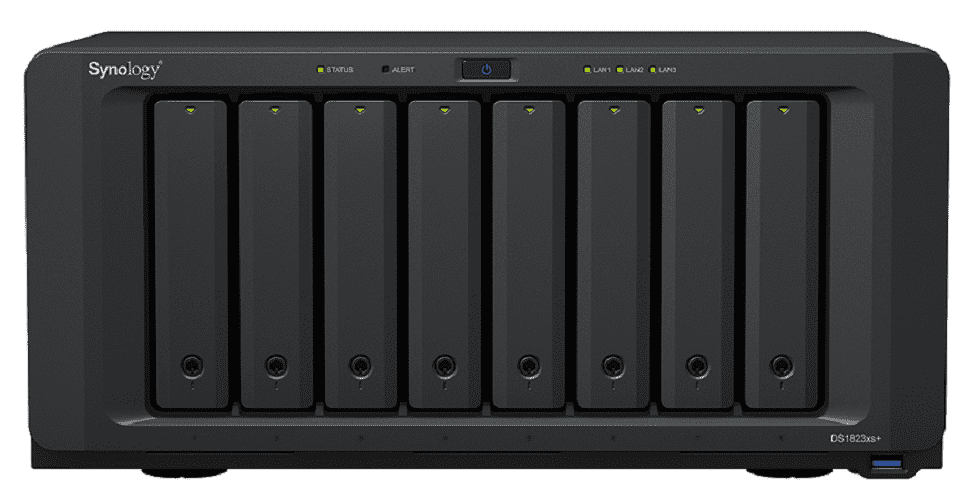 Technical functionality
In terms of technology, the new Synology DiskStation DS1823xs+ offers speeds of over 3,100/2,600 Mbps for sequential read/write. Random I/O performance can be improved by adding high-speed M.2 NVMe or SATA SSD storage or by designating SSDs as read/write cache for HDD volumes.
In addition, the NAS features built-in 10GbE connectivity and up to four 1/10/25GbE or Fibre Channel ports. These ports should support bandwidth-hungry applications.
Included software
As for included software, the DS1823xs+ runs on the DiskStation Manager (DSM) operating system. Furthermore, the NAS features Synology Drive for accessing files remotely and synchronizing these files between different types of devices. Hybrid Share allows the storage capacity for branch offices, for example, to be expanded on-demand via the cloud using the Synology C2 data centers. Caches of frequently used files are kept on local Synology servers for better access capabilities.
In terms of backups, the Synology DS1823xs+ is compatible with Windows, macOS and Linux devices, VMware and Hyper-V VMs and Microsoft 365 and Google Workspace productivity applications. This using the Active Backup Suite software present on the storage application.
Video surveillance platform
Furthermore, Synology's enterprise Surveillance Station solution offers a powerful and flexible video management system that supports more than 8,300 validated and ONVIF-certified IP cameras. In this way, up to 75 cameras can be connected to the DiskStation DS1823xs+. Larger installations are possible by connecting servers to the built-in Centralized Management System.
The Synology DiskStation DS1823xs+ is available immediately through Synology partners and resellers. The suggested retail price is $1,920 including VAT and $1,600 excluding VAT.