With the HD6500, Synology now offers a larger rackmount system than ever. The server promises a central location for all the files and backups of a large enterprise organization. With this, Synology goes for an ideal foundation for enterprises. What makes the storage server suitable for large organizations?
Quite recently, we recorded a video with Synology, talking to director Victor Wang about its enterprise offering. After all, Synology wants to compete with well-established storage brands. In the video a little later in this article, Wang explains the plans and strategy. To take a closer look at the implementation as well, in this blog we examine the HD6500. A rackmount system that excels at Mass Storage and Data Management.
File server as a private cloud
The HD6500 is a 60 bays 4u rackmount. The model is expandable up to 300 drives, which partly explains its capacity to store a large number of files. In addition, the processor, read and write speeds and other specifications support the storage server. For all the specs, please refer to the specifications page, so we won't deviate too much from the application of a mass storage system in this article.
The HD6500 is characterized as a system on which large files can be hosted. Users can retrieve extensive archives and access them as needed. For this purpose, Synology offers its Drive solution. This solution allows companies to deploy their NAS server as a private cloud. The advantage is that management of the system and files, as well as the access can be easier.
Employees and other users of a NAS system with Synology Drive can access it via their PC and mobile devices through an online portal. In it, they can store and access their own and shared files and folders. The portal is available through the browser or through a client on a PC. A mobile app is also available. In Synology's view, this allows an organization to realize a true private cloud for all kinds of file tasks. Thus, it is possible to edit documents, view and share images, stream music and videos and backup data directly.
To support such actions, Drive has features for synchronizing and securing the data. For example, changes to files are automatically synchronized so that all devices connected to the NAS use the latest data. By the way, users can use the On-demand Sync feature on Windows devices, which streams files to the device only upon requests to save local disk space and bandwidth. It is also possible to pin files to always have a local copy available.
Drive additionally comes with an algorithm called Intelliversioning, which makes it possible to restore previous versions of a file or folder directly on the device. This can come in handy if you need to go back in time due to circumstances, for example, if afterwards there was useful information in a file that is now missing. This does raise the question of whether this does not require a huge amount of storage, because keeping old versions of many files can be expensive. The Intelliversioning algorithm ensures that only versions with significant changes are saved.
Also read: Synology ramps up data management and protection in 2023
Centralized backup server
As an additional safeguard, Drive allows you to run backup jobs for important folders. You can schedule the tasks or run them immediately. It offers additional security that you can also access the data after a ransomware attack or accidental deletion.
This does limit you to Drive's backup functionality. While Synology offers additional products for the HD6500 that allow for a stronger data protection strategy. The system can be used to protect your organization's fleet of PCs, servers, NAS systems and hypervisors. Synology lists the main options as using HD6500 as a backup location of other NAS storage systems and Windows and Linux endpoints.
One option is to centrally control bare-metal backups of all Synology servers within an organization. HD6500 provides a central console for this purpose. On the other hand, you can use, for example, Active Backup for Business to back up Windows clients and servers, Linux endpoints, Synology servers and Hyper-V and VMware virtual machines to the HD6500.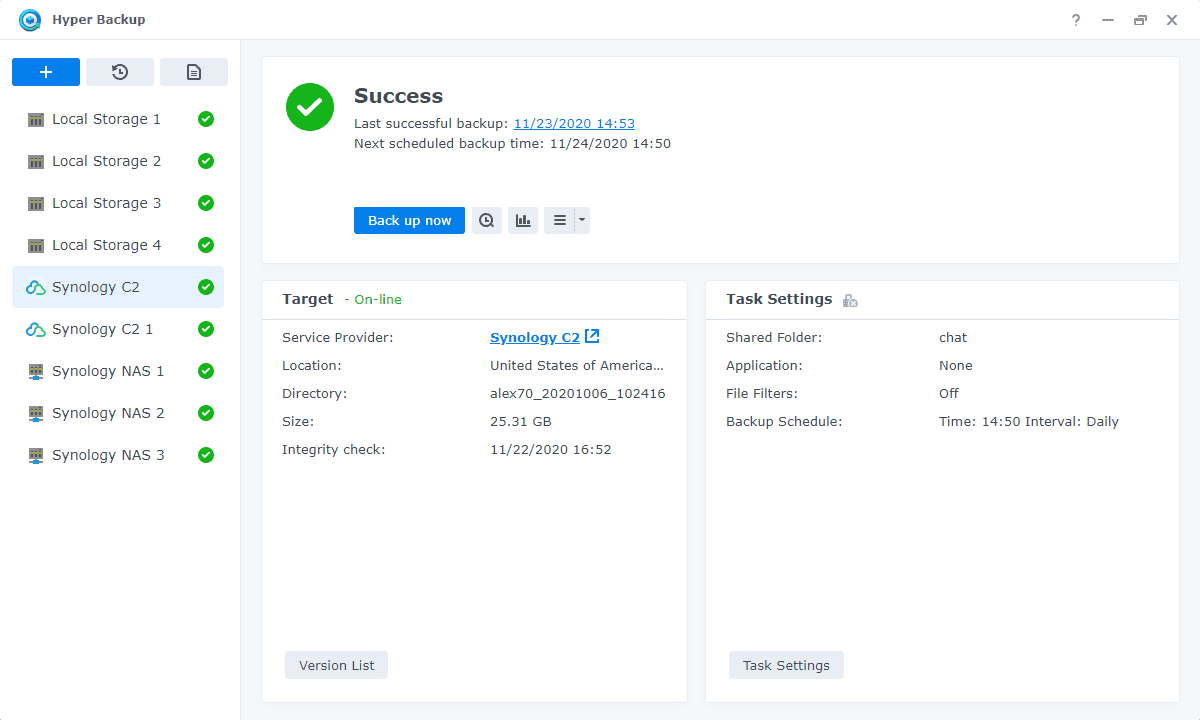 We previously wrote an article on a backup strategy with NAS servers. That article covered many of the backup products and strategies available for the HD6500. Be sure to read the story again for additional information on backup with a NAS system.
WORM and per-volume encryption
Another interesting thing to mention from a security perspective is that Synology plans to make strides in this area again in the near future with the release of operating system DSM 7.2 in the first quarter of 2023. This includes a feature called WORM, aka write-once-read-many, intended for locking and securing critical data. The data in the folder is written away, cannot be modified, but can be read by persons with permission. WORM technology adds additional security to make data in folders resistant to editing or deletion over a period of time. This can be useful for sensitive information, such as financial and medical documents.
WORM can be used in two ways. The strictest security is achieved with Compliance mode. After writing data into a WORM folder, it is no longer possible for anyone to make changes to a WORM folder. Not even a system administrator. This is in contrast to the Enterprise mode of WORM, where it is possible for administrators with a lot of rights to do something about the folder. This Enterprise mode is suitable for very critical business data where there are few legal requirements. Compliance mode, in turn, is suitable for regulated industries with rules on data retention periods. The advantage in the case of Compliance mode is also that no data modifications and deletions can take place if a hacker gets into the network and obtains the administrator's login credentials.
DSM 7.2 also introduces encryption for full storage volumes, which should make it easier for administrators to protect NAS systems from data breaches due to theft or when they are removed from your infrastructure due to age. Volume-level encryption uses AES-XTS, which Synology describes as block cipher mode. In particular, it should provide robust encryption and go beyond the current 143-character limit for file and folder names for folder-based encryption. Based on internal testing, Synology states that volume-level encryption increases performance by up to 48 percent compared to folder-level encryption.
Securely share and receive files
Synology is very much aiming for collaboration and security with rackmount HD6500, it should be obvious. This is in line with the Synology Cloud that the NAS vendor has been working on for the past few years. Synology C2 is a collection of cloud-based products for DSM, which can realize cloud and hybrid infrastructures. For example, you can use C2 to backup your NAS system to the cloud.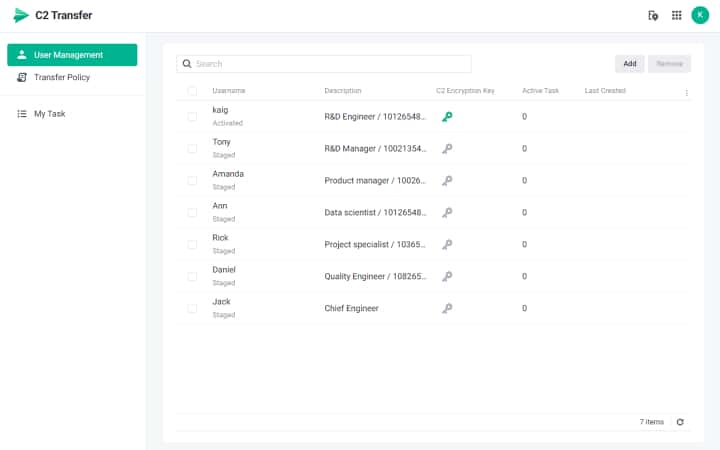 Synology C2 also offers a file-sharing service with additional built-in security components. This makes it possible to share and receive large files without being inhibited by limitations that some users encounter with other services. For example, some employees are still trying to share files via e-mail, but there is a file size limit on that. With C2 Transfer, however, there is support for large files. Plus, as security steps, senders can set expiration dates and download limits. Sensitive documents can thus come with additional security measures.
Sync
Synology C2 has as one of its guiding principles the support of hybrid scenarios. Synology offers the ability to use the integration of on-premises NAS servers with the C2 cloud. This is done with C2 Storage, which efficiently utilizes storage space and synchronizes data between multiple locations. Part of this is the Hybrid Share feature.
With Hybrid Share, data can be synchronized between C2 Storage and branch offices. Hybrid Share requests only the data needed, saving local storage capacity. Files are in turn uploaded once, after which C2 Storage distributes them to other company locations via data center pipelines. Each office NAS system maintains a cache of most-used files, allowing local users to access them quickly.
Ambition in practice
As far as we are concerned, Synology shows with the HD6500 that it can add value for enterprises. The hardware is there, but perhaps more importantly the features and software components are. It can continue to compete with other brands on the market.