HPE expands support for AWS services and AWS will offer HPE services in the AWS Marketplace.
No player can offer a hybrid cloud infrastructure alone. To build it, multiple parties must collaborate and integrate with each other. HPE announced today at HPE Discover in Las Vegas that it will strengthen its ties with AWS. There will be more integrations between the parties. We will briefly list below which integrations are involved.
Amazon EKS Anywhere on HPE GreenLake for Private Cloud Enterprise
The first announcement is that Amazon EKS is now generally available on HPE GreenLake for Private Cloud Enterprise. We also touched on this in another article we published today. Support for Amazon EKS within HPE GreenLake had been known since last December. Now, it is actually generally available for the first time. This is an important step, as Amazon EKS is a popular container runtime. From now on, users can seamlessly deploy it across HPE GreenLake for Private Cloud Enterprise and AWS environments.
HPE GreenLake for Backup and Recovery now also available for Amazon RDS and EKS Anywhere
Backup and Recovery is a key pillar within HPE GreenLake. We saw this recently when we published an update on some innovations in storage. AWS environments should not be missing from this either. HPE GreenLAke for Backup and Recovery already supported Amazon EC2 instances and Amazon EBS volumes. So now Amazon RDS, AWS' relational database, and (again) Amazon EKS Anywhere are added.
HPE NonStop Development Environment becomes available as an Amazon Machine Image
A third announcement surrounding the collaboration between HPE and AWS has to do with HPE NonStop. We don't tend to hear much about this branch within HPE during the year. HPE NonStop systems are systems built around a 100% fault tolerance. That is to say, even if something goes wrong, the systems continue doing their job. Thus, they are designed for mission-critical environments and workloads.
Part of these systems is an open software environment. In it, developers can develop applications for these systems. Until now, the HPE NonStop Development Environment was available for private clouds, and there was also a general version that could be purchased in the cloud as a service. Today, this development environment will be delivered as an Amazon Machine Image, or AMI. Using this AMI, you can create virtual machines within EC2 instances specifically for developing software for the NonStop platform.
HPE Fraud Risk Management becomes available in the AWS Marketplace
The latest news surrounding the partnership between HPE and AWS is that HPE Fraud Risk Management will become available in the AWS Marketplace. That means organizations can install this service from within the AWS environment when it becomes available. HPE Fraud Risk Management deals with addressing fraud in the world of telcos. Below is a list of types of fraud that telcos can use Fraud Risk Management against:
Subscription fraud
IRSF
Content theft
Account takeover and equipment fraud
On-your-premises equipment (PBX, VoIP) compromise
Machine-to-machine (M2M) compromise and abuse
eCommerce, mCommerce, and content fraud
Bypass, SIM gateway fraud, flat-rate services abuse
Prepaid services fraud
Insider fraud
By the way, this does not seem to be entirely new, as we have already spotted it on the AWS Marketplace at the time of writing.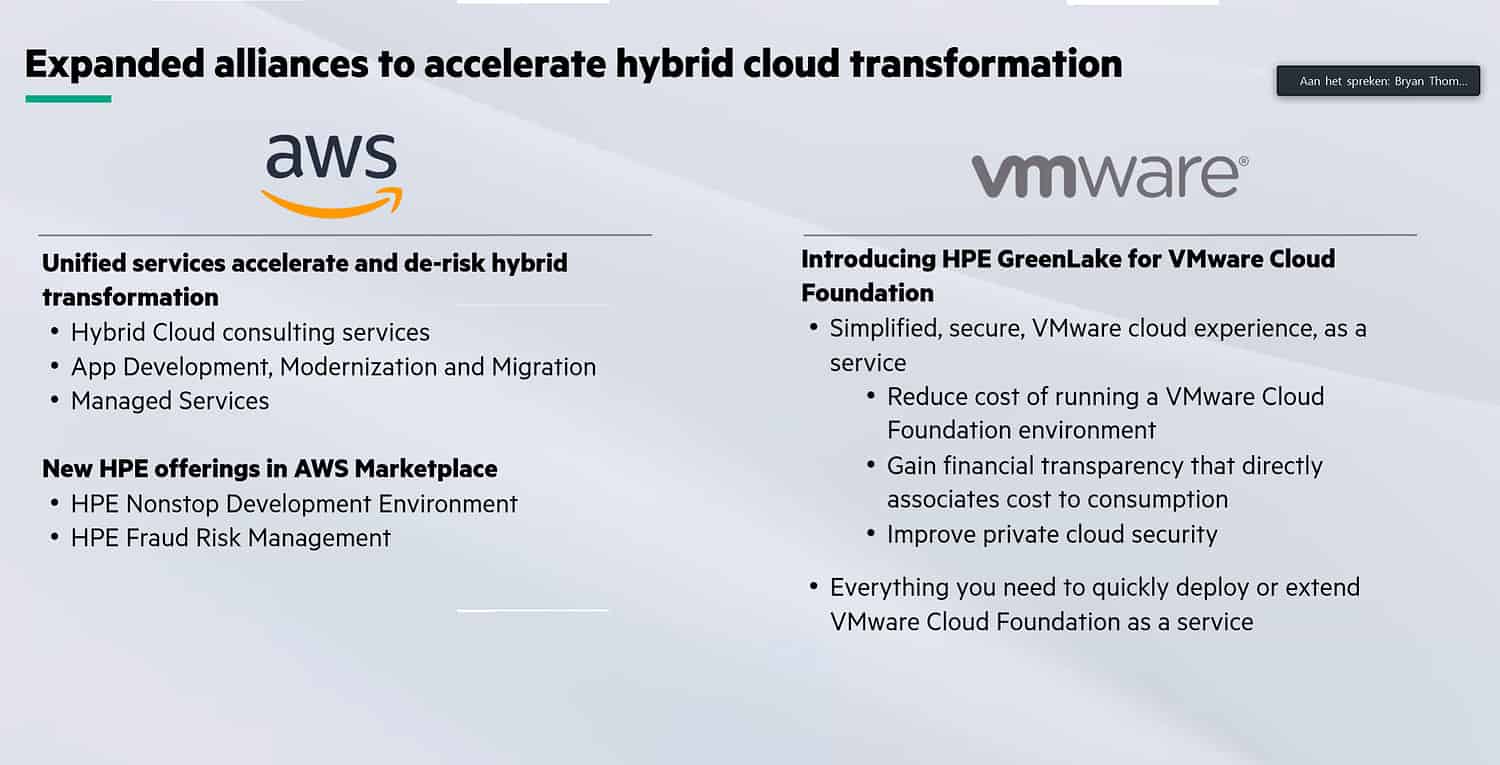 As you can see in the picture above, HPE is not only working with AWS. Deeper integration has also been set up with VMware, specifically VMware Cloud Foundation.