More and more companies are using multiple cloud services. This is positive for Microsoft Azure, which therefore has to deal with increasingly large workloads and attracts more customers. As a result, the gap with Amazon Web Services is smaller than ever.
That's what Flexera's RightScale 2019 State of the Cloud report says. The company interviewed 786 respondents, 58 percent of whom were identified as business customers. The report follows similar studies by Kentik and Densify, among others, who reported that cost optimization and multicold are the most important cloud-hemas at the moment.
Optimize costs
It also appears that optimising the costs that companies have to incur when it comes to the cloud is the most important issue. For the third year in a row, companies have called this the most important factor in the choices they make with regard to the cloud. This was the case for 64 percent of the respondents, although the figure is even higher when looking at average and advanced cloud users. In 70 and 76 percent of the cases, respectively, they indicated that cost optimisation is leading for them.
Flexera's research showed that when it comes to the cloud, these factors also grow enormously: serverless, machine learning and container usage: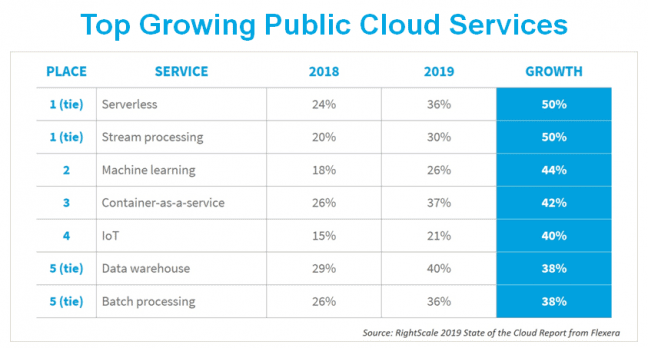 Furthermore, 84% of large companies have a multi-client strategy and 61% of small and medium-sized enterprises have a multi-client strategy: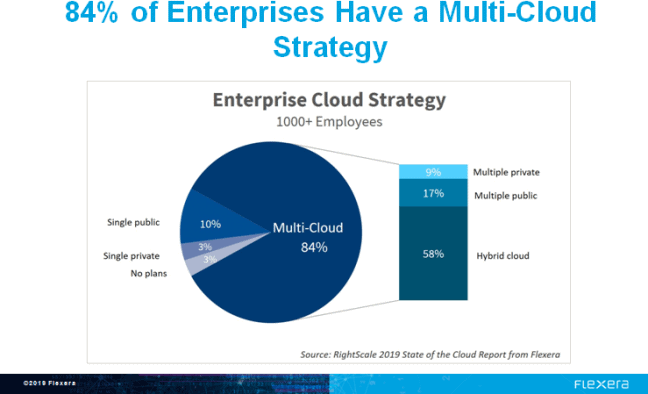 Finally, it appears that the number of companies that at least also use Microsoft Azure is growing. RightScale states the following: The general adoption of Azure grew from 45 to 52 percent, which narrowed the gap with AWS. As a result, the Azure option now accounts for 85 per cent of the AWS option, compared to 70 per cent a year ago. The gap is narrowing as companies increasingly embark on Azure, where AWS is experiencing little or no growth at all.
This news article was automatically translated from Dutch to give Techzine.eu a head start. All news articles after September 1, 2019 are written in native English and NOT translated. All our background stories are written in native English as well. For more information read our launch article.