IT research firm Gartner reports that Google's cloud infrastructure services are becoming increasingly complete. As a result, the company is becoming higher and higher in the ranking of the newest Gartner Magic Quadrant.
The 2019 Magic Quadrant for infrastructure-as-a-service, published today, describes Google Cloud as a "leader", ranked third of only six providers that made it to the list. Google was first categorized as a leader in 2018, but Gartner states that the company's position has improved as it has added new analytical capabilities and improves its ability to execute. Amazon Web Services occupies first place and Microsoft's Azure cloud remains in second place. The report also shows the huge gap between the top three suppliers and their main competitors. Alibaba Cloud, IBM and Oracle have all ended up in the 'niche players' category.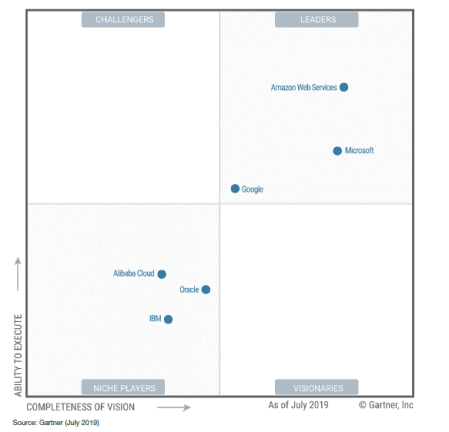 As far as Google is concerned, Gartner reports that the company's status has grown thanks to expertise in data analysis and machine learning services, which help to make Google a more "strategic supplier". "The running of applications is important, but you also need to be able to understand the data they generate," says Google Cloud President Rob Enslin in a blog post about Gartner's report. "Google Cloud has a highly differentiated offer in terms of data analysis and machine learning.
However, Google still has a number of challenges to address. The company's processes for dealing with business accounts need to be further developed. There is also a lack of a large base of managed service providers. In addition, sales coverage remains low.
Competitors
Amazon continues to steam, says Gartner. The research bureau states that AWS is the most "turnkey, essential, hyperscaled provider" and that the new services of AWS also cover most of the use cases. On the other hand, Gartner noted that AWS does not always offer the best prices and that AWS' main storage service has not had a price reduction since 2014.
As far as Microsoft is concerned, Gartner reports that the main strength of Azure is the integration of software products such as Office. This enables companies to create hybrid applications more easily. Gartner also praised Azure for its Internet of Things strategy. Gartner's main criticism with regard to Azure is that the service has been affected by a number of malfunctions in recent months.
This news article was automatically translated from Dutch to give Techzine.eu a head start. All news articles after September 1, 2019 are written in native English and NOT translated. All our background stories are written in native English as well. For more information read our launch article.