Toshiba Memory America, soon to be Kioxia America, presents a new form factor for NVMe-SSDs in the format of a microSD card.
The new form factor, XFMEXPRESS, was introduced at the Flash Memory Summit in Santa Clara, California, and is primarily intended for ultra-mobile PCs, IoT devices and embedded applications.
An XFMEXPRESS card is slightly larger and thicker than a microSD card, with dimensions of 18 x 14 x 1.4 millimetres. Outside the similar footprint, however, XFMEXPRESS does not work the same as microSD, but as an SSD. You will need to open a device to replace or upgrade the card.
Simple connector
Unlike an NVMe-SSD that is connected via an M.2 connector and requires a screw to hold the SSD in place, connecting an XFMEXPRESS-SSD does not require any additional tools.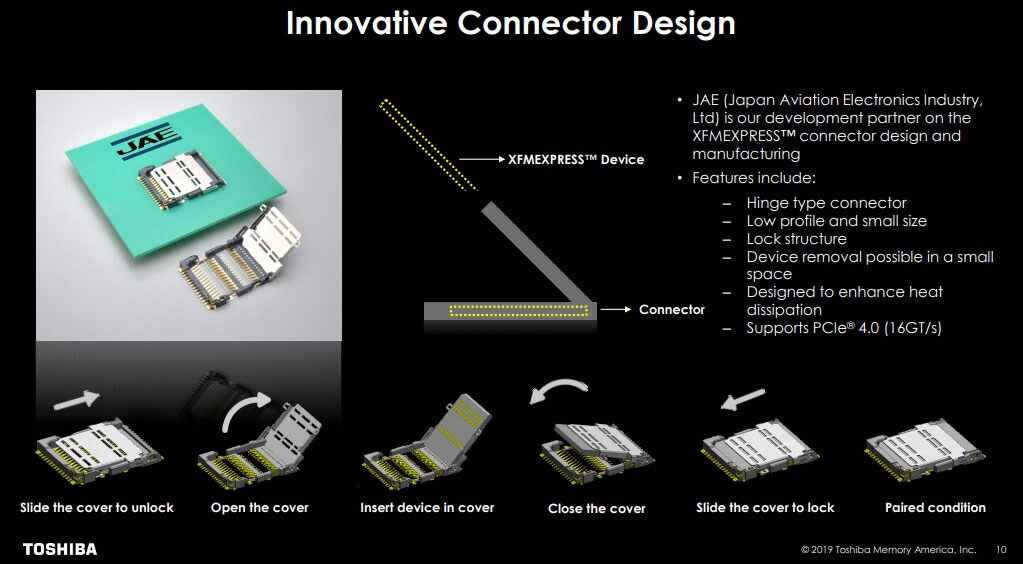 Toshiba worked with Japan Aviation Electronics Industry (JAE) on the design of the connector. It works with a metal lid that clicks over the SSD to keep it in place and also serves as a heatsink to cool the card passively.
4 to 8 GBps
XFMEXPRESS supports the PCIe 3.0 standard with the NVMe 1.3 protocol, as well as the new PCIe 4.0 standard, and uses two or four lanes. According to Toshiba, the first generation offers a theoretical bandwidth of up to 4 GBps. The next generation will increase that limit to 8 GBps.
The XFMEXPRESS technology looks promising, but everything will depend on its adoption by the industry. It is not known whether Toshiba has already brought other manufacturers on board to support the new standard on future hardware.
This news article was automatically translated from Dutch to give Techzine.eu a head start. All news articles after September 1, 2019 are written in native English and NOT translated. All our background stories are written in native English as well. For more information read our launch article.