NetApp and Cisco announce FlexPod XCS, a Hyper-Converged Infrastructure (HCI) for hybrid clouds.
For years, NetApp and Cisco have been collaborating on a HCI platform for datacenters. With the introduction of FlexPod XCS, the HCI platform extends to hybrid cloud environments.
FlexPod XCS is a platform for managing and deploying applications, data and related services in hybrid cloud environments. Deployments range from the network edge and on-premises to public and private cloud environments. FlexPod XCS supports nearly every data center and edge workload.
Components
FlexPod XCS consists of storage, networking and server technology from Cisco and NetApp. The platform includes software to accelerate, automate and monitor the delivery of modern applications and data to hybrid cloud environments. The FlexPod XCS platform is native to AWS, Azure and Google Cloud environments.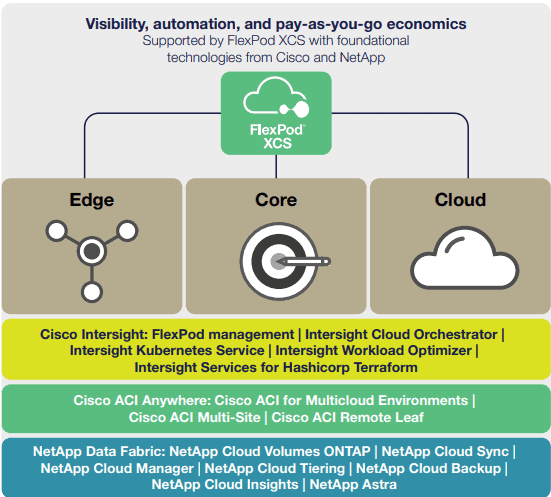 FlexPod XCS allows organizations to deploy applications and data in the right place, at the right time. New functionality provides full infrastructure automation through Cisco Insight Cloud Orchestrator. The solutions help automate most IT operations, such as configuration, deployment, analytics and optimization.
FlexPod-as-a-Service
NetApp and Cisco will deliver FlexPod XCS as a service. The SaaS model provides customers with pay-per-use options, low initial costs and greater flexibility.
A preview of FlexPod XCS is now available to customers and partners. General availability is expected by the middle of this year.
TIp: NetApp and Cisco optimize FlexPod for artificial intelligence