Since investors are already looking forward to a harsher 2023, European semiconductor stocks have been swept up in the sell-everything-tech atmosphere, despite the industry's red-hot demand, strengthening this year's earnings.
ASML Holding NV and Infineon Technologies AG, the region's two largest chip-related firms, have lost a quarter of their valuation this year and are trading at their lowest earnings multiples since before Covid-19. According to Bloomberg statistics, the eight semiconductor companies in the Stoxx Europe 600 Index have experienced an average share price fall of 26% this year.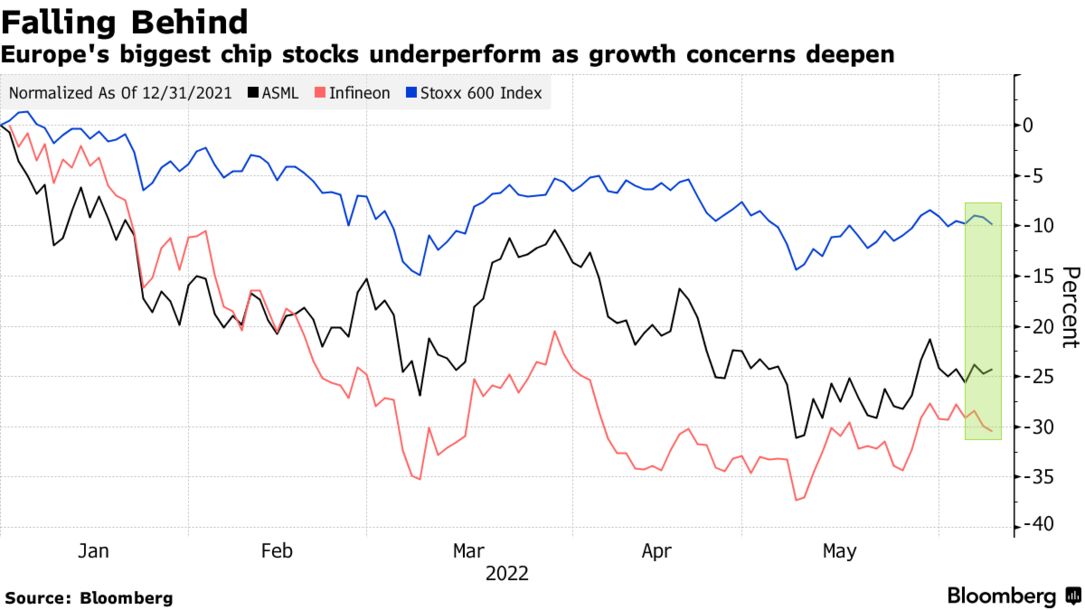 According to a Bloomberg estimate, analysts anticipate earnings for the eight semiconductor firms to climb by 41% this year, higher than the 39 percent% expected at the start of 2022.
No warning bells yet
Like the rest of the tech sector, the chip stock has been hurt by the highest inflation in decades, generating a worldwide cycle of increased interest rates. This has impacted high-growth, high-multiples IT businesses in the software and consumer services sectors.
However, the market selloff is impacting the cyclical semiconductor industry, as investors believe that demand for industrial and consumer goods would be harmed as interest rates rise, potentially tipping the country into recession.
For the time being, none of the industry's usual alarm bells (a reduction in orders, an oversupply of chips, or a drop in sales) are ringing.
Still hard to predict
Beyond those impressive headline numbers, however, the semiconductor shortage is easing, and stocks are building at US and European businesses, which usually warn of an oncoming disaster for the sector. Smartphone shipments have dropped to their lowest level since the Covid outbreak, which is terrible news for chipmakers who supply these devices.
Another ominous omen: Intel, the world's largest processor manufacturer, warned on Wednesday that a weakening economy would damage demand and financial performance.
However, considering the multiple challenges the sector is likely to encounter this year, the issue is now determining how credible analyst estimates are at this point.