IBM upgraded its LinuxOne server platform. LinuxOne Emperor 4 servers are designed to reduce energy consumption in datacenters.
IBM LinuxOne is an advanced, Linux-based enterprise hardware platform. The platform was designed to run Linux workloads in datacenters. Key features include always-on encryption, cloud application development tools and 99.999 percent uptime.
The platform is used for database consolidation, secure data servers, hybrid cloud environments, blockchains and digital asset security. In addition, the servers are suitable for integrations with databases and container software like Oracle Database, MongoDB, PostgreSQL, MySQL, MariaDB, Kubernetes, Hyperledger Fabric, Temenos T24 Core Banking and Red Hat OpenShift.
Sustainability
The new LinuxOne Emperor 4 server platform features various technologies designed to reduce energy consumption. According to IBM, a single high-end LinuxOne Emperor 4 server can handle the same amount of workloads as four typical x86-based servers. Such capacity saves both energy and datacenter floor space.
The systems are capable of running a high density of workloads. To increase capacity, the servers switch to unused cores without increasing energy consumption. Furthermore, IBM Instana Observability allows customers to monitor their energy consumption. According to Big Blue, the servers are particularly interesting for companies with serious sustainability goals.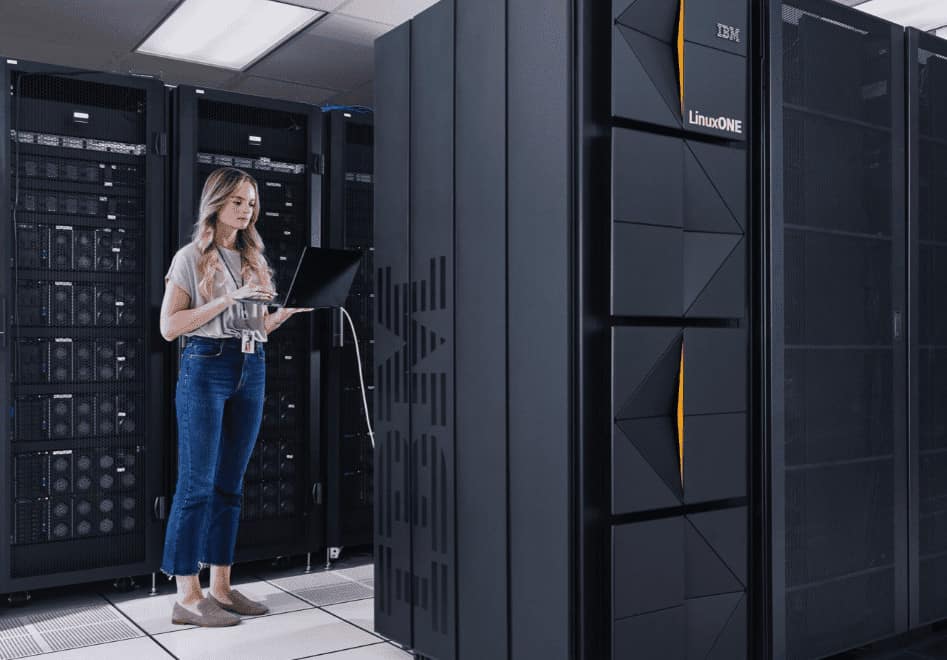 Other functionality
In addition, Big Blue's new servers include 'cloud flexibility'. The servers can automatically rebalance resources based on on-demand capacity. Workloads scale up and down dynamically. The servers also feature quantum-proof security with integrated encryption that protects data at rest and data in transit.
Furthermore, the LinuxOne Emperor 4 servers support IBM Cloud Hyper Protect Virtual Servers. The technology allows customers to deploy servers in public cloud environments without losing server ownership. This is especially useful for workloads with sensitive data. Companies retain control over encrypted data, workloads and encryption keys while limiting exposure to IBM and cloud providers.
The IBM LinuxOne Emperor 4 series is available immediately. Entry-level and midrange systems will become available over the course of 2023.