Cisco released new Nexus 8000 and 9000 switches to provide datacenters with higher bandwidth and lower power consumption. The switches feature the Cisco Silicon One G100 processor.
Cisco claims the switches are highly economical for cloud providers. High bandwidth and low power consumption should help meet sustainability goals without compromising performance and connectivity.
Cisco Silicon One processor
Underpinning the energy-efficient routers and switches is the new proprietary Cisco Silicon One G100 processor. This processor offers a new 'unified' architecture, capable of delivering high-bandwidth routing and switching.
Cisco claims the processor handles up to 25.6 Tbps of traffic while consuming up to 87 percent less energy. This should reduce CO2 emissions by nearly 10,000 pounds, the networking giant said..
In addition, the G100 is the most programmable processor Cisco has ever brought to market. As a result, the processor not only fills all network functionality requirements, but can also be used for AI and ML processing.
Cisco Nexus 8000 and 9000 switches
The new G100 processor comes standard in Cisco new Nexus 8000 and 9000 network switches. These series themselves are divided into separate models, such as the 8100 series. The network switches provide 1 and 2 RU platforms that support Cisco OS IOS XR as well as the Linux Foundation's software for Open Networking in the Cloud.
For example, the 8111-32EH router features 32 ports of 800GB in a compact 1RU environment. The Cisco 8200 series is a step up and supports up to 12.8 Tbps throughput in a 100G/400G chassis. This switch is smaller than Cisco's older switches. Switches in the 8800 series are available in a modular chassis.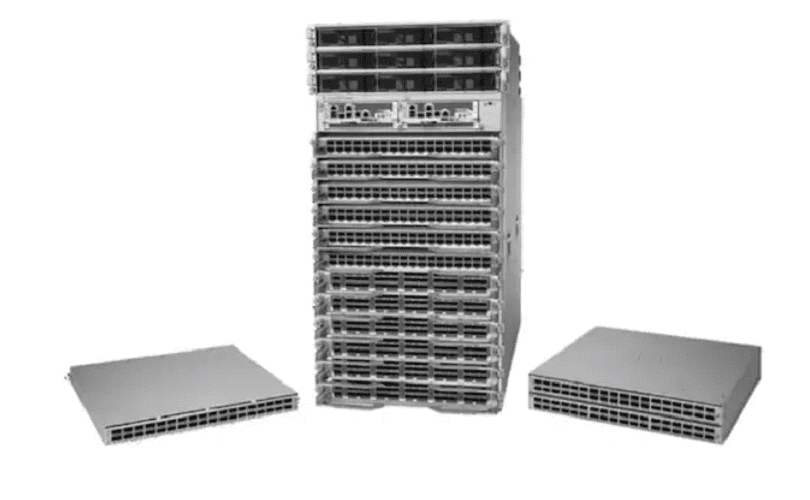 Furthermore, the Cisco Nexus 9000 switches can deliver up to 25.6 Tbps of throughput through 32 800GB ports. According to the tech giant, this makes the switches especially suitable for high-performance connectivity for AI and ML workloads and clusters, media streaming, telecom services and space-constrained edge applications.
New optical transceiver
Cisco also introduced the new QSFP-DD800 Optical Transceiver. The transceiver is more compact than older models while providing double the port bandwidth. The transceiver connects single-mode fibre optic cables in datacenters up to a length of two kilometers.
Tip: Cisco adds Silicon One chip to Catalyst switches: what does that mean for the network?