Nautilus Data Technologies will install two floating datacenters in Marseilles and Los Angeles.
The organization constructs datacenters on boats. The boats dock at locations with favourable network connections, after which the datacenters become operational.
Nautilus Data Technologies recently announced that the contracts for two new datacenters have been signed. The datacenters will be docked in the ports of Marseilles, France and Los Angeles, California.
Floating datacenters
The organization has experience. Nautilus Data Technologies was founded in 2014. The company currently manages a fully operational datacenter in Stockton, California. The colocation datacenter is available to third parties. Paying customers can have their servers installed on the boat.
In addition to colocation datacenters, the organization builds private datacenters on demand. If you hold a permit and own a piece of waterfront land, Nautilus Data Technologies can construct a new datacenter and transport the unit to the desired location. Organizations that don't have a location in mind are aided in finding one.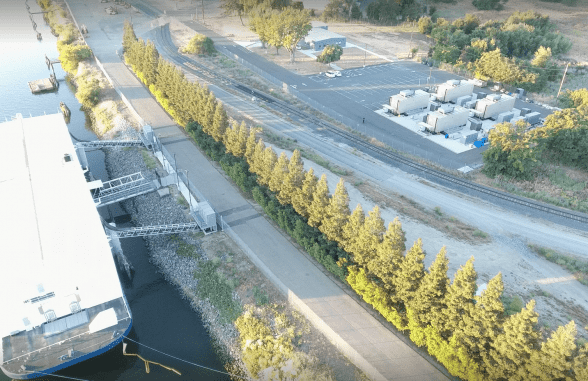 Water cooling
One of the biggest advantages of floating datacenters is water cooling. The datacenters are capable of pumping up water from a river, canal, lake or ocean to cool server racks. The water is then cooled back down and returned to the underlying body of water.
Nautilus Data Technologies supports both fresh, salt and brackish water. The organization uses zero liquid chemicals. This animation gives an impression of the technology. Nautilus Data Technologies claims the cooling process uses 30 percent less energy than typical alternatives in traditional datacenters.
Subsea datacenters have the same advantage. Microsoft operated a submerged datacenter in Scotland from 2018 through 2020. Other organizations are close to building datacenters at depths of hundreds of meters in the North Sea.
The second similarity between floating and subsea datacenters is transportability. Floating datacenters can be built thousands of miles from their destination. The datacenters can be transported at any time.
Nautilus Data Technologies
We don't expect the upcoming datacenters in Marseilles and Los Angeles to move anytime soon. The location in France is three kilometers away from an internet cable station, near the crossroads of connections between Europe, Africa and Asia.
The location in the United States has access to One Wilshire Campus, a hub of multiple international cables. The deadline for the projects was not disclosed, but the organization says it's capable of getting new datacenters up and running within 12 months.