Applications that assist employees in working from home have taken off in the past year. Yet the effect of the corona pandemic was not visible in all applications.
This is according to the Business at Work report from Okta. The credentials management company looked at the behaviour of its users in a survey. Through its broad customer base Okta was able to create a comprehensive picture of the application market.
Big gains for Zoom
Most large business applications have continued to grow at a similar pace to previous years. After all, they already had a large share of the market, so the coronavirus had a limited impact on this. However, there were exceptions to this.
The most striking example was Zoom. The application had already been growing in popularity in recent years. In the past year, the number of Zoom customers in the EMEA region rose by 86 percent. The number of unique users even rose by 227 percent. This made it the fastest growing app in the region.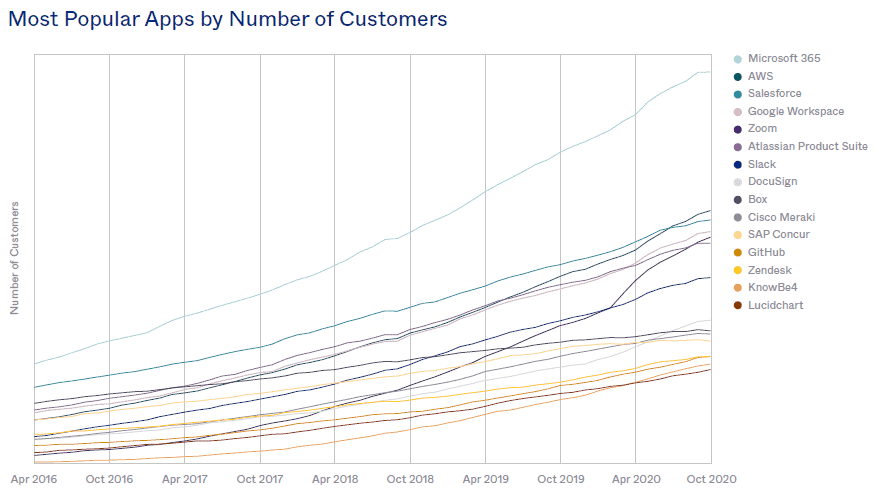 Tip: How video platform Zoom got its security in check
Amazon Business
Amazon Business saw the largest percentage growth. With millions, if not billions, of people suddenly having to work from home, there was a huge demand for products to facilitate this. Companies turned to Amazon Business for their office chairs, keyboards and webcams. The service grew by 341 percent in one year. This growth came mainly from North America, where it was the biggest outlier with a growth of 365 percent in the number of customers and 2143 percent in the number of users.
Collaboration apps and security applications
Miro and Figma also grew very quickly, at 301 and 236 percent respectively. The apps offer tools for easier remote collaboration. Monday grew by 149 percent.
Security applications also saw strong growth in the past year. Fortinet saw its customer base increase by 149 percent and Sentry grew by 88 percent. Password manager 1Password saw a growth of 81 percent.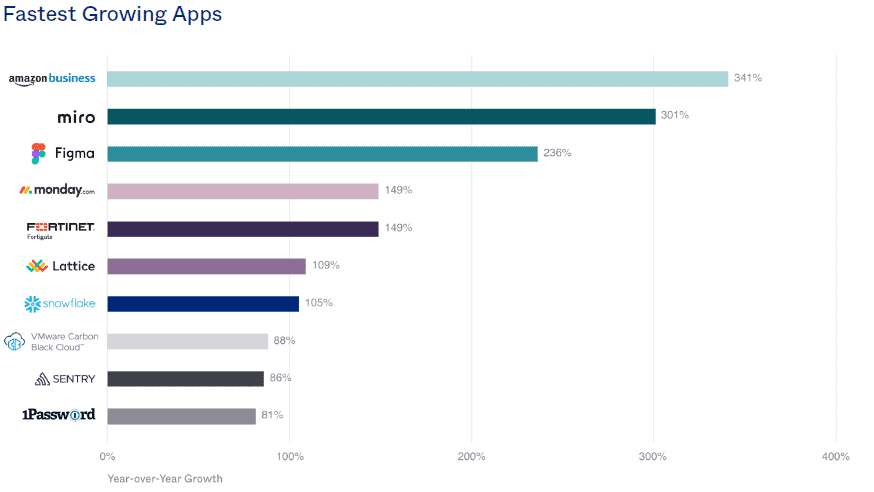 Decline in unique users in March
Okta's report clearly shows the beginning of the corona crisis. Many applications saw a significant drop in the number of unique active users after a large number of companies were forced to lay off employees to keep their heads above water. However, in most cases this dip was short-lived.