Hackers have given the formerly popular hacker forum RaidForums a post-mortem exposé akin to the old forum's actions. A database containing the data of more than 478,000 members of the hacker forum was recently posted online.
RaidForums was a notorious platform where hackers hosted and sold their stolen data from hacked companies and organizations. When this data was not sold, the forum was also used to publicize the stolen data. In April last year, the platform was taken offline by authorities.
Database leaked
Recently, however, a new hacker forum, Exposed, made public a database containing the data of 478,870 RaidForums users. The single SQL file includes data from the former hacker forum's registration module.
Data found include usernames, e-mail addresses, hashed passwords, registration dates and other data related to the platform's software. The data is mainly from users who registered with the forum between March 20, 2015 and Sept. 24, 2020. The database would have been modified by the uploaders, however, and in the process, data from some users would have been deleted, BleepingComputer writes.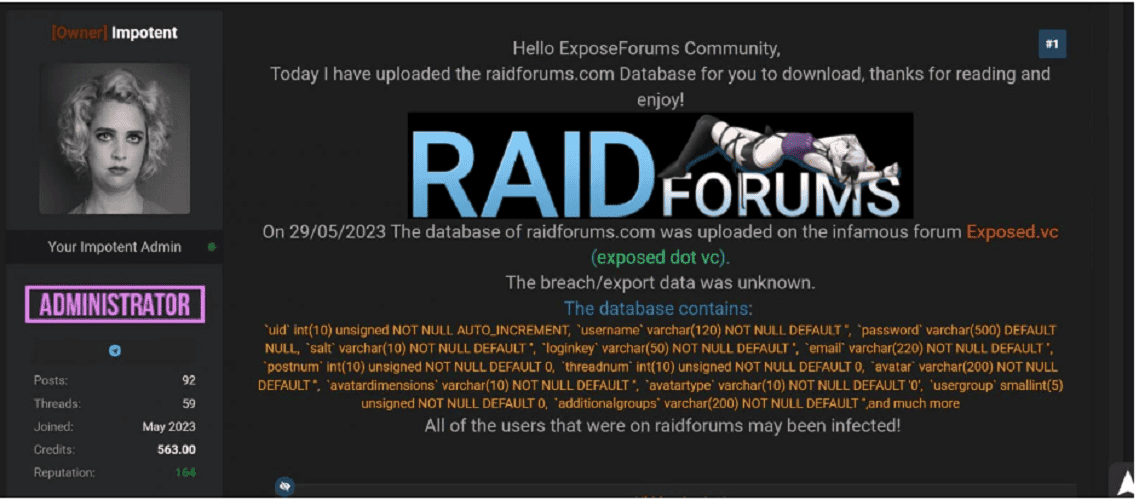 Useful for research
Security researchers in particular can benefit from the database dump. It allows them to gain more insight into hackers and methods of attack. It will also allow them to link certain malicious activities to specific hackers, it is expected.
Tip: New cybercrime tactic: selling someone else's Internet connection