NetSuite is taking full advantage of Oracle technology to build out the platform. The goal still seems to be to make NetSuite the most comprehensive platform. NetSuite is using Oracle technology to expand with more business applications and support more diverse business processes.
During SuiteWorld, NetSuite made the necessary announcements. We have already discussed these announcements in detail in our keynote report. What stands out alongside all those announcements is how NetSuite is continuing to evolve. Or rather, how the platform is being built out. For example, they announced at the conference that they are acquiring Next Technik, better known as Next Service. Next Service is a field service management solution within the NetSuite platform. In other words, they are acquiring a NetSuite partner.
It is also notable that NetSuite is shopping at Oracle. Oracle also has all kinds of business applications aimed at large enterprise organizations. NetSuite adopted several applications and technologies so that they work on the NetSuite platform. They did adapt the applications so they are optimised for the mid-market and not the large enterprises. Last year we explained what NetSuite mid-market means. We'll see some examples of that again this year.
NetSuite Analytics Warehouse
One of the more important announcements during SuiteWorld was NetSuite Analytics Warehouse. NetSuite Analytics Warehouse is an integrated data warehouse with a built-in visualization tool. The solution is based on Oracle Analytics but integrated into the NetSuite platform so that all NetSuite data is directly available. Furthermore, an effort has been made to make the solution suitable for many business users. One can retrieve, compare and provide insight into all kinds of data sources simply by clicking with the mouse. In conversation with customers, it became clear that it's a nice start, but they find the tool not user-friendly enough. For IT professionals and data analysts, it's a good tool, but for business users, the product could be a bit more intuitive.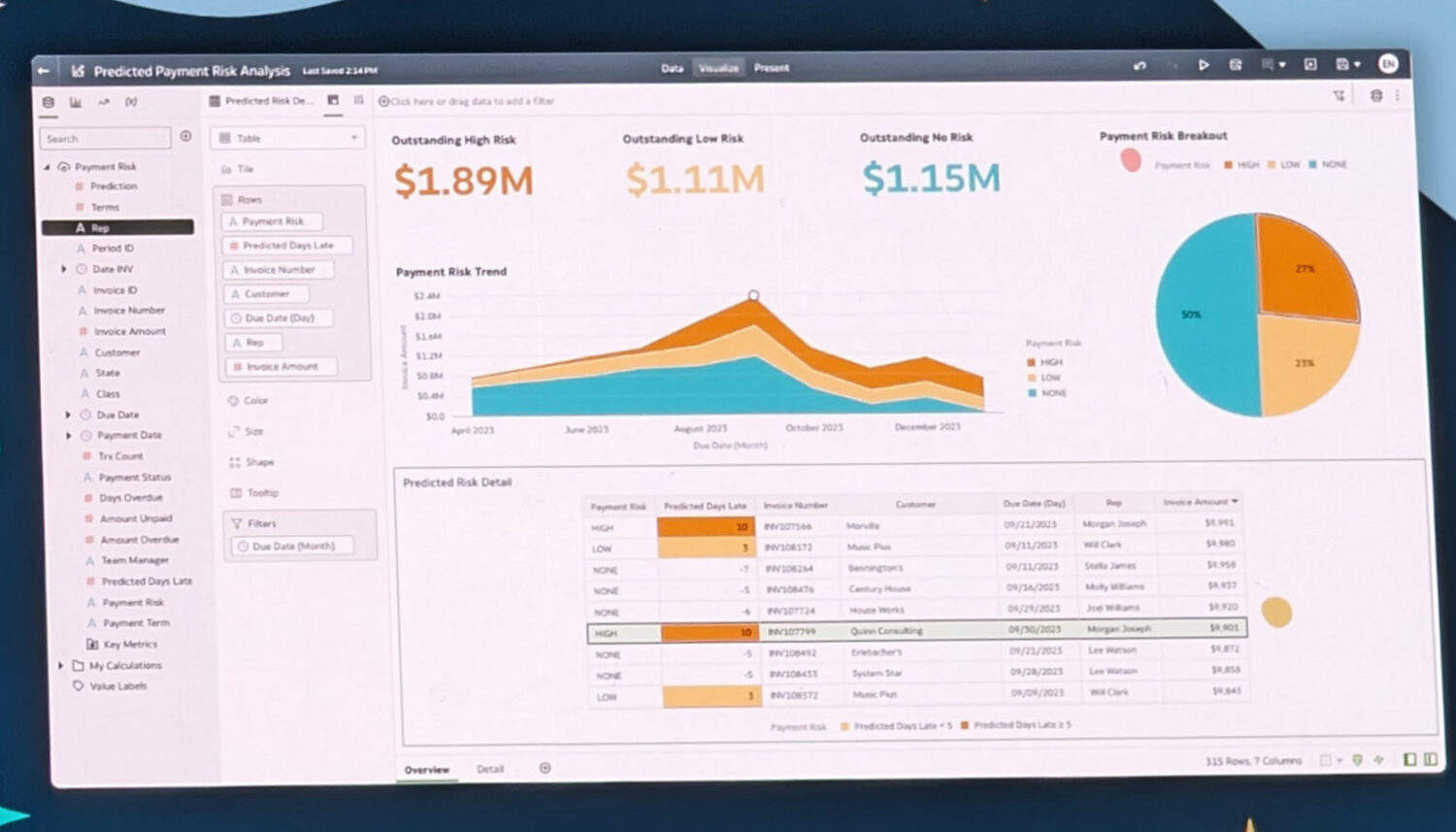 The unique thing about NetSuite Analytics Warehouse compared to the already existing NetSuite Analytics is that you can load external data sources in addition to all NetSuite data. We spoke with a customer who exports his Amazon marketing and sales data every 24 hours to a Snowflake database. That Snowflake database is linked to NetSuite Analytics Warehouse. This has given the customer much greater insight into the costs incurred to sell a product. In some cases, it turned out that the production and marketing costs combined exceeded the selling price. That is obviously not a good business model. Many of those products have been discontinued, or the marketing campaigns have been adjusted.
NetSuite Enterprise Performance Management
Like NetSuite Analytics Warehouse, NetSuite Enterprise Performance Management is a customized Oracle product. NetSuite has made Oracle EPM's solution compatible with NetSuite and integrated it into the platform. With this solution, NetSuite's financial tools get a huge upgrade. EPM includes Planning and Budgeting, Account Reconciliation, Financial Close Management, Tax Reporting, Narrative Reporting, Profitability and Cost Management. With these, organizations can gain much greater control over their financial planning, transactions can be automatically linked to purchase and sales invoices, tax reports can be filed, and more insights can be gained into the organization's financial position. Learn more about NetSuite EPM in our keynote article.
Also read: NetSuite SuiteWorld 2023 keynote: do more with less
NetSuite AI
Of course, NetSuite cannot ignore the generative AI hype, and the NetSuite platform will also get generative AI features. Currently, they only offer a fairly simple feature called Text Enhance, which allows customers to generate text. For example, the user specifies for which products it wants to generate a sales text, and based on that context, the product information from the NetSuite database is used combined with gen ai to generate a sales driven text.
In several interviews, Evan Goldberg, NetSuite's EVP, revealed that NetSuite also uses Oracle technology here. Oracle is working hard on its AI portfolio to develop more (generative) AI services. In many cases, the generative AI solutions at NetSuite will be combined with traditional AI services to provide better insights into data or process optimisations. While Text Enhance should become available soon, there is no indication of when other advanced genAI features will become available within NetSuite. Goldberg estimates that it will take some time. So NetSuite will not be rolling out any rushed genAI features.
NetSuite Field Service Management
We also looked into NextService, the field service management solution that NetSuite has now acquired. NextService is a field service management solution that fully integrates into NetSuite. It operates entirely within NetSuite's database tables and supports various NetSuite business applications. Craig Sullivan, Group Vice President, Product Management at NetSuite, told Techzine that, as a result, NextService fits completely into NetSuite's philosophy. Also, NextService has already recorded several hundred customers who have proven the solution's value.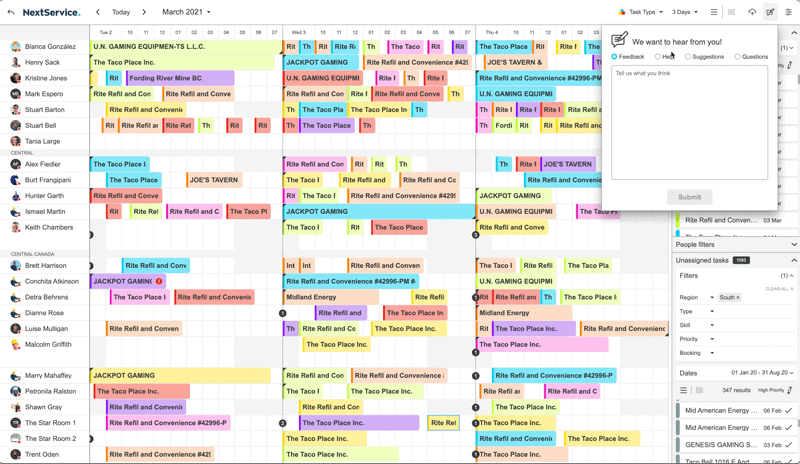 According to Sullivan, NetSuite sees opportunities to sell the product to many more organizations. Last year, Oracle acquired Adi Insights and Verenia. Those solutions were adopted by NetSuite and built out significantly within the NetSuite platform. Therefore, we expect that NetSuite will also greatly expand NextService to make the solution better, but more importantly, more suitable for more industries.
NextService has potential
During conversations with customers and partners, it became clear to us that NextService is a field service management solution that, while well integrated into the NetSuite platform, still lacks some essential features. Especially in the scheduling area, there is room for improvement. Currently, only employees or NetSuite users can schedule appointments. One of the most requested features in NextService is automated route calculation and planning. Customers now have to do this manually. Calculating and determining travel distances and optimal routes is a very time-consuming and hard job. Many competitors in FSM market offer automated solutions for this. During demos of NextService, we also noticed that customers were asking questions about it.
So, there is some work for the NetSuite team as this will probably become on of their first priorities. At the same time, it may not be a huge challenge, since Oracle also has a field service management solution for enterprise organizations that includes these features. So again, NetSuite can use Oracle technology to automate route planning and scheduling. To be clear, no announcements have been made on this, but it seems like a quick win.
More and more business applications
NetSuite has more and more business applications in its portfolio and it can solve customer challenges and improve or even automate business processes better. By making everything work within the NetSuite platform integration is very easy. In conversations with partners, this was particularly pointed out as the biggest advantage of NetSuite. Because you work with one internationally oriented platform, you can quickly expand into more countries and scale up with specific business applications.
NetSuite still operates within Oracle as an independent business unit. The focus is clearly on adding Oracle technology into the NetSuite platform. Which seems to be working well. Based on the recent financial numbers, NetSuite is also growing well and there is no reason for Oracle to make any changes to the strategy.
We are curious to see how much more Oracle technology flows towards NetSuite in the coming years and what kind of AI features will come to the NetSuite platform.