Netgear has achieved remarkable success with its Arlo security camera. The latest addition to the product line was announced this weekend: the Arlo Ultra. Not only does the camera offer 4K resolution, but the wireless camera also has a built-in spotlight, which was previously only available separately.
Despite the fact that more and more cameras are capturing images in 4K quality, the resolution still has to break through in the world of security cameras. The Nest Cam IQ, for example, has a 4K sensor, but streams images up to 1080p. The Arlo Ultra changes this and makes it possible to stream 4K images.
The Arlo Ultra
Thanks to the higher resolution it is possible to see more details. Now you can even read the license plate of unwanted visitors. Arlo says there are additional subscription costs to this better image quality, if you choose to store images in the cloud. It remains possible to insert a microSD card for local storage.
Apart from the better resolution, the Arlo Ultra is quite similar to last year's Arlo 2 Pro. It's still a wireless system with a rechargeable battery that can last up to six months. There is also a built-in microphone with noise cancelling, which makes it possible to talk to people in front of your door. The spotlight makes it possible to record pictures in color even at night. Furthermore, there is an HDR recording option and the angle of view is now 180 degrees.
The Arlo Ultra should be available during the first quarter of 2019. The wireless security camera has a suggested retail price of $400. For that money you get the Arlo Smart Premier service, which normally costs 120 dollars, as well as an Arlo SmartHub so that the camera can really connect to your Wi-Fi network.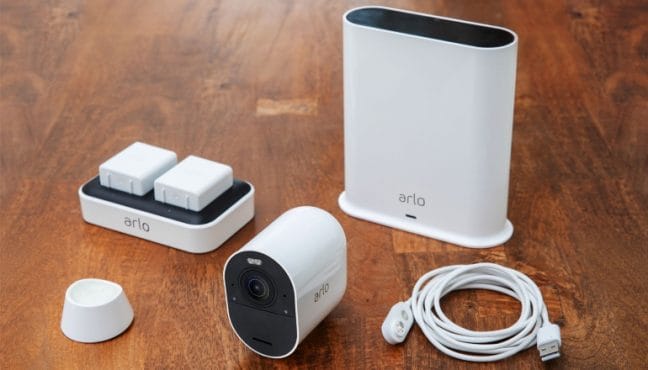 This news article was automatically translated from Dutch to give Techzine.eu a head start. All news articles after September 1, 2019 are written in native English and NOT translated. All our background stories are written in native English as well. For more information read our launch article.