Cloudflare and Microsoft announced four new integrations that help joint customers deploy, automate and improve zero-trust security.
According to the partners, the integrations allow users to quickly deploy zero-trust tooling without complex code changes. The integrations combine Microsoft's identity solutions with various Cloudflare network security tools.
The release builds on existing integrations between the Cloudflare Zero Trust platform and Azure AD, which offer zero-trust security for both on-premises applications and applications running on Azure.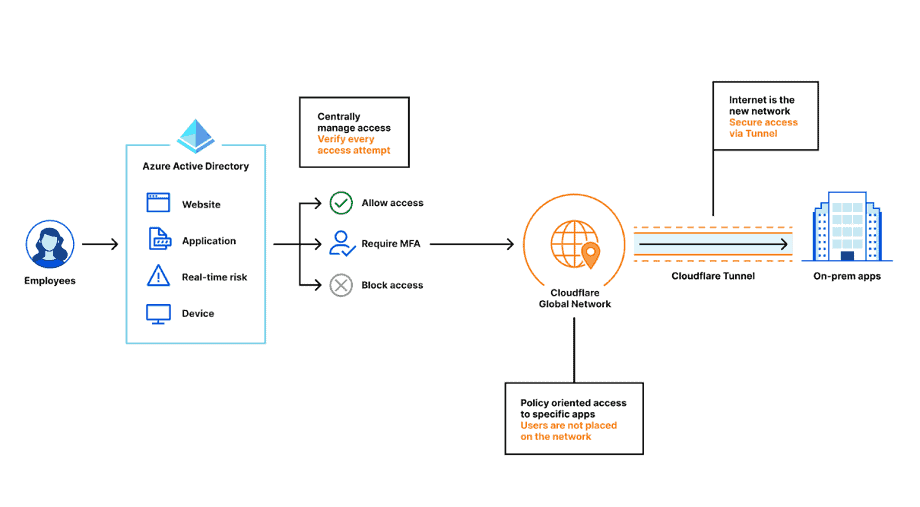 Four new integrations
The first new integration allows Azure AD customers to use existing Conditional Access policies within the Cloudflare Zero Trust environment. This lets companies set up rules for application access based on various factors in Azure AD and Cloudflare Access, such as the device used or user location.
The second integration lets Cloudflare Access use System for Cross-Domain Identity Management (SCDIM) to directly connect to Azure AD. The user groups of both platforms are automatically synchronized upon connecting. This can save a lot of time for joint customers.
The third integration links Cloudflare Remote Browser Isolation and Azure AD. Companies can automatically isolate high-risk users with Cloudflare's browser isolation technology. One use case is barring temporary employees from the rest of the corporate network.
The fourth and final integration is aimed at end users of the Azure Government Cloud. The integration runs through the Secure Hybrid Access program and provides more privacy by preventing sensitive government information from being exchanged over the public Internet. Admins get fine-grained controls to define and enforce who gets access to what data.