A new Canalys report shows that Chromebooks have outperformed the rest of the industry product categories, recording a 75% rise in annual growth and shipped out 11.9 million units in the second quarter. The worldwide PC market posted growth in shipments of 10% to hit 121.7 million units.
The growth in the tablet market declined in Q2, with a total increase of only 4% year on year to reach 39.1 million units, according to Canalys data.
Chromebook vendors invested further into the category after the second quarter's encouraging numbers.
The top five
HP also had a great quarter, shipping 4.3 million units and experiencing 116% growth in Q2. Lenovo came in second place after shipping out 2.6 million units, an 82% increase from a year ago. Acer follows closely behind with a growth of 83% and 1.8 million units shipped.
Both Samsung and Dell made it to the top five but, Samsung was the only one of the top five to see a decline in shipments.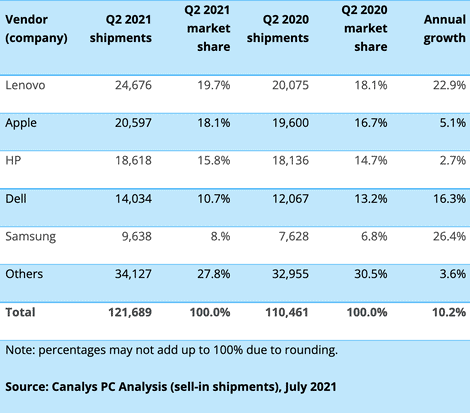 Brian Lynch, a research analyst at Canalys, said that Chromebooks are seeing resilient success, extending even beyond the peak phase of the pandemic.
Google is poised to perform well
Lynch said that Chrome's hold over the education space means Google is going to reap big on the commercial segment this year. Since governments and education ecosystems are planning for the long-term integration of Chromebooks within digital learning, they won't decline for a while.
The expectation is that there will be a strong focus on attracting small businesses with services like the new 'Individual' subscription tier for Google Workspace and CloudReady licenses that repurpose old PCs for deployment alongside Chromebooks.
Meanwhile, the industry is starting to feel the pain of the chip shortage as chipmakers scramble to ramp up production.