With the ExpertBook B3 Flip, ASUS has a laptop in its lineup that explicitly targets "the new normal," or hybrid working (and learning). How does this notebook perform in practice?
It's not so easy for laptop manufacturers to differentiate themselves in the business market. Of course, there are the (extreme) high-end laptops that stand out. However, that's not what most organizations are looking for. Especially if you want to buy more than a few devices, extreme high-end isn't particularly affordable. On the other hand, you don't want to go for devices that are too cheap, as that won't help employees in their daily tasks either. The ASUS ExpertBook B3 Flip (B3402FE) tries to find a balance between durability, performance and overall practicality.
With an average price (including VAT) of about 1,000 euros, the ExpertBook B3 Flip is not an extremely cheap laptop. For many organizations, it will probably be just slightly above the amount one wants to spend on a business machine for employees. Or at least at the upper limit of that amount. We regularly hear that 800-1000 euros is more or less the sweet spot for business laptops. As always, it's also worth noting that the price for a single unit of a laptop is not the same as the price for multiple units, if you purchase it after a tender, for example. So the above price should be seen more as an indication.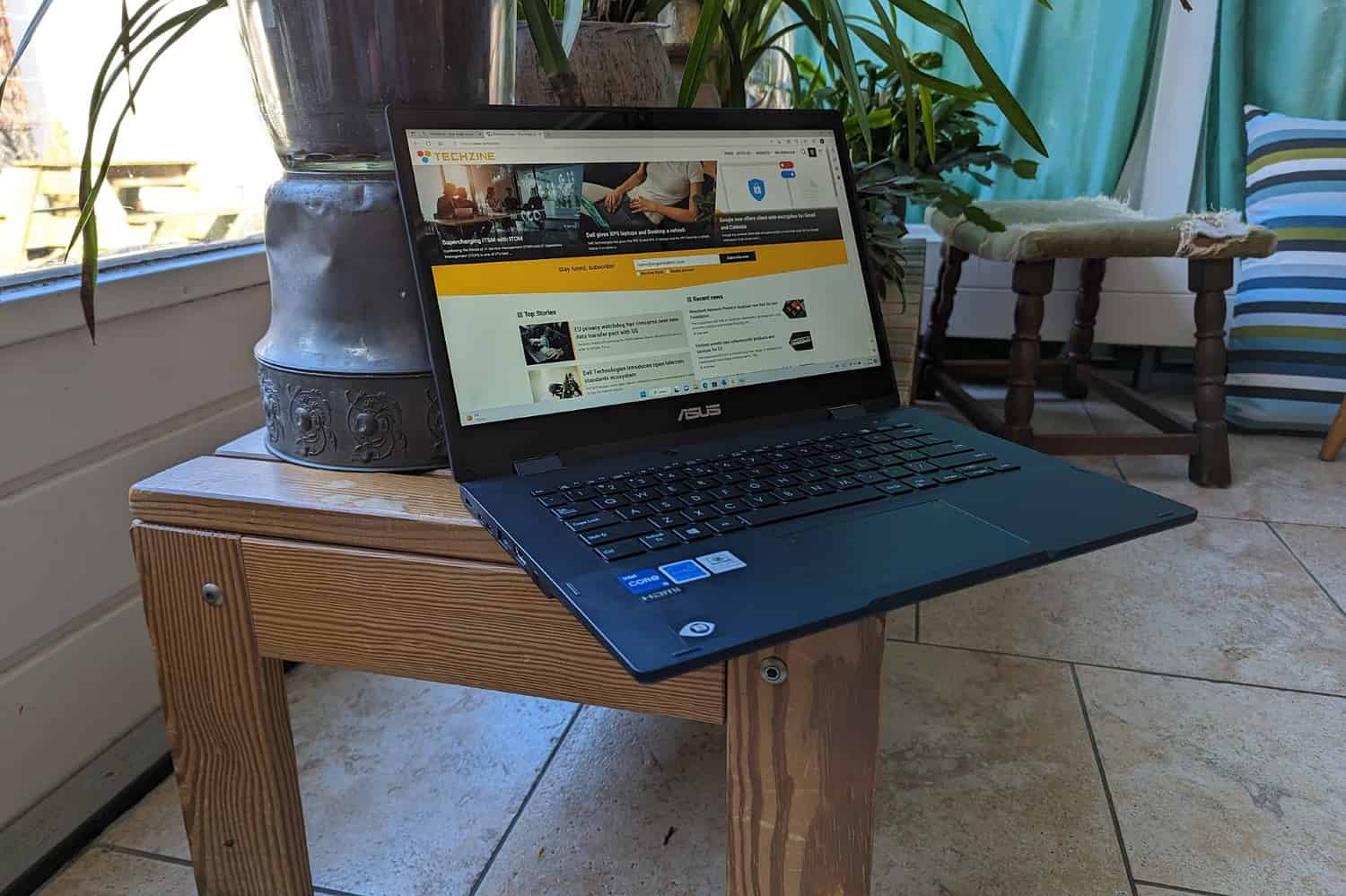 Robust appearance
Our first impression of the ASUS ExpertBook B3 Flip is that it is not a hugely finely crafted laptop in terms of appearance, even though it is a model whose hinges can rotate 360 degrees (hence the "Flip" in the name). Rather, it falls into the 'robust' category. By this we are not suggesting that it is an ugly thing by the way. Everyone has to decide that for themselves. We can live just fine with the external features of this laptop in any case. It is just not a lightweight, at over 1.6 kilograms, and the casing is not very thin either.
So the whole thing feels and looks very sturdy. That is also what ASUS wanted to achieve, as evidenced by the MIL-STD 810H certification the device has. For a device that in practice regularly gets tossed into a laptop bag from a distance, it's nice that it's proven to be able to withstand that. If you want to know more about this certification, we refer you to an article we wrote about it last year. There we explain what you can expect from a laptop that has received it. The article is in Dutch, unfortunately, so you may need to translate it in your browser.
By the way, you should not be blinded by this kind of certification. It is mainly proof that a device has undergone and passed the tests. It does not necessarily mean that a laptop without such a label cannot do so. Not all devices undergo this test. Those devices cannot successfully complete it either, of course.
Clean feeling
When we start using the laptop, we notice something different about the casing. At least, about the parts you regularly touch. These don't feel like most other laptops we've looked at recently. Often, wrist rest and keys are made as smooth as possible. This is not the case with the ASUS ExpertBook B3 Flip. On this, the surfaces are a bit rougher. This feels a little strange at first, but we also immediately notice that it is less sticky. Forearm or wrist doesn't stick to the wrist rest, and fingers don't stick to the keys either. That makes it feel a bit cleaner.
ASUS goes to great lengths to keep the ExpertBook B3 Flip's surfaces that users touch regularly clean. Looking through the laptop's documentation, we see that ASUS has applied what is known as an Antibacterial Guard to these parts. This treatment is supposed to ensure that bacteria have little to no chance of adhering. What is really true of this is difficult to determine. However, it does meet an ISO standard, so it will not be total nonsense.
Lots of connections
Anyway, enough about looks. Let's take a look at the connectors on the ASUS ExpertBook B3 Flip. For a modern laptop, there are an awful lot of them. The most notable, as far as we're concerned, is the RJ45 wired network connection. You hardly come across those on "regular" laptops anymore. Thanks to the sturdy casing of this laptop, there is plenty of room for it. Another striking feature is the slot for a SIM card (and microSD card). Handy if you also want or need to be online on the go. By the way, this is 4G LTE, not 5G. ASUS supplies the pin to open the slot in the box.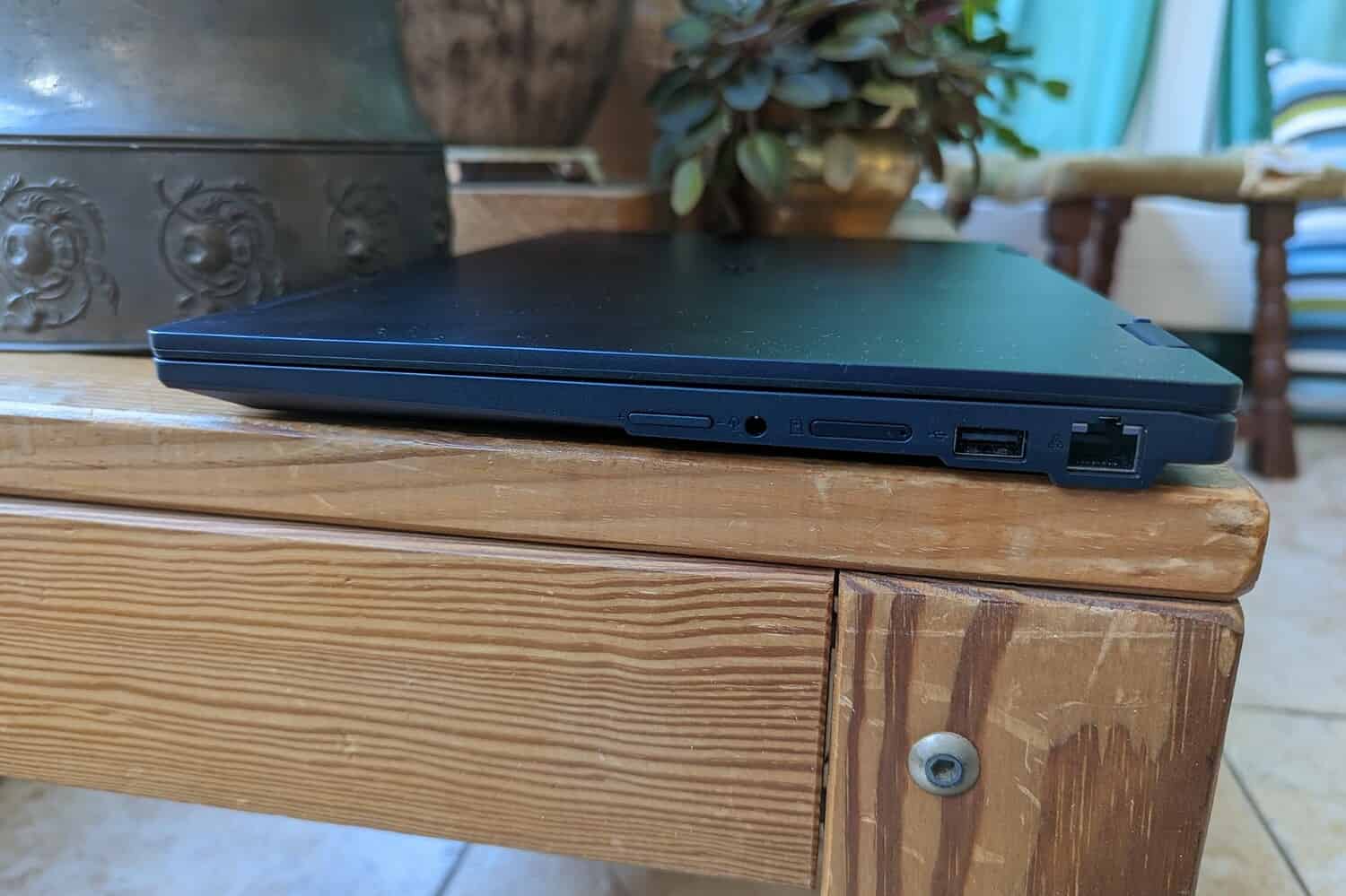 Looking further along the edges of the ExpertBook B3 Flip, we note four USB ports: 1x USB 2.0, 1x USB 3.2 Gen1 and 2x Thunderbolt 4 Type-C. You can use both Type-C connectors to connect the charger. Furthermore, you can also use the Thunderbolt 4 connectors to connect Thunderbolt docks, as well as monitors. The maximum bandwidth through this connection is 40Gbps. You can also connect a monitor the "old-fashioned" way via HDMI, by the way. Fortunately, this is a full-size HDMI connection, not a smaller version.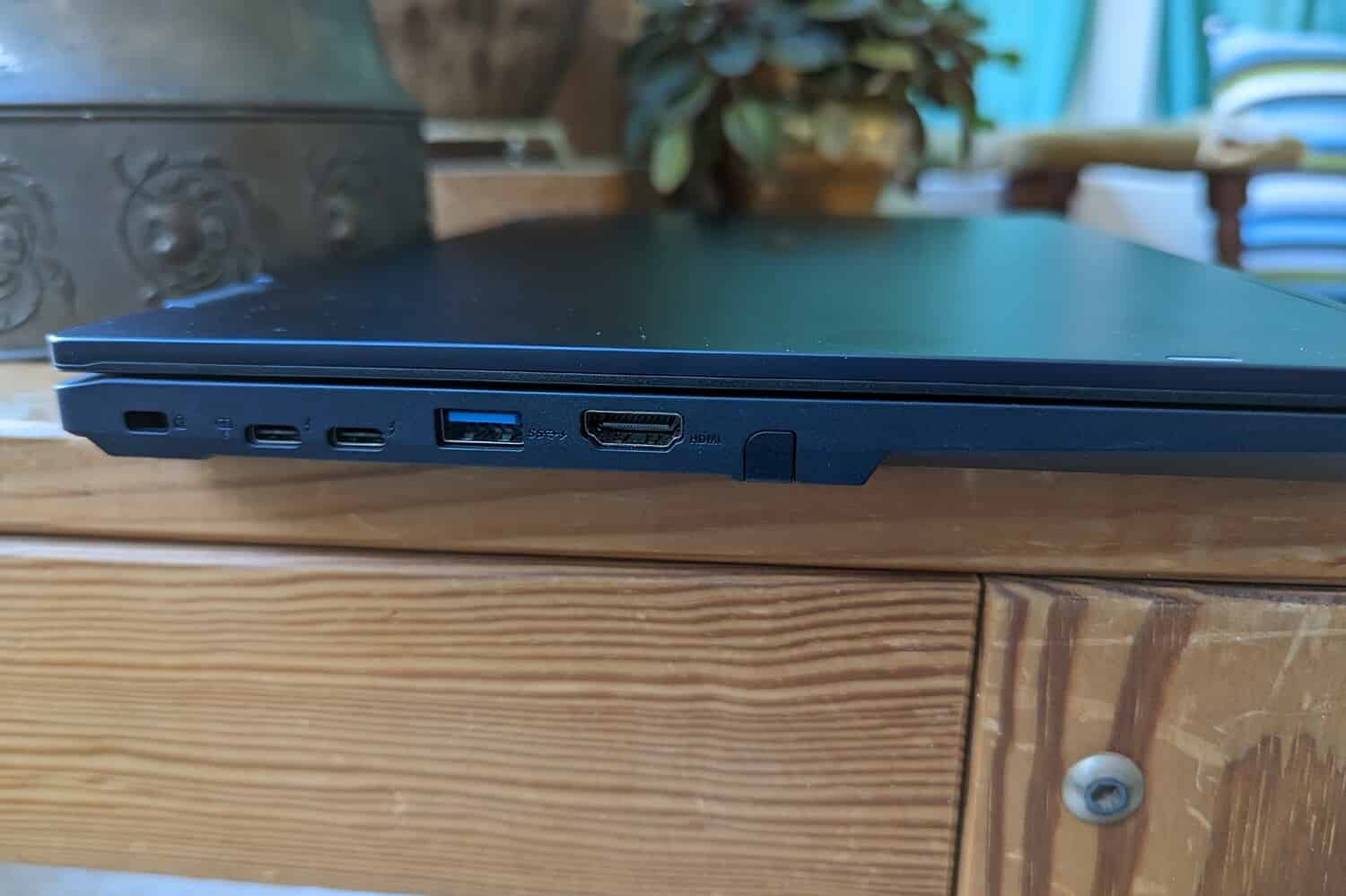 Besides connections, there are a few other things that stand out. First is the included active stylus. It's neatly tucked away inside the case, so it shouldn't be easily lost. This is an active pen, so with a battery. We see contact points on the pen, so we assume it charges inside the casing. Such a pen could come in handy if you want to take notes or draw something with the ExpertBook B3 Flip in tablet mode. Finally, in addition to a headphone jack and a Kensington lock, we also see a volume control. This is also for when the laptop is in tablet mode. After all, you can't reach the keys on the keyboard then.
Wireless connections are also available, of course. In addition to Bluetooth 5.0, WiFi 6 (802.11ax) is provided. With that, it's perfectly up to date, although a WiFi 6E module would have been just a bit nicer.
14-inch LCD panel, 11th generation Intel chip
Looking at the display that ASUS has put in the ExpertBook B3 Flip, we do get a bit of a scare during startup. This is because we then see a fair amount of backlight bleeding on two of the four corners. We'd rather not see that, even though we didn't notice it at all in everyday use. Often such problems are exemplary, by the way. That is, there's a good chance it won't occur on another unit. It is, however, a point of attention for ASUS as far as we are concerned.
Other than that, the panel is not hugely exciting. It has a diagonal of 14 inches common for business laptops and a FullHD resolution of 1920×1080 pixels (16:9, that is). Excellent at this size, as far as we are concerned. It is an IPS panel with excellent viewing angles and a stated maximum brightness of 400 nits. According to ASUS, the panel covers 100 percent of the sRGB spectrum. We didn't investigate that further and don't find that very fascinating anyway. If you really need to work with accurate colors in your work, you won't end up with a laptop like the ExpertBook B3 Flip.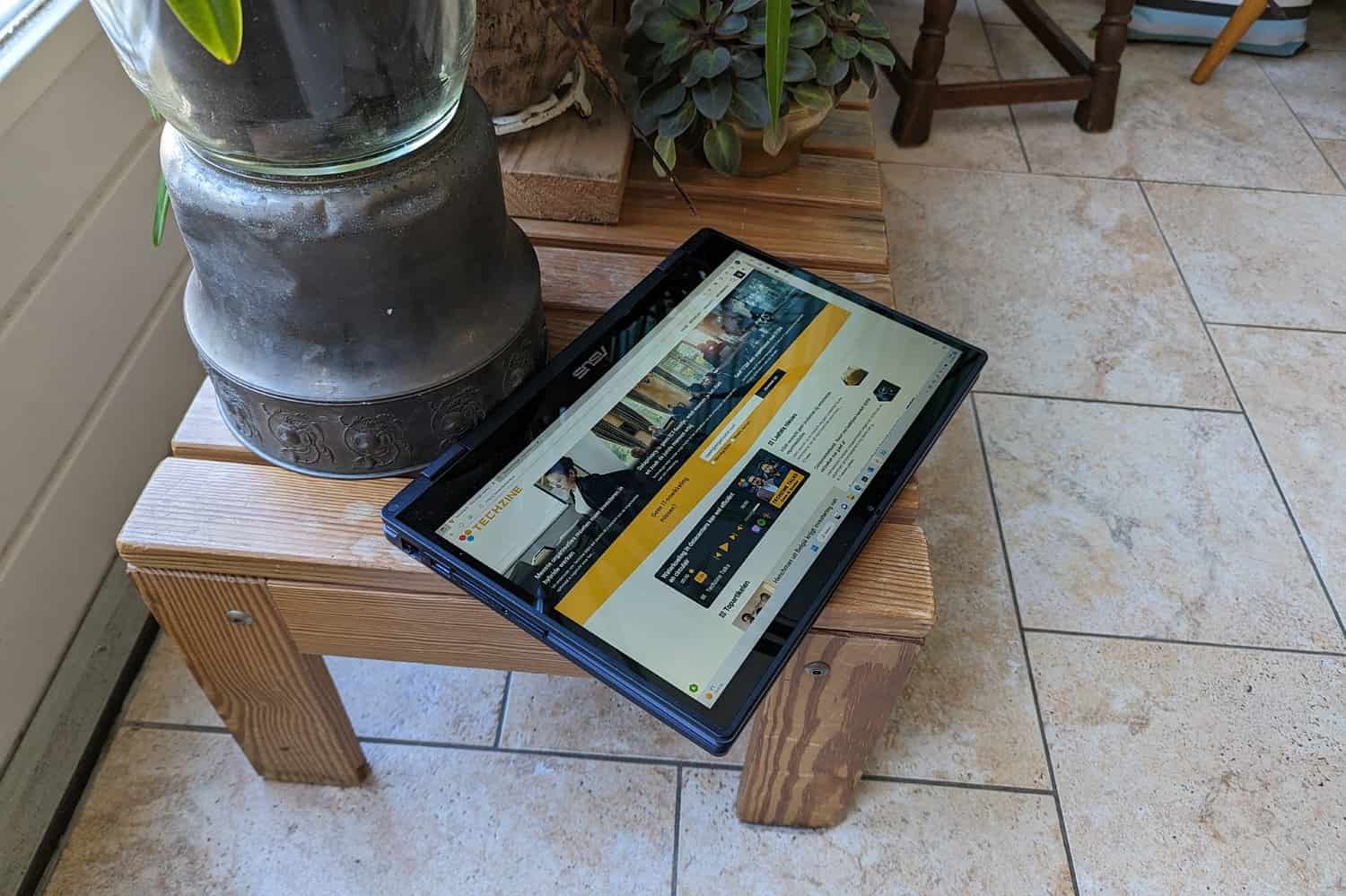 TIP: This ExpertBook B3 Flip still has an LCD panel, but in the business market, OLED is also starting to gain ground. Why that is, we discussed in an extensive article (in Dutch, so translation may be necessary) last year.
Under the hood, things are pretty good. We find a Tiger Lake processor with integrated Iris Xe Graphics. In our case, it is the Intel Core i5-1135G7. This processor clocked at 2.4 GHz is one from the 11th generation. It fits the price point of the ExpertBook B3 Flip just fine. On the positive side, it has four "real" cores, which can be supplemented by four virtual cores through hyperthreading.
ASUS didn't skimp on working memory. 16 GB on this laptop is just about right. There are also variants that come with 4 and 8 GB. Our variant can grow to a maximum of 48 GB, the two lower ones to 36 and 40 GB, respectively. For those who want to know, this is DDR4 memory. There is no dedicated video card in this laptop. Finally, in our test model there is a 256 GB M.2 NVMe PCIe 3.0 SSD. There are also versions with 128 and 512 GB and even one with a 1TB SSD.
Notable features (1): world-facing camera
Before we briefly share our hands-on experiences and findings with the ASUS ExpertBook B3, we want to highlight two notable feature of this laptop. The first one is that ASUS has mounted two cameras inside the case. One in the normal spot above the screen and one above the keyboard. The first has a resolution of just under a megapixel (1280×720), while the other is one with a much higher resolution, namely 13 megapixels.
The 13MP camera is what ASUS calls the "world-facing camera. The idea is that you turn it on when you have the laptop in tent mode, so the keyboard is facing backwards, toward the world. You can then make recordings of presentations, lectures, classes and the like. What is annoying is that you cannot reach your keyboard to take notes while listening. You would have to use a different method for that. That doesn't seem ideal to us.
You can also put the laptop in tablet mode and then take pictures with this camera as you do with a regular tablet. In that case you have to take into account that you have to lift 1.6 kilos each time. This is not ideal either. All in all, we do not yet see the point of this second camera, except if you want to make good recordings and you do not need the laptop while making those recordings.
It is good to see better cameras coming to laptops, though. After all, the standard cameras still aren't very good. That includes the 720p camera in this ExpertBook B3 Flip. This isn't particularly bad, relatively speaking. That is, we've seen much worse. But in general, front-facing cameras in laptops are hardly ever really good. The camera has a Privacy Shield, which you use to slide a physical slider in front of the camera. This is not on the world-facing camera, by the way. Windows Hello (facial recognition) is not available around this camera module. That's something that takes place separately from the actual lens and sensor anyway via IR, but we want to mention it here for completeness.
Notable features (2): numpad on touchpad
The second rather off-beat feature is one you don't immediately spot on the ASUS ExpertBook B3 Flip At the top right of the touchpad, you see a numpad symbol. When you press it, a numpad suddenly lights up in the touchpad. If you're used to working on the numeric part of a full-size keyboard, this might be quite nice if you need to enter a lot of numbers.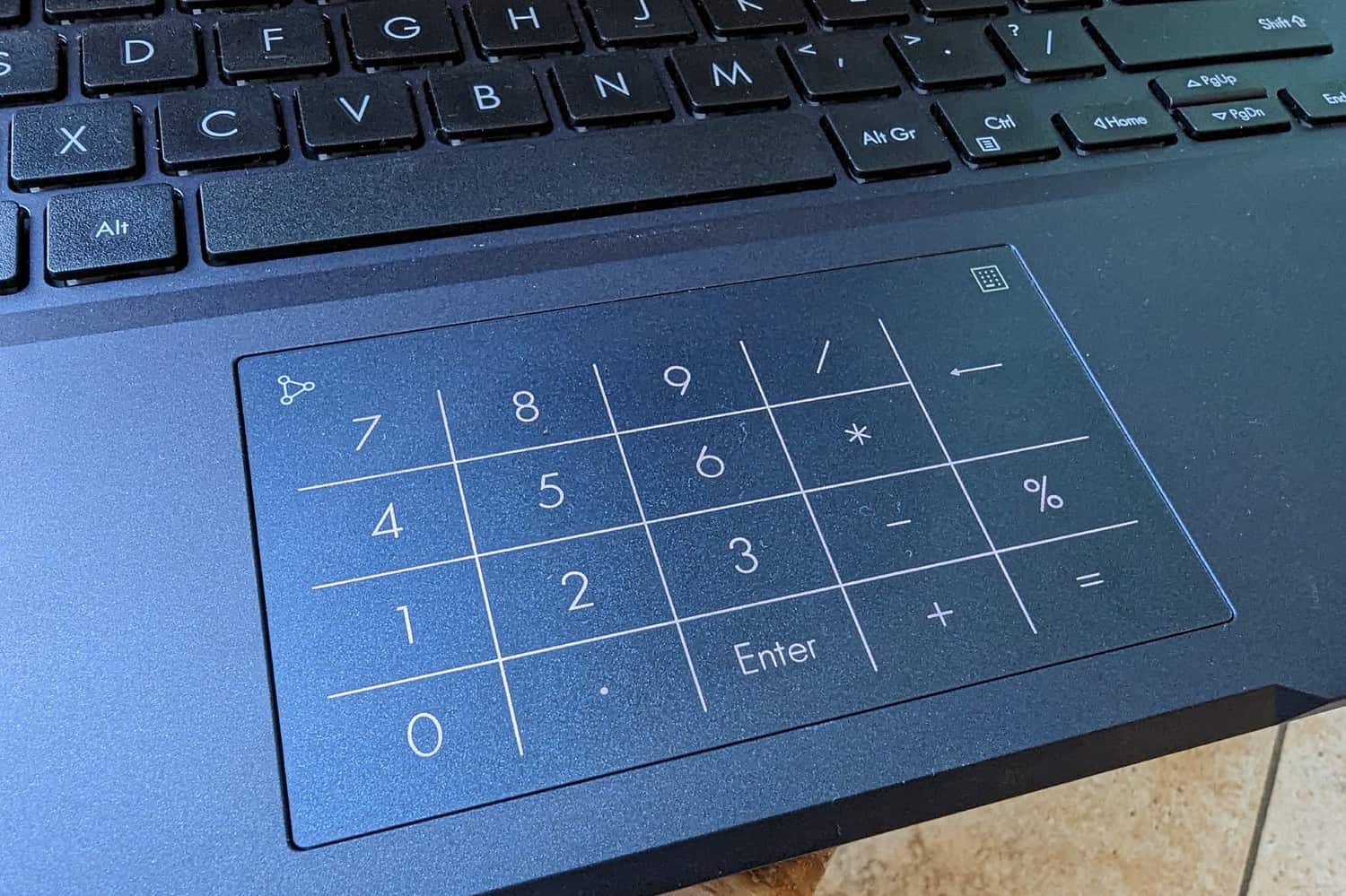 Mind you, you can only use the touchpad one way, so you can't then use it to move the pointer across the screen. That in itself is perfectly solvable by using the pen on the touchscreen to indicate where you want to enter data. Whether this is really an added value, everyone must decide for themselves. Not for us, but someone else may think differently. We still see it more as a gimmick.
Conclusion: many pluses, also some minuses
We've mostly looked at what the ASUS ExpertBook B3 Flip has to offer on paper until now. Much more important is what it can deliver in practice. To experience this firsthand, we used it as our primary laptop for a month and took it everywhere we went. From that, some pluses and minuses emerged. Overall, however, our experiences have been positive. Below, we highlight some of these pluses and minuses.
When reviewing a laptop, we mainly look at the practical side of things. That is, the most important features of a laptop, as far as we are concerned, are that you can work pleasantly with it and on it and that it can work long enough on a single battery charge. To start with the latter, we label the battery life as adequate. We didn't fall off our chairs with enthusiasm about this, but neither did we get angry and frustrated because we didn't make it to the end of the day.
In terms of work enjoyment, we did like the keyboard a lot. We certainly like the "clean" keys we mentioned above in practice. The touch of the keys is deep enough, although it will probably be just a little too light for some users. We like that, but there are also plenty of people who like keys that need a bit more force to push down.
Another important part of a laptop intended for business use is the webcam. As we cited, we've never really been enamored with the webcams on laptops, but the camera in the ExpertBook B3 Flip is relatively fine. As already indicated, the usefulness of the so-called world-facing camera somewhat eludes us. We were unable to find a meaningful use case for it during our testing period.
Otherwise, the ASUS ExpertBook B3 Flip is also powerful enough to do what we need to do with it: calls, PowerPoint, Excel, Word, browsing. That's not a big deal, but it does it all without lag. That's not always the case, we know from experience. It always boots up quickly without a hitch too. The fingerprint reader on the device also works very well. We did not miss the facial recognition once.
For us, the main downside of the ASUS ExpertBook B3 Flip is its somewhat chunky casing. That may offer opportunities in terms of connectors and docking the included stylus, but it also makes the laptop a bit less subtle to handle. It is quite thick and heavy, something you also feel in your bag. Again, you get used to this in part, but we would still like a slimmer device.
Also read: ASUS debuts a 14-inch ProArt touch display