The Poly Voyager Free 60+ UC TWS earbuds are a (potentially) excellent entry into this market for the company. Especially for the business user they are a treat. Read our review to learn all about this new product from the recent addition to the HP portfolio.
The selection of True Wireless Stereo (TWS) earbuds/headsets is downright gigantic at the moment. Virtually every audio product manufacturer is trying to get a piece of the pie. As far as we are concerned, it is a giant leap forward in the field of earbuds compared to their (partially) wired predecessors. As a rule, no wires at all makes for better wearing comfort. The wire is no longer annoyingly in the way, nor does it pull on the earbuds themselves. Especially the latter ensures that TWS earbuds are much more comfortable in your ears.
Of course, TWS earbuds also have disadvantages. They are quite small, so there is not as much room for the batteries. That makes for relatively short battery life. A lot shorter than the battery life of the wireless over- or on-ear headphones that have also become very popular over the last decade. That's why TWS earbuds always come with a charging case. The battery in it greatly extends the battery life of the earbuds. Of course, you cannot use your earbuds when they are in the charging case. So you'll have to wait a while before you can continue.
TWS earbuds in all shapes and sizes
TWS earbuds come in all shapes and sizes. There are models that are virtually invisible in your ears, such as the Beats Studio Buds, there are models that are specifically aimed at use while exercising, such as the Bose Sport Earbuds, and there are models that place a bit more emphasis on business use, such as the Logitech Zone True Wireless and the Poly Voyager Free 60+ UC, which we discuss in this review. These aren't just cosmetic differences, by the way. You would do well to clearly define the purpose of use beforehand.
Furthermore, you come across TWS earbuds in all shapes, models and sizes. There are models with and without Active Noise-Canceling (ANC), models with many control options or few, large or small charging cases, with or without "sticks" sticking down from the earbuds and so on. Not surprisingly, the price spectrum for TWS earbuds is quite extensive. It ranges from double digit price tags to well over 300 euros, to give you an idea. The Poly Voyager Free 60+ UC falls into the latter category, as does the Logitech Zone True Wireless that we also mentioned above.
Poly Voyager Free 60+ UC as part of our TWS collection
We have tested the Poly Voyager Free 60+ UC extensively over the past few months (after Poly launched it earlier this year). We've used the earbuds for every purpose, except working out: audiobook listening, music listening, business calls and phone calls. We compared our experiences with the Voyager Free 60+ UC with our experiences with other products. After all, we have quite a bit of experience with these types of products.
You could say we have a bit of a strange habit at this point. We usually have about four/five different sets of TWS earbuds in our bag when we travel. These are the Sony WF-1000XM4, Logitech Zone True Wireless, Bose Sports Earbuds, Beats Studio Buds and lately also the the Poly Voyager Free 60+ UC. If we are going to the gym in the hotel we are in, we grab the set from Bose, when it comes to the best audio quality, the Sony earbuds come out of their case. On a plane, on the other hand, the very small Beats earbuds are comfortable. We use the Logitech earbuds during calls and other business concerns. That's also our main use for the Voyager Free 60+ UC earbuds.
We realize that the way we use TWS earbuds is not common. It is mainly because of the privileged position we are in that we have access to all these products. So the purpose of the above is certainly not to advise everyone to do it this way. That is not realistic. We mainly want to illustrate that there really is quite a bit of difference between brands and models. You would do well not to just buy the first set you come across.
Poly Voyager Free 60+ UC is the top of the line
The Poly Voyager Free 60+ UC is quite an ambitious set of TWS earbuds from Poly, which users should be able to use for both work and personal use. It is the top model from the new Voyager Free line. This line also consists of the Poly Voyager Free 60 and the Poly Voyager Free 60 UC.
The "+" in the name of our test model indicates, among other things, the special charging case that comes with it. This features a touchscreen and houses the included USB dongle. The Voyager Free 60 UC also has a USB dongle, but it does not fit in the included charging case. That one additionally does not feature a touchscreen either. UC in the name means it is compatible with just about any softphone application. There are also official certifications for Microsoft Teams and Zoom. The one model without "UC" in the name has no USB dongle and thus connects directly to the Bluetooth module on an endpoint. Poly primarily targets this one for use exclusively with a smartphone.
In what follows, we only discuss the Poly Voyager Free 60+ UC. However, most of the observations surrounding the earbuds themselves will apply to the other models as well. It is the charging case that makes the + variant different.
Function over form
Poly has chosen to put function over form with the Voyager Free 60+ UC. This is not to say that this set is particularly ugly, but they are earbuds in the "toothbrush" style. That is, they have a stem attached to the earbuds. There's still some resistance to that here and there, we notice. For earbuds aimed at business use, however, this is only a good move. This choice makes it easier to deliver good speech quality. The distance from the mouth is shorter and there is more room to properly align the three microphones per earbud.
The fit of the Poly Voyager Free 60+ UC is otherwise excellent. You can twist them slightly in your ears, so to speak, then the stems are also slightly more oriented toward the mouth. They don't need to be uncomfortably deep, but still stay snug. For use during sports, we would not immediately recommend them, for that we prefer a slightly better fit. But if you want to, you can use them for this purpose. The earbuds have an IP54-rating. They are also not heavy earbuds, weighing less than six grams each.
Buttons and swipes
In terms of controls, Poly opted for a mix of swipes and buttons for the Voyager Free 60+ UC. We secretly always like the latter, even though it may seem a bit old-fashioned. When you get an incoming call, you can press the button on one of the two earbuds to answer. Pausing music can also be done this way. It works just a little more reliably than tapping or swiping. A plus as far as we're concerned.
However, swiping is also possible. Good to keep in mind is that this is context-sensitive. For different uses, swiping has a different effect. You can set this yourself per usage scenario. Whereas swiping can raise or lower the volume when listening to music, it can enable or disable mute when making a phone or Zoom/Teams call, for example. Other options include toggling between ANC on and off, putting call on hold and moving forward or backward a track. The settings per usage scenario apply to both buds.
This method of operation takes some getting used to. With most other earbuds we've used, swiping one direction means the same thing in all applications. We understand the logic behind Poly's choices in itself, but there are some downsides. If you can only use swipe to adjust the volume when playing music, you have to start listening to music before you can do that. Also, if you can only turn ANC on or off when the buds are "at rest" and therefore not used for anything, you have to stop playing music or participating in a call first to do so.
In addition, this dynamic approach also means that it is not possible to program the two earbuds differently. That would enable more features at the same time, but is thus not possible now.
Whether the context-sensitive use of swiping gestures is an issue or not, remains to be seen. We usually do not constantly adjust things, and in practice it has not really bothered us. It just takes some getting used to. However, if you are someone who does use the controls on the earbuds, this may be a problem.
Damn handy charging case
Overall, we're pretty enthusiastic about the Poly Voyager Free 60+ UC. Much of that enthusiasm is due to the charging case that comes with this model. It may not be the most subtly designed case, but it is very handy. You can do a lot of useful things with it. In large part, that's because of the touchscreen. With that, the screen is not only useful for quickly reading how full the batteries of the earbuds and the charging case itself still are. You can also use the screen to connect to a new device, adjust the volume, answer and end phone calls and set the amount of outside noise. Finally, on one of the charging case's screens is a QR code. This allows you to navigate to the Voyager Free 60+ UC's manual from your phone.
Especially if you are working at a desk or any other place where you put the charging case near you, you can pretty much use it for everything. You don't actually have to use the buttons and swipe gestures on the earbuds. If you have a wireless charger, you can put the charging case on it. In fact, you can charge it wired via the Type-C connector, as well as wirelessly. It is also possible to switch between connected Bluetooth devices via the screen. Poly has provided multipoint connectivity, which means that two devices can connect at the same time. You can switch between them. In total, the Voyager Free 60+ UC remembers up to eight connected devices.
With this, however, we are not at the end of the charging case's functionality. If you regularly spend long periods of time on a plane, you can also use it to get the audio from the plane's personal entertainment system onto the earbuds. This is because the Voyager Free 60+ UC's charging case can also transmit a Bluetooth signal, which the earbuds can then connect to. So you don't have to fiddle with cables to your headphone on the plane, which are always in the way. We previously used an AirFly product for this purpose, but it is definitely convenient that it can also be done with the Poly Voyager Free 60+ UC's charging case. The Type-C to 3.5mm cable Poly supplies with the product, but it doesn't fit inside the case.
Management on desktop or mobile
To manage Poly's products, the company provides the Poly Lens software. It is available for installation on desktop and smartphone. Poly Lens provides an overview of multiple lines of Poly products in a single environment. These range from video equipment to audio equipment.
Poly is a company that has traditionally focused on large corporations. So it is no surprise that Poly Lens is not only conceived to give the end user the necessary configuration options. It is also possible to manage it centrally for the entire organization. This gives the IT department visibility and insight and can help troubleshoot any problems people may have when using the Poly hardware. Recently, Poly also launched a PWA version of Poly Lens. With this web app, you're no longer tied to a specific application, it just runs in a browser. This is especially useful if an organization uses Chromebooks. There is no application for those, but they can now be on-boarded nonetheless.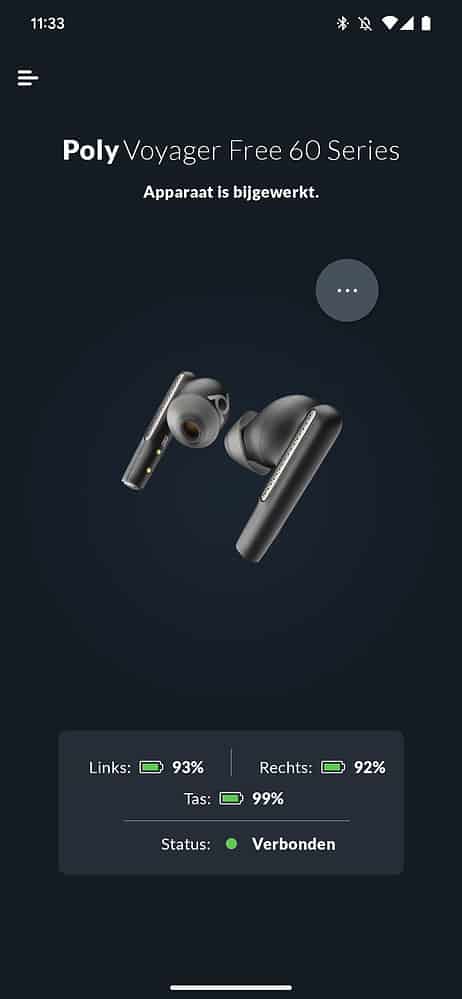 Poly Voyager Free 60+ UC in practice: audio, operation
With an average price of over 300 euros (including VAT), the Poly Voyager Free 60+ UC is not cheap. However, you also get a very versatile and well-performing set of TWS earbuds in return. They are very comfortable and in general the sound quality is good. Both in a call or phone conversation and when listening to music. The microphones in this set also perform excellently. A recent update also further improved outdoor performance in this regard. Particularly in windy conditions, the Voyager Free 60+ UC had some trouble. That's a lot better now.
The ANC is not the most powerful we have experienced on a set of TWS earbuds, but it suffices. Even on an airplane, it adequately filters out the heavy monotonous noise of the aircraft engines. Complete silence is generally not going to work with ANC anyway. Voices in particular are not predictable enough in terms of frequencies, so you will always hear them, especially if you do not play any audio on the earbuds.
As we mentioned, the controls took some getting used to, but we can live with that. If it were up to us, we would not have taken this approach. Linking purpose to functionality of controls requires just a little too much compromise for our liking. Definitely positive are the easily accessible buttons on the earbuds of the Poly Voyager Free 60+ UC. Especially if, like us, you often use them for calls and phone conversations, this set is very nice to work with. Also nice in that regard is that it works even if you only use one earbud.
If we're being completely honest, the controls on most of the in-ears we use regularly aren't fantastic. On the Logitech Zone True Wireless, there's a button that's very hard to press, for example, and tapping the buds doesn't always work very well. In contrast, the touch area on the Bose Sports Earbuds is extremely sensitive and does all sorts of things that are not intended. Often we only use the controls on the earbuds when there is no other way. Or when they work really well. So far, of the TWS earbuds we've used extensively, only Sony's WF-1000XM4 earbuds manage to convince us somewhat in this regard.
Poly Voyager Free 60+ UC in practice: dongle, battery life, updates
The included USB dongle also works very nicely when you want to connect the earbuds to a laptop or PC. The connection is made automatically, so you can get started right away. Conveniently, this dongle always has a place in the charging case. Finally, via the dongle, the Voyager Free 60+ UC also has a pretty impressive Bluetooth range. We can walk from our office on the second floor of a newly built house almost all the way to the kitchen on the first floor before losing the connection.
When it comes to the USB-A dongle, please bear in mind that it occupies the single USB-A connector most modern laptops have. We often also carry a USB camera (the Poly Studio P5) for calls and remote interviews. There is no room for that then. However, there is also a variant with a Type-C dongle. That's a separate SKU, though, so you have to make this decision before purchase.
Finally, battery life in practice matches pretty well what it says on the box. Poly gives 5.5 hours and 8 hours for talk time and listening time, respectively (with ANC enabled). We mainly have experience with the listening time and it is around 6-7 hours. That's neat. Mind you, this is not enough for a long flight to the US. For that, the pods ultimately lack space for a larger battery. Compared to, say, the Logitech Zone True Wireless, the Poly Voyager Free 60+ UC does much better though.
In our experience, Poly sometimes struggles a bit with the software side of things, like firmwares and updates. We talked about this in our review (in Dutch, unfortunately) of the Poly Studio P21 as well. The Voyager Free 60+ UC has some issues with this as well. The addition of the smart charging case means that updating has become rather complex. You now have to update three components: the earbuds, the BT700 dongle and the charging case. This means that sometimes you have to do things in a specific order. So for example, connect the dongle first, only then connect the charging case via USB to your laptop, things like that. This is quite confusing and doesn't always work smoothly either. We had to repeat the procedure quite a few times before it actually worked.
On another update, we managed to update the earbuds just fine, but of course had to update the charging case again via USB. That didn't work because, according to the software, it already had the most recent software. This while the "Update" icon just stayed there and we really hadn't hooked up the charging case before. After giving it another five or six goes, it eventually worked. It was totally unclear to us why it wouldn't work in the first place. It looked like the Lens software somehow didn't immediately realize that the new firmware was indeed different from the old one. As if it worked on different levels: the front-end realizes there's an update, but the back-end that has to actually deliver it needs more time to process this.
Adding a smart load case is very interesting in itself, but then it should not lead to unnecessary complexity. After all, we're talking about a set of earbuds here, you should just be able to update that with a single push of a button. That the charging case necessarily requires you to use the desktop version of the Lens software is already annoying. Then when it also doesn't work very well and/or reliably, it starts to get irritating.
Conclusion
All in all, we are positive about the Poly Voyager Free 60+ UC set of TWS earbuds and this could certainly be the ultimate set of TWS earbuds for the business traveler. They perform excellently, with a side note on using the controls, and can be easily managed. They are additionally very comfortable. Finally, the charging case with the touchscreen is really very convenient in everyday use. Poly has clearly put a lot of thought into this.
For all this cleverness, you also end up paying a substantial price. The Poly Voyager Free 60+ UC is not a cheap set of earbuds. With a little searching you can pick it up for just under 300 euros at a foreign webshop, within the Netherlands the price excluding VAT is just over 300 euros. That's quite a lot of money, but you do get a product with a lot of potential in return. If you buy several, the unit price will undoubtedly drop some more.
Organizations are probably doing their people a big favor with the Poly Voyager Free 60+ UC. Especially for employees who are on calls a lot, are on the road a lot and are also regularly on an airplane, it is an excellent product and without a doubt highly recommended. With that said, we do want to add a caveat. The execution of updates really needs to improve. The complexity of that process is going to cause a lot of annoyance and really. It's simply not how things should be done nowadays, in our opinion. Perhaps the Voyager Free 60 UC is ultimately the better choice. You won't have the benefits of the charging case, but hopefully you won't have the hassle around updates either.
Poly Voyager Free 60+ UC vs. Logitech Zone True Wireless
Finally, when we compare the Poly Voyager Free 60+ UC to the rest of our TWS collection, it obviously has to compete primarily against the Logitech Zone True Wireless, also aimed at the business market. This one was announced a few years ago and has since dropped slightly in price, but is still not cheap. You should still expect a price between 250 and 290 euros (excluding VAT).
In terms of ANC, the two do not differ much. Sound quality, especially with the recent update for the Voyager Free 60+ UC, is also good on both devices. By the way, we saw a similar development with the Zone True Wireless earbuds. Those were really not good in the sound quality department (among other things) just after launch, now they perform excellently. In terms of management, both Logitech and Poly offer quite a few options, both for the end user and the IT admin. Again, the difference is negligible. An exception to this, of course, is if you as an organization are already in one of the ecosystems.
The controls of the Voyager Free 60+ UC work better than those of the Zone True Wireless, however, despite Poly's choice to go for context-dependent controls. In addition, the battery life of Poly's set is also considerably better. With the additional functionality of the charging case included, we would basically choose the Poly Voyager Free 60+ UC. Poly just needs to get its act together regarding updating this device.