Process mining is an analytics method which is relatively young, but it is increasingly proving itself as a data discipline. We recently observed that process mining does this by making an MRI scan of business processes so that the process manager has enough insight to remove bottlenecks from the processes. The fact is, however, that manual actions have to be carried out wherever the bottlenecks occur. To address this, market leader Celonis recently introduced the concept of performance accelerators.
This entire concept was the focus of the first worldwide partner and customer conference, Celosphere. Techzine attended the first major event of a process mining vendor, where many customers shared their experiences with Celonis. BMW, Siemens, Uber, Zalando, Elsevier and many others spoke.
The most important conclusion we can draw after Celosphere is that their process mining software is becoming more and more mature. This is a good development for Celonis, as it enables it to maintain its leading position in the market. With the introduction of performance accelerators, Celonis offers more complete software than other vendors.
The whole idea behind the performance accelerators is that the Celonis software will be used to improve business processes. Manual steps are supported much more than before. The performance accelerators are the name of the concept, which consists of four different parts.
Established product as part of a new direction
When hearing the new message, Celonis users will think that the company already offers such possibilities with the Action Engine. This product was launched during the launch of the Intelligent Business Cloud at the end of last year, when the company decided to offer process mining as a SaaS solution. The Action Engine is not necessarily new, but it is part of the direction that Celonis is moving in. A direction in which the software offers not only strong analytical capabilities but also more operational opportunities.
To do this, the Action Engine collaborates with a variety of IT solutions a company uses, such as ServiceNow and Salesforce. The data from all relevant systems are combined, mapping the business processes with process mining. The Action Engine thus applies process analysis and machine learning to detect and predict improvements entirely independently, after which it submits the improvement to the employee. However, it is also possible that an RPA-bot has to make an improvement in a process. That is what the Action Engine will propose or even execute. This part of the performance accelerators also immediately takes the necessary action in the IT system. Celonis assures us that no matter in which IT system action has to be taken, the software is able to process it.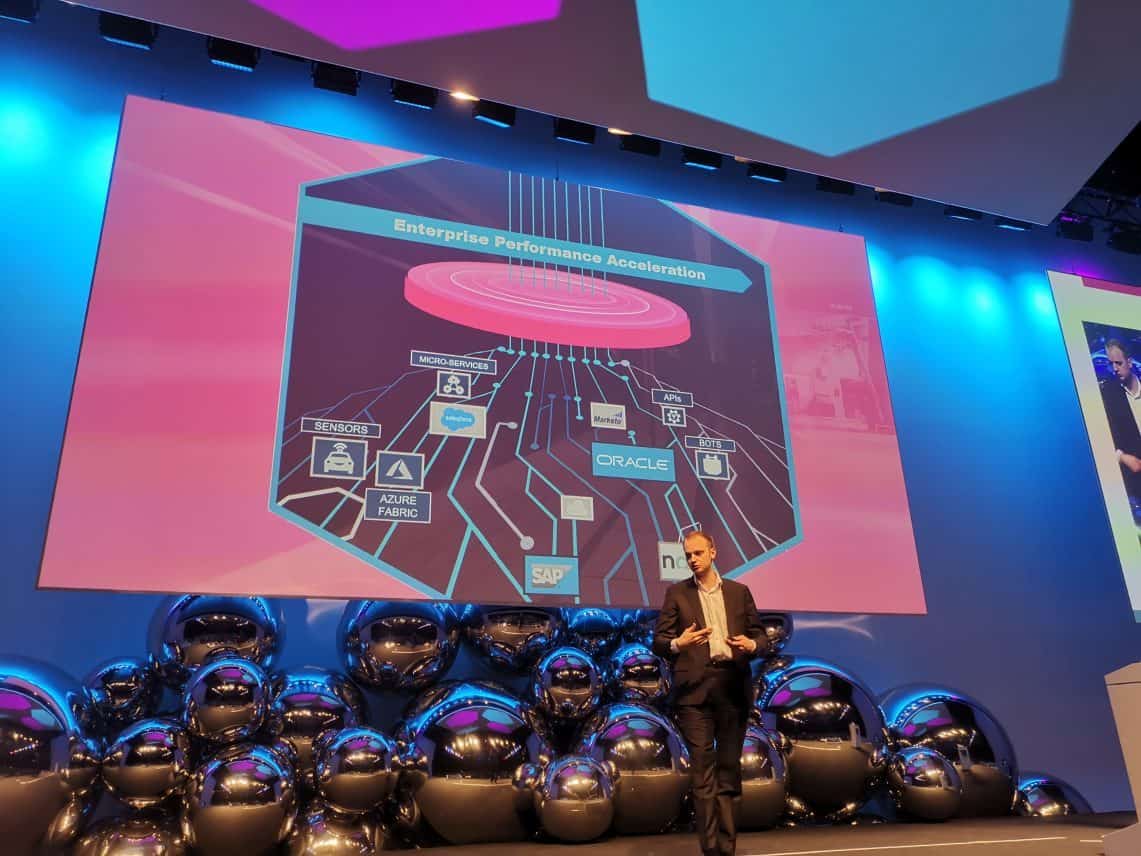 The approach of the Action Engine comes in handy in a multitude of scenarios, so that it really optimizes all kinds of processes. This can include, for example, procurement actions and customer service activities.
Workflow Engine as an addition to the Action Engine
With a product like the Action Engine, you'll notice that Celonis is constantly developing its software. Another part of the performance accelerators that certainly does this is the so-called Workflow Engine. Celonis sees this as the means to improve the operational 'flow'. The workflow enables data analysts to control process steps and connect process flows between IT systems. To automate common workflows, Celonis offers a set of templates for the most common enterprise systems.
The Workflow Engine is still in beta, so the product can already be tested by customers. In addition, this engine is integrated into the Action Engine, where all the necessary functionalities for optimizing systems can be found.
Automatically discover insights and an Open Application Framework
Celonis also introduced the Machine Learning Workbench solution at Celosphere, which is integrated into the Intelligent Business Cloud. Analysts and data scientists will be able to apply predictive Python models to different processes. Because this component is an integral part of the Intelligent Business Cloud, there is no need to install separate (virtual) servers. Also, all necessary functionalities, the Python packages, are directly available for users. The thousands of modules available in the Python community can be used to create every conceivable machine learning application. For this purpose, the process models are combined with machine learning, so that the operational activities ultimately improve.
The last part of the performance accelerators is the Open Application Framework. This allows organizations to create custom applications, to move to action during the visualization of data. The framework provides best-practices templates and a development environment for building apps that combine analytical and transactional capabilities.
This comes in addition to Celonis' commitment to work with customers to build accelerators for employee onboarding and invoice processing, for example. If the customer's business really changes, it can turn to Celonis or one of its partners to jointly develop the accelerators. This will create an ecosystem in which more and more accelerators will become available.
Celonis buys Banyas to support real-time connection
However, Celonis also knows that the whole idea of moving from action to action becomes valuable when there is a real-time connection to the systems from which the data is extracted. As such, it has built a number of methods to obtain the data in real-time. The challenge, however, was to set up a real-time connection to SAP systems, something that Celonis says is difficult for co-founder Alexander Rinke. The ERP giant has a multitude of solutions that require different approaches for real-time connectivity. If Celonis does not immediately achieve real-time connectivity to SAP systems, the potential in most commonly used systems is reaching its limits.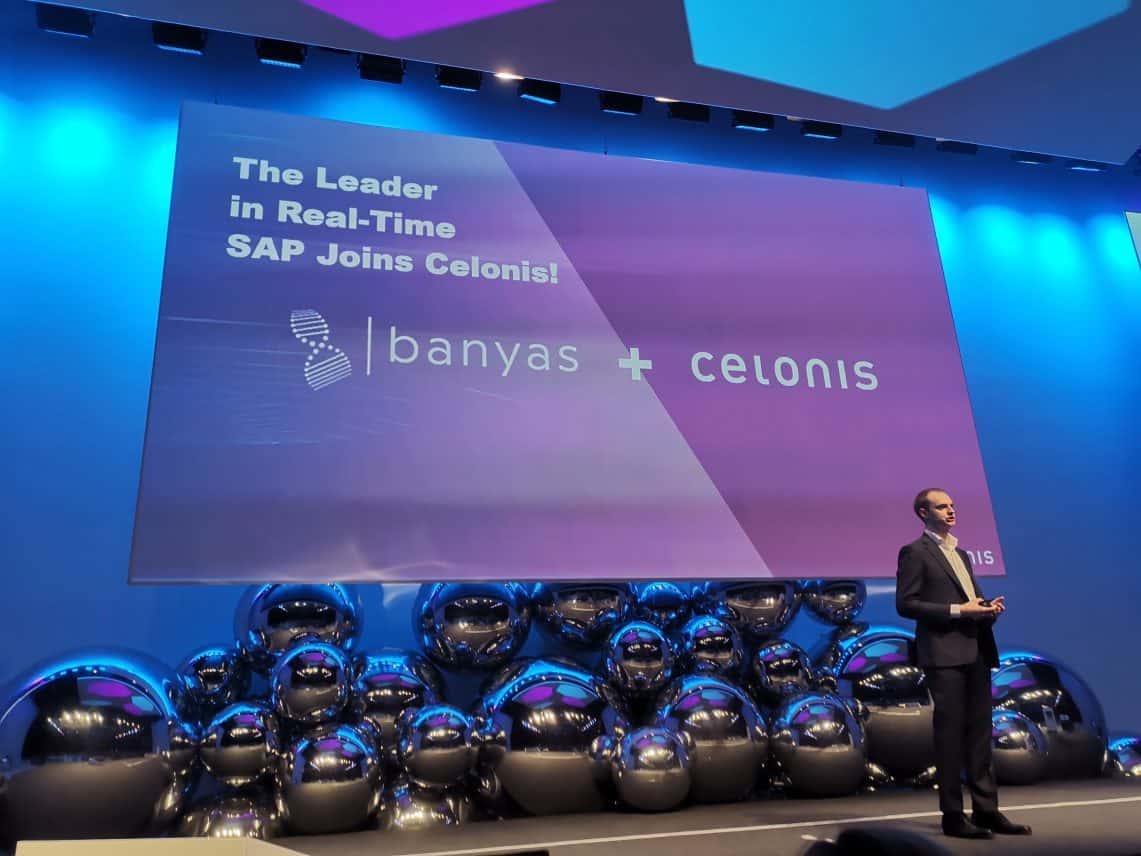 Celonis, therefore, decided to make its first acquisition ever. With immediate effect, the relatively small Belgian IT company Banyas will be acquired. This company releases triggers onto databases, with which it is able to send real-time data to Celonis' process mining software. In addition, Banyas is able to identify unknown processes in SAP systems, which ultimately provides Celonis with even more data. The capabilities of Banyas are tested directly among Celonis customers to ensure that it works as quickly as possible. Real-time connection to an increasing number of IT systems is planned, but SAP is the first to invest heavily due to the high demand from users.
Meeting expectations
All in all, Celosphere's central topic was to our liking as well as to the customers we spoke to. Some customers indicated that 'converting insights into actions' was exactly what they were waiting for. That makes them satisfied customers who won't leave Celonis at the drop of a hat. Another visitor told us that the constant innovation of Celonis is something you can expect from the company.
As far as we're concerned, Celonis has shown that the software remains innovative. With performance accelerators, the bottlenecks really disappear out of business processes, which ultimately results in satisfied customers of companies that use Celonis. A very small part that needs to be optimized in the procurement process can just as easily affect the customer experience. After this step, we look forward to seeing what else we can expect from Celonis.