Tampa has a beach. There's no spoiler alert needed for that insight, obviously. But this modestly sized city nestled on the West Coast of Florida that is much-loved for its Gulf of Mexico sunsets also has a city… and so it was that Kubernetes platform specialist Civo hosted its first user, developer, partner convention at Tampa's Armatureworks multi-use convention space.
Techzine is on the ground at Civo Navigate to drink from the container container, so to speak.
Diving into the cloud-native world with Civo is an interesting journey, the company is led by UK-born CEO Mark Boost – himself a software engineer and datacentre hosting specialist with some years of experience.
What is Civo?
Civo (pronounced see-voh) is intended to be a community-led cloud platform with a dedicated focus on Kubernetes. With its DNA born out of the Rancher Labs K3s lightweight Kubernetes distribution, which was selected for its particular suitability to Continuous Integration & Continuous Deployment (CI/CD) deployments, for those working in edge-compute environments and for wider software application development as a whole.
Key developments for Civo Navigate 2023 itself include the company's increased focus on security.
Although there are plenty of pre-existing security controls, protocols and toolset procedures in Kubernetes itself (the technology is inherently built to enables developers to exercise quite strict version control with 'rapid rollbacks' made possible in the case of vulnerabilities), but Civo's platform has now grown to the point where the company wants to table greater security provisioning capabilities.
Over the past two years, Civo has launched a whole range of initiatives to drive forward its mission of a better cloud-native landscape. These range from the launch of its own Kubernetes-based platform, to new edge and hyper-converged infrastructure solutions, and a major new partnership on cloud sustainability with Heata.
Alongside these technical offerings, Civo has launched a start up program and shifted its workforce to a four-day work week.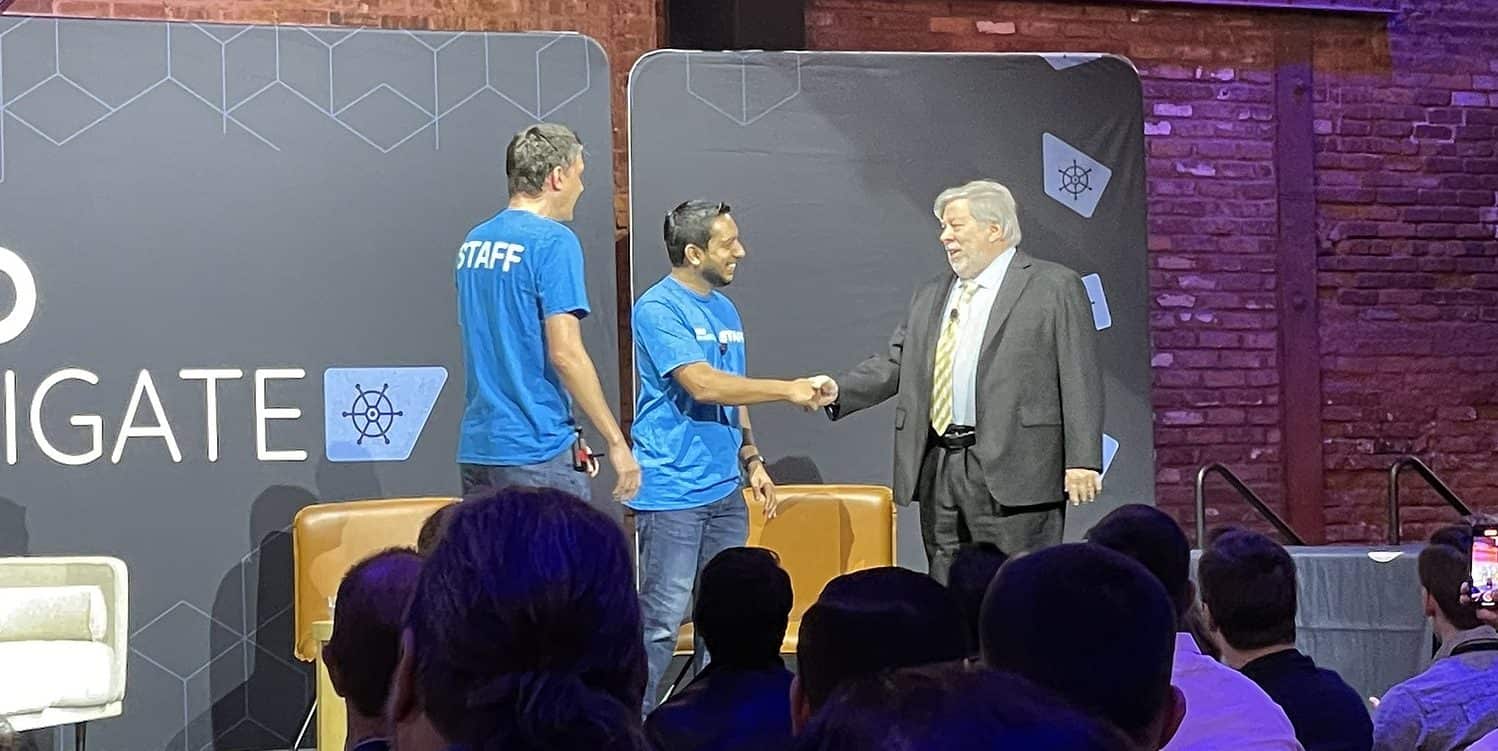 After a welcome and introduction from CEO Boost, this event actually kicked off at a more informal pace than many with a fireside chat session featuring Steve 'did I tell you about how I built Apple with Steve Jobs?' Wozniak. Sarcasm aside, who wouldn't be doing the conference circuit after a career like that and who actually doesn't love Woz?
Woz actually spent some time talking about his early childhood and his enthusiasm for technology (he basically started as a junior radio ham) and pondered where his creative inventing spirit came from. As a relatively shy short, his route for social interaction was to create things and then be able to take those things to school and talk about them.
"I like following unusual people that do unusual things in life," said Wozniak, when recounting his story about how he used to create chequebooks composed of sequential two-dollar bills which he would order specially. "It's one of those funny things, if you tip a taxi driver using only two-dollar bills, they always remember you. I remember when I was kid going to school and we were going to be using multiplication flash cards [memory joggers], I practised at home beforehand and I passed all the questions and was the only boy who did so… but mathematics was my thing and it always has been."
Overall, Woz is an incredibly warm, generous and positively-charged charming gentleman that anyone (inside of the technology industry or outside) will always find compelling right down to every word he delivers.
Session selection
Back into the show proper, sessions included: Building a secure-by-design pipeline with an open source stack; Building data-centric ML workflows with Jupyter and Kubernetes; and a session by Jeremy Meiss (The Patronizing Saint of DevOps) entitled 'Things we've learned about better software delivery principles through a pandemic'.
"We're a very open and transparent company and we believe in open source from the start," said CEO Mark Boost in his opening keynote. "This event sees us announce a whole range of new technologies including a new Machine Learning (ML) service. The open heritage that we are built on really does stand up as one of the key differentiators for us a company… also, we are particularly differentiated by the speed of time our cloud service spins up at, a speed we measure in seconds – rather than the perhaps 30 minutes that a customer might experience with the [usual suspect big three] hyperscaler cloud providers."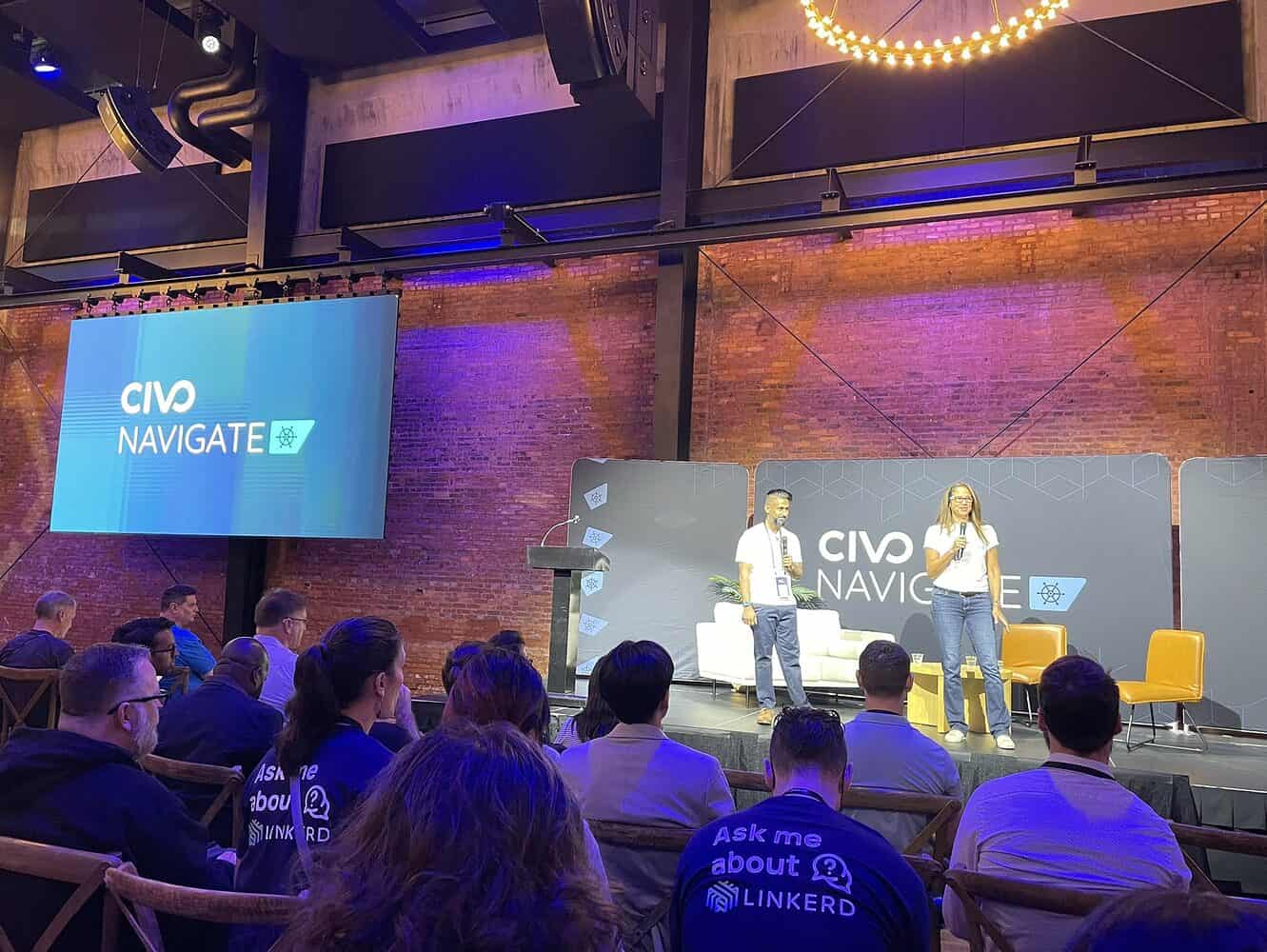 Part of Civo's most front-line technologies currently in development are the extra networking and storage power options the platform offers. The Civo selection of Kubernetes operators are built to enable software stacks to expand and grow through more controlled auto-scaling with high-availability functions suited to always-on deployments, which of course are increasingly the case now.
We also need to mention Civo's work with Intel on its Intel SGX (software guard extensions) technology. This engineering development is designed to enable application isolation control for what Intel has called more advanced security 'enclaves', as managed compute zones that are applied at the hardware level.
Intel SGX is intended to be used in concert with the chip manufacturer's next-generation Sapphire Rapids server processors.
CNCF: Kubernetes is the cloud OS
All this container-centric Kubernetes discussion comes at the same time as the Cloud Native Computing Foundation releasing the results of its 2022 Annual Cloud Native Survey. Since 2015, CNCF has used its position in the cloud native community to survey the landscape and understand the dynamics of open source, cloud-native technologies and, crucially, the Kubernetes factor is front and centre.
According to a CNCF spokesperson, "Kubernetes is emerging as the 'operating system' of the cloud – Kubernetes has become the platform for running almost anything. Auxiliary workloads have outnumbered application workloads (63% vs. 37%) as organisations increasingly adopted advanced Kubernetes platform technologies like security controls, service meshes, messaging systems and observability tools. At the same time, organizations used Kubernetes for a broader range of use cases like build pipelines, scheduled utility workloads and more."
The CNCF also says that containers are the 'new normal' and Wasm is the future. It states that container adoption outpaces the maturity of cloud-native solutions – just 30% of respondents' organisations have adopted cloud-native approaches across nearly all development and deployment activities. But in the face of that figure, still we see that 62% of organisations that do not regularly use cloud-native techniques have containers for pilot projects or limited production use cases, indicating there is room for growth.
The Civo event hashtag is #CivoNavigate and the company tweets at @CivoCloud.