Google is rolling out four updates to Google Workspace products. Google Meet, Gmail, Apps Script and Google Chat get new features.
Over the next two weeks, four updates will be rolled out to Google Workspace users. Google announced the updates yesterday.
Read more: Google Workspace gets smarter spreadsheets, new look on Android
Gmail secures sensitive actions
For the email service, Google will monitor sensitive actions more strictly. The blog further clarifies that three specific actions are involved. The first sensitive action is creating or editing an existing filter. Then, it focuses on entering an unknown e-mail address from the POP/IMAP settings when forwarding a message. Finally, enabling IMAP access from the settings will get extra attention.
These three actions will trigger an investigation by Google, in which it will evaluate the ongoing session. If the evaluation detects risk factors, the user will receive a request to verify themselves. Verification must be done through another party via, for example, two-factor authentication.
Google proceeds to send an alert to trusted devices about the suspicious action if a user fails to authenticate themselves.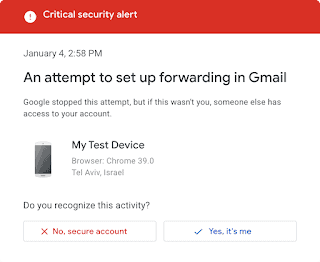 Google sends trusted devices an alert about suspicious actions in Gmail performed by unauthenticated users. Source : Google
Apps Script gets an editing history
Apps Script is the space for developers to build lightweight applications for the Google Workspace platform. A new update gives the platform an edit history. In it, developers can perfectly track what changes were made and retrieve older script versions.
Any developer with permission to make changes can find the edit history under the button 'Project History'.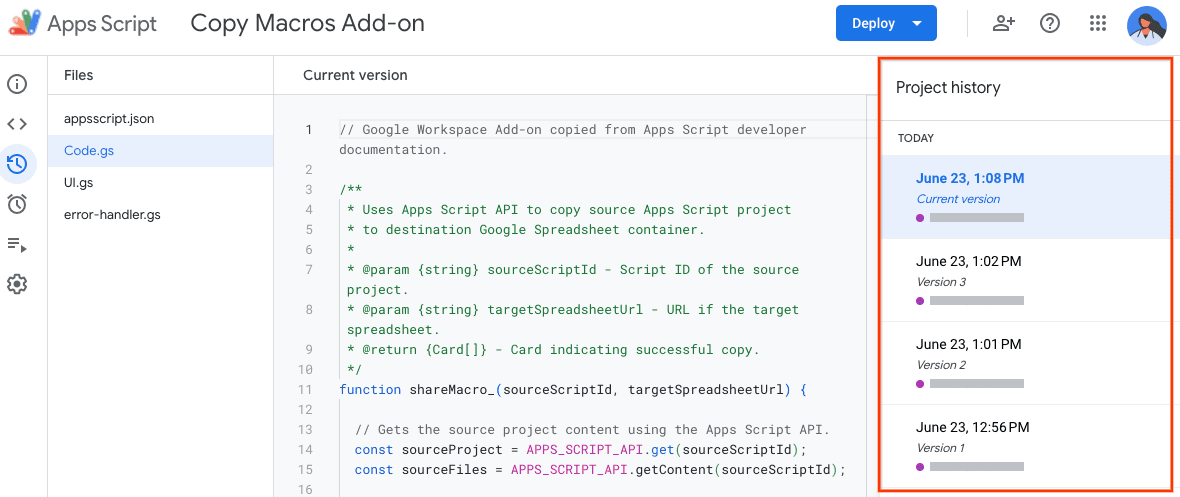 Source: Google
More information on co-presenting in Google Meet
Since this year, it has been possible to have multiple presenters for a Google Slides presentation. To simplify co-presenting, Google makes a presenter's notes visible to all presenters.
However, the main presenter must grant editing rights to the co-presenter to see these notes.
Statistics for messages in Google Chat
Finally, Google wants to give users insight into the reach of their messages in group chats. Within Google Chat spaces, a user can take a look at the statistics which show how many viewers a message counts.
To do this, hover over the sent message. Click on the three dots, and a pop-up will show the number of readers. Messages sent before Aug. 1, 2023, do not generate this statistic.
AI strengthens security for sensitive data
The company further announced security features. These features will be added in the future, starting from the end of this year.
Google will strengthen security with the addition of AI. The technology should strengthen and combine the zero trust model with data loss prevention (DLP). Through the combination, it mainly wants to prevent sensitive data from being stolen, so AI will constantly scan Drive for sensitive data to protect it appropriately.
Gmail is also getting better DLP. In the email service, AI should prevent users from accidentally sending sensitive data to recipients outside the organization.
Cybersecurity specialists, in turn, can use the technology to run reports after a breach and in case of abnormal behaviour.
Read more: 'Employees are embracing AI, but lack security skills'