Freshworks is a software supplier that has been around for some time. However, the company has been experiencing considerable growth lately, which has made us curious about the 'Freshworks trick'. We decided to visit the company, which has a strong focus on providing the best possible support to customers of companies.
Initially, Freshworks was founded as a company that provides software to support customer service. This tool, called Freshdesk (also the original name of the company), is still one of the three most important solutions. However, the company name changed as more SaaS solutions were added. In addition to Freshdesk, now there is Freshsales and Freshmarketer as core tools. As the names reveal, these products are suitable for sales and marketing staff. By supporting these three business departments, the now usual circle of Customer Relationship Management (CRM) is complete: many CRM packages focus on the three professional groups.
Therefore, when you ask Freshworks to briefly describe its software suite, you are talking about a 'Customer Engagement Platform'. In addition to the three core products, this includes tools for Human Resources, building integrations and adding chatbots on an organisation's channels. Freshworks has summarised this in the Customer Engagement circle below.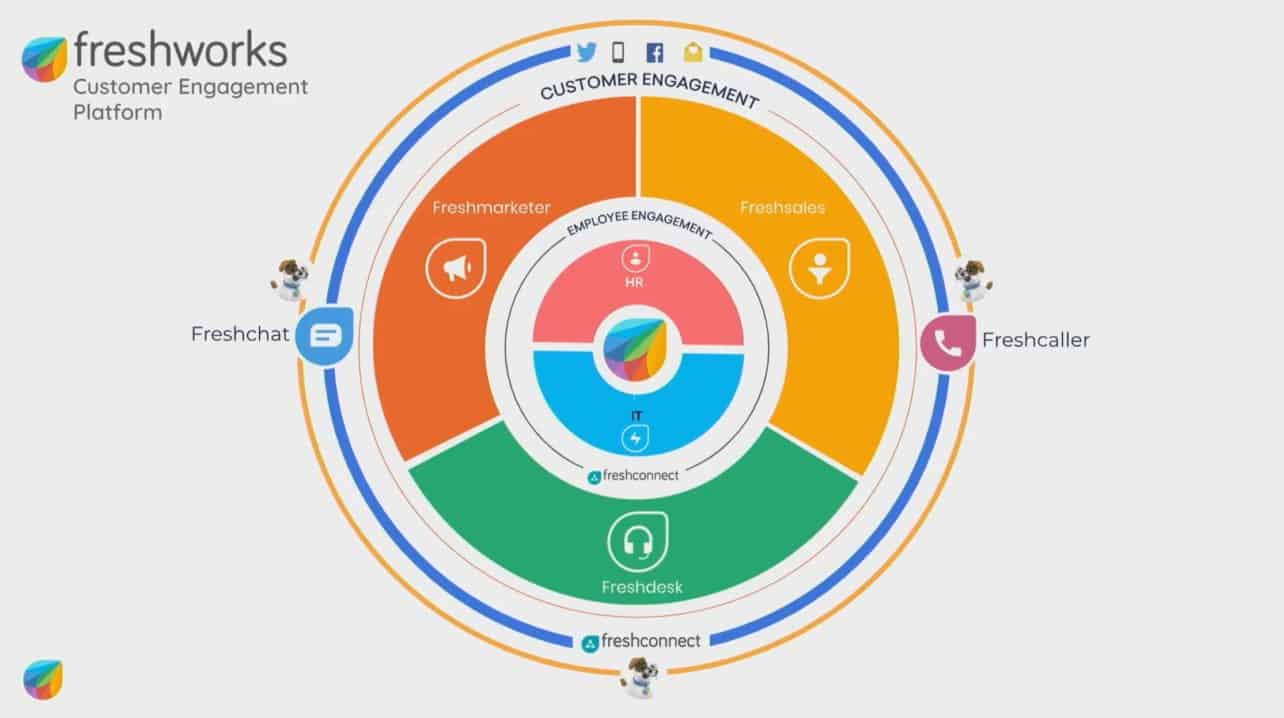 Ultimately, the tools can be purchased separately, but at Freshworks there is, of course, the idea that the total package of customers of organisations is best served. Freshworks' direction to help the circle further is, therefore, uniform: silos must be demolished, there is a strong focus on integrations, and artificial intelligence (AI) can take software to a higher level.
Systems need to work better together
First of all, the firm focus on removing silos, a sound that we often pick up from the market. In the case of CRM, the flow of customer data is often the same. The marketing department is the first point of contact for a potential customer. There is, for example, data about e-mail campaigns and which web pages the potential customer visits. All this marketing data is stored in the database belonging to the marketing software. The potential customer is then given a lead and forwarded to sales, resulting in telephone calls and meetings, among other things. The data associated with these sales activities are also stored in a separate database. If the potential customer is actually converted, the conversation moves to the customer support department. These employees also store data in a separate database.
In practice, however, disseminating customer information across three different databases can lead to annoying situations. Suppose a sales employee wants to contact the customer to sell a new product when a support ticket is still open because the customer is dissatisfied. In the traditional approach, the salesperson has no insight into this and simply contacts the customer. The software that was initially intended to be support-ticket may then make the customer even more dissatisfied. It can lead to customers switching to the competitor.
To avoid such scenarios, Freshworks has developed the 'Master Customer Record'. This is where the customer data of the separate solutions are brought together. When a marketer then consults the customer, he or she can also retrieve any interactions from a customer support employee. Like that, Freshworks ties all its products together, as it were, in order to obtain a complete overview of all the customer information from its solutions.
Integration needed for true Customer Engagement
In practice, however, a 360-degree overview of customer information can only be realised if data from external sources can also be accessed. After all, it is unrealistic to think that enterprises are only dealing with customers on Freshworks' Customer Engagement Platform. In practice, large enterprise organizations often use hundreds of SaaS solutions. An Oracle or SAP system can also contain important customer information, but tools such as Microsoft Teams and WhatsApp can also be used to hold discussions about customers.
Freshworks offers opportunities to set up integrations because it previously took over the startup Pipemonk. The Freshconnect solution arose from the takeover, which should make it easy to move data to and from third-party solutions. To this end, Freshworks has familiarised itself with the APIs of well-known solutions. Standard integrations have been built, for example with Jira, Slack and competing products such as Salesforce. Users are also given the opportunity to build their own integrations.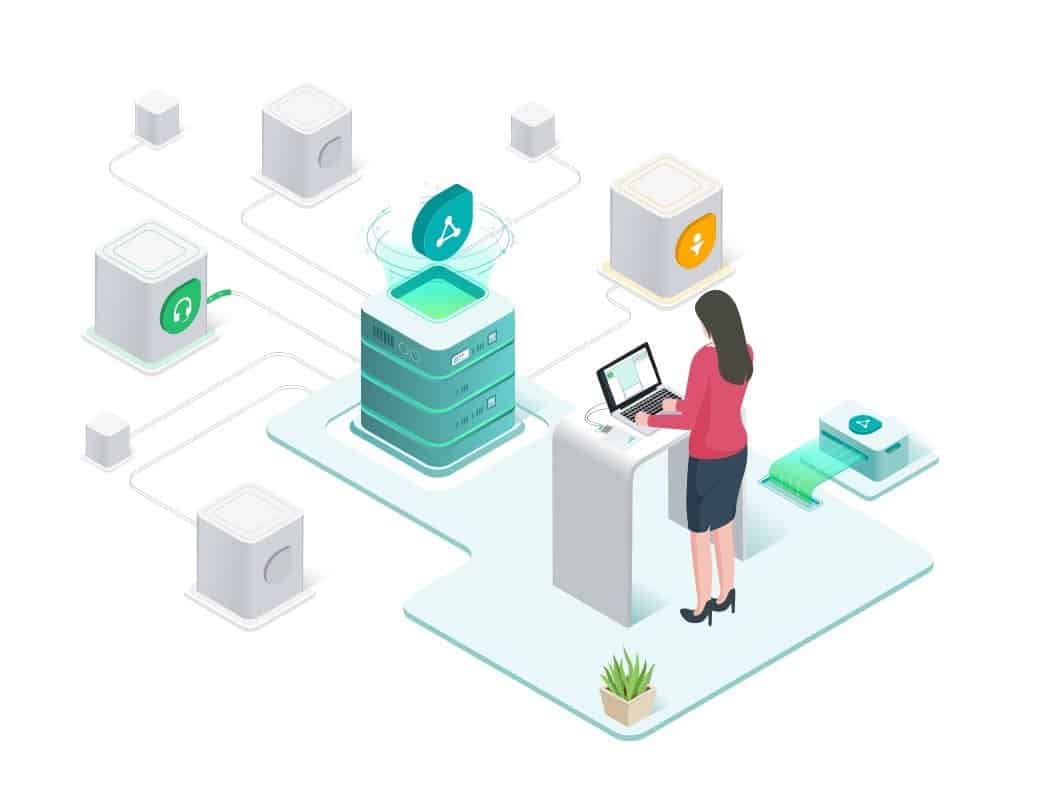 Ultimately, it is technically quite complex for software suppliers to help with the various integration issues of companies. After all, to retrieve data from sources, APIs have to be figured out, then the APIs can also change, and new maintenance has to take place. As a result, you often see IT vendors depositing billions for integration platforms. Salesforce bought Mulesoft for $6.5 billion, for example, and has since positioned integration as an increasingly important pawn in its portfolio. Freshworks can also support integration issues and invests in further development of its integration product to show its muscle to the big boys.
AI engine for the next phase
Finally, Freshworks finds Artificial Intelligence (AI) a technological development that can take SaaS tools further. The AI injection given to the Customer Engagement circle should provide the next phase of the software. In this respect, Freshworks is strongly in favour of more AI, as it is convinced that technology can take over several simple tasks from a human being.
In line with other software suppliers, Freshworks has built an AI engine, also known as Freddy. Freddy must grow into a friend of all Freshworks users, but also of customers of a company that uses Freskworks tools. The company sees automating using AI in different ways. It can be valuable in any component of the Customer Engagement circle.
For example, customer support would increase in quality when targeted AI is applied. Many support tickets are now about the status of an order or getting money back. Companies have often developed a database for answering such questions, including a FAQ page and an internal source of information. In practice, customers sometimes skip the FAQ page and call the customer service employee directly. As a result, customer support is burdened with a lot of standard questions and the customer himself is on hold for a long time. If you can teach AI to recognize and answer different questions, both the employee experience and the customer experience will increase.
Not a completely new vision, but an interesting one
All in all, Freshworks has set a number of clear goals for its Customer Engagement Platform. It helps marketing, sales and customer service staff and their customers. The latter group in particular, the customer, is therefore very important in Freshworks' philosophy.
However, the way people look at the market is not entirely new. After all, other SaaS suppliers are also of the opinion that data silos should be demolished, integration with other products can be improved, and AI can bring about change. Differentiating factors that the SaaS vendor itself suggests are, for example, user-friendliness and fast implementation time. User-friendliness is partly due to the fact that the solutions work well together, but in practice, the implementation time can vary due to various factors that can influence an implementation process.
However, the market is moving in a certain direction for a reason. In this respect, Freshworks seems to be making wise choices for its CRM approach. We are curious to see how the approach will develop further.